Roasted squash and Brussels sprouts. Simple one pan recipe for roasted butternut squash and roasted Brussels sprouts with fresh thyme.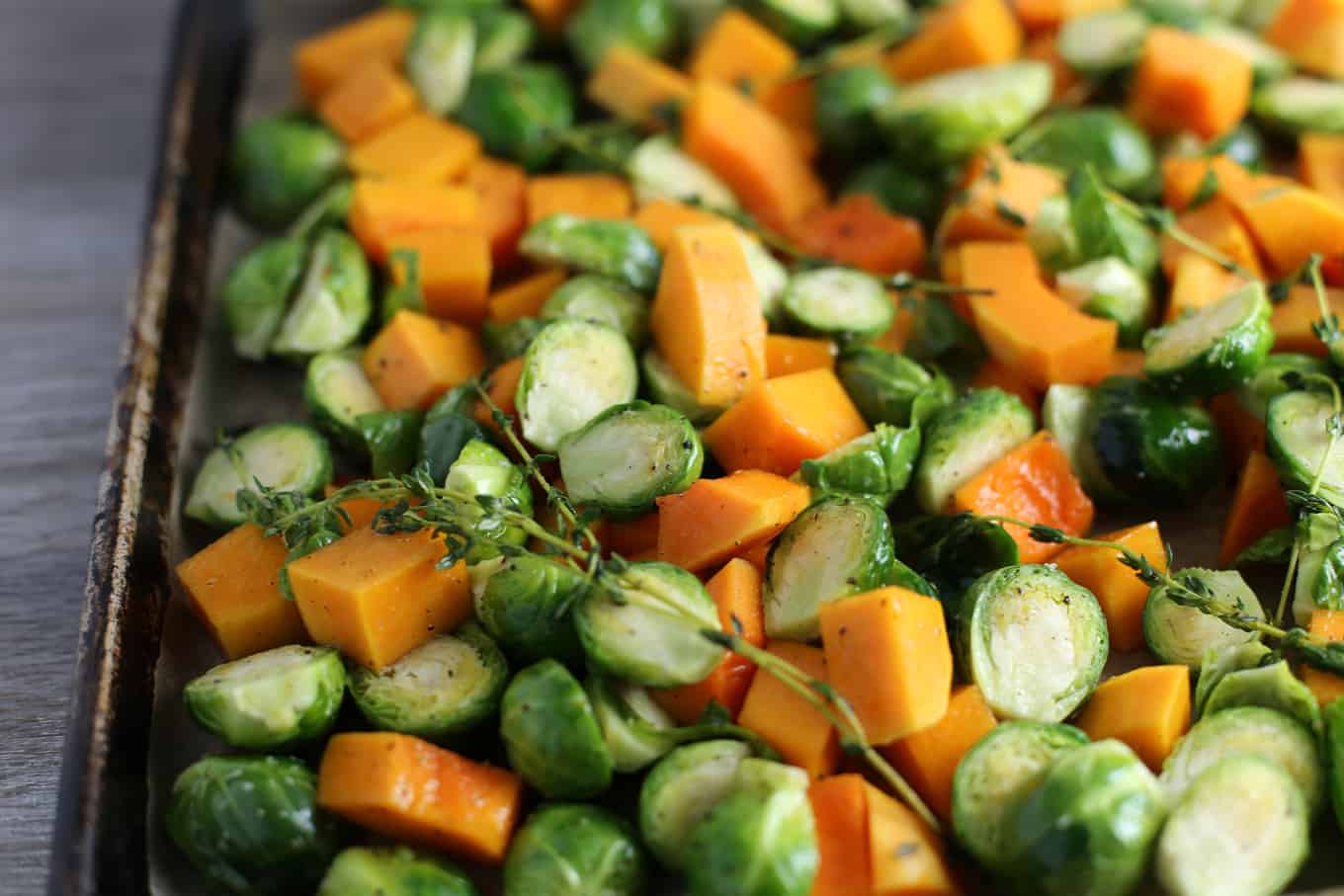 Is there anything that screams fall more than this dish?! This tasty duo of roasted squash and Brussels sprouts is prepared so simply with fresh thyme sprigs, salt, pepper, and olive oil. I assure you that they will please even the most stubborn Brussels sprout haters. By the way, what is about Brussels sprouts that they have gotten such a bad reputation over the years? I'm guessing it was because the way most people had them in their childhood- way overcooked and most likely boiled. These brussels sprouts are crispy on the outside and tender in the middle… the way Lord Brussels meant them to be. (I may have made up Lord Brussels, but can't you just imagine some lord back in the old days wearing a crown wreath of Brussels sprouts and demanding his Brussels sprouts be cooked just right or off with your head!)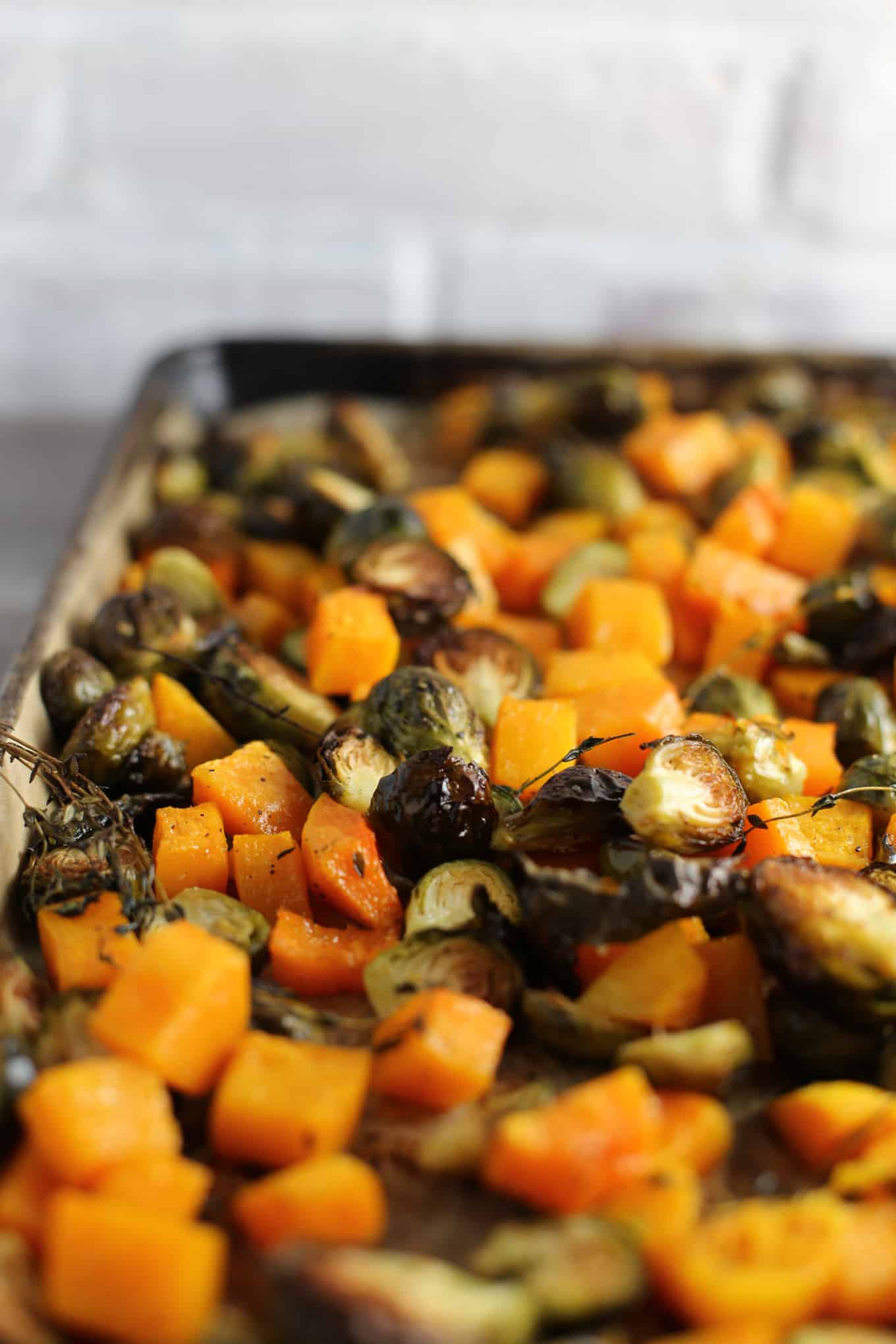 All this talk about Brussels sprouts and the butternut squash is probably feeling left out. Well, squash is really simple and forgiving… not forgiving about feeling left out, but forgiving with cooking time and temp. I cooked these at 425°F for about 45 minutes, because that's what the Brussels sprouts needed. Just make sure to cut your squash small enough so that it cooks in time. And one last thing, after the roasted squash and Brussels sprouts have finished cooking, you can toss the thyme sprigs in the trash… they've done their job and chewing on a whole thyme sprig is unappealing.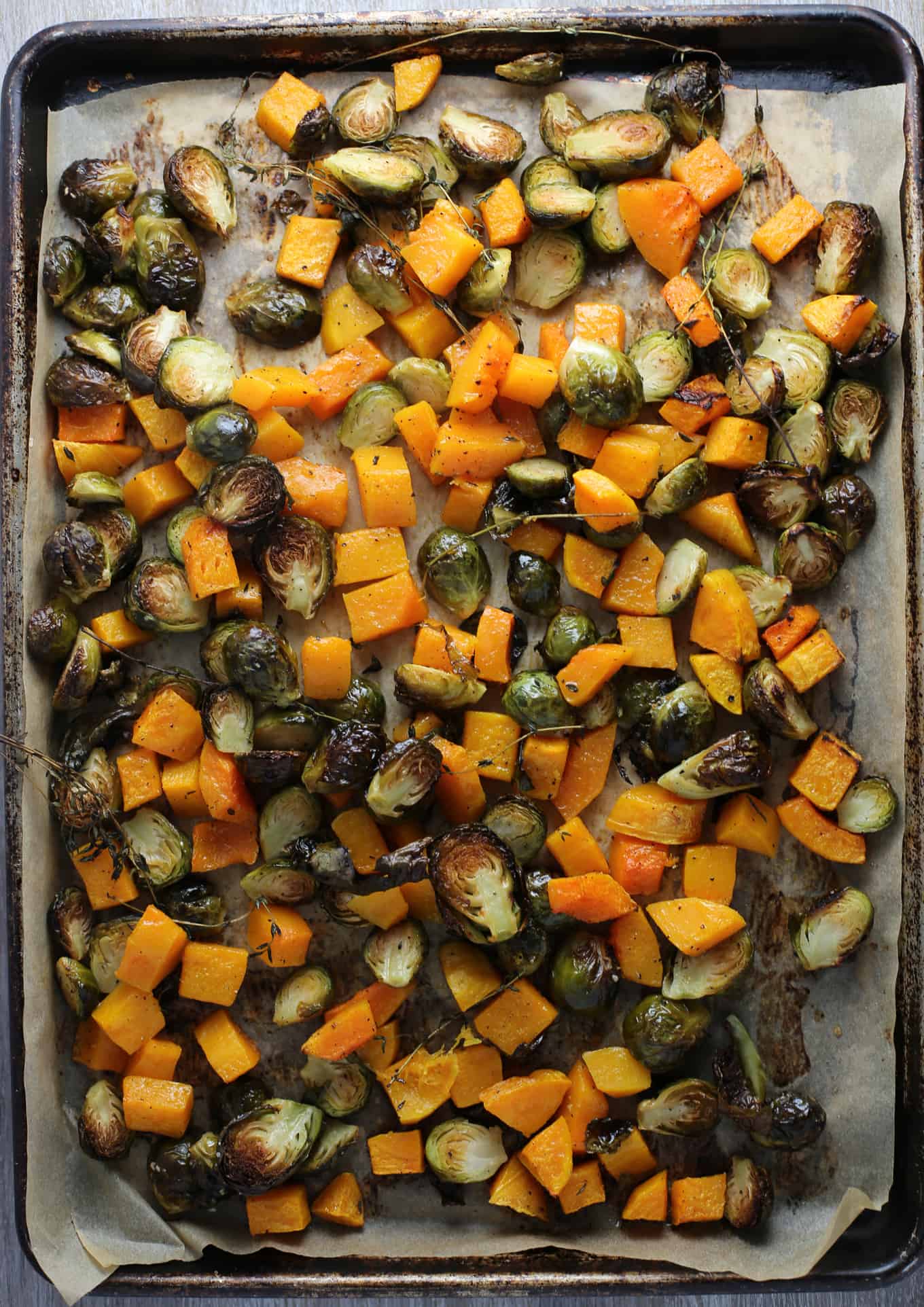 Print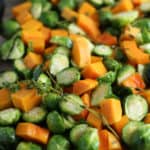 Roasted Squash and Brussels Sprouts
Author:

Prep Time:

10 mins

Cook Time:

45 mins

Total Time:

55 minutes

Yield:

6

Category:

Sides

Method:

Roasting
---
Ingredients
1 small to medium sized butternut squash, peeled and cut to roughly the size of a brussels sprout half
1 stalk of fresh Brussels sprouts or cut fresh off the stalk, approximately 1 pound.
10 sprigs fresh thyme
salt and pepper to taste
3 Tablespoons olive oil
---
Instructions
Preheat the oven to 425°F.
Trim the Brussels sprouts off the stalk and cut each sprout in half. Wash in cold water.
Peel the butternut squash and cut into slices horizontally roughly the size of a deck of cards.
Put the squash, sprouts, and thyme sprigs in a large bowl and drizzle over the olive oil. Season with salt and pepper and toss well to combine.
Line a sheet pan with parchment paper and dump the veggies onto the pan. spread them out in a single layer and put into the oven.
Bake for 45 minutes or until done.
---