Vegan quinoa broccoli casserole. Healthy quinoa casserole made in minutes and without any added fats or oils. Make ahead for a busy weekday dinner.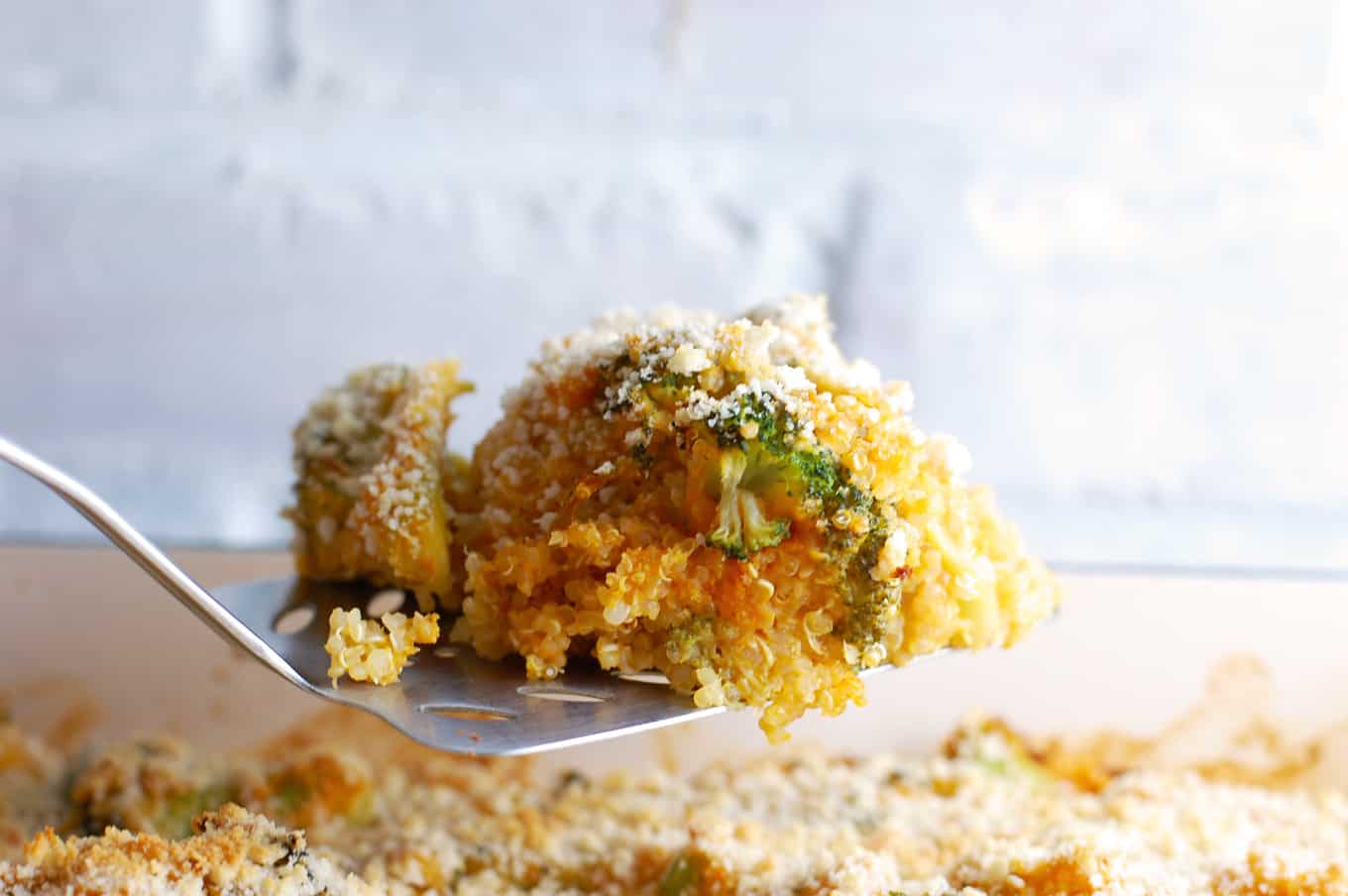 I'll admit it… a vegan quinoa broccoli casserole is not really the type of food that I dream about at night. But, you know what? Life is stressful and difficult at times and sometimes putting a dinner on the table is not the easiest task. And if you somehow manage to get dinner on the table when your life is super busy, well let's just say the chances of it being healthy are slim.
Plant-based foods are generally healthier than eating animals and dairy, but just because it's vegan doesn't mean it is the healthiest thing for you. We try to limit oils in our everyday cooking and save the oils only for certain dishes that really benefit from the addition of it. Let's be honest, you don't need to have a restaurant quality dish for dinner every night (at least that's what I try and tell myself!). Filling your families bellies with healthy whole grains and vegetables should be your #1 priority. Save the special recipes for nights when you have more time to have some fun in the kitchen.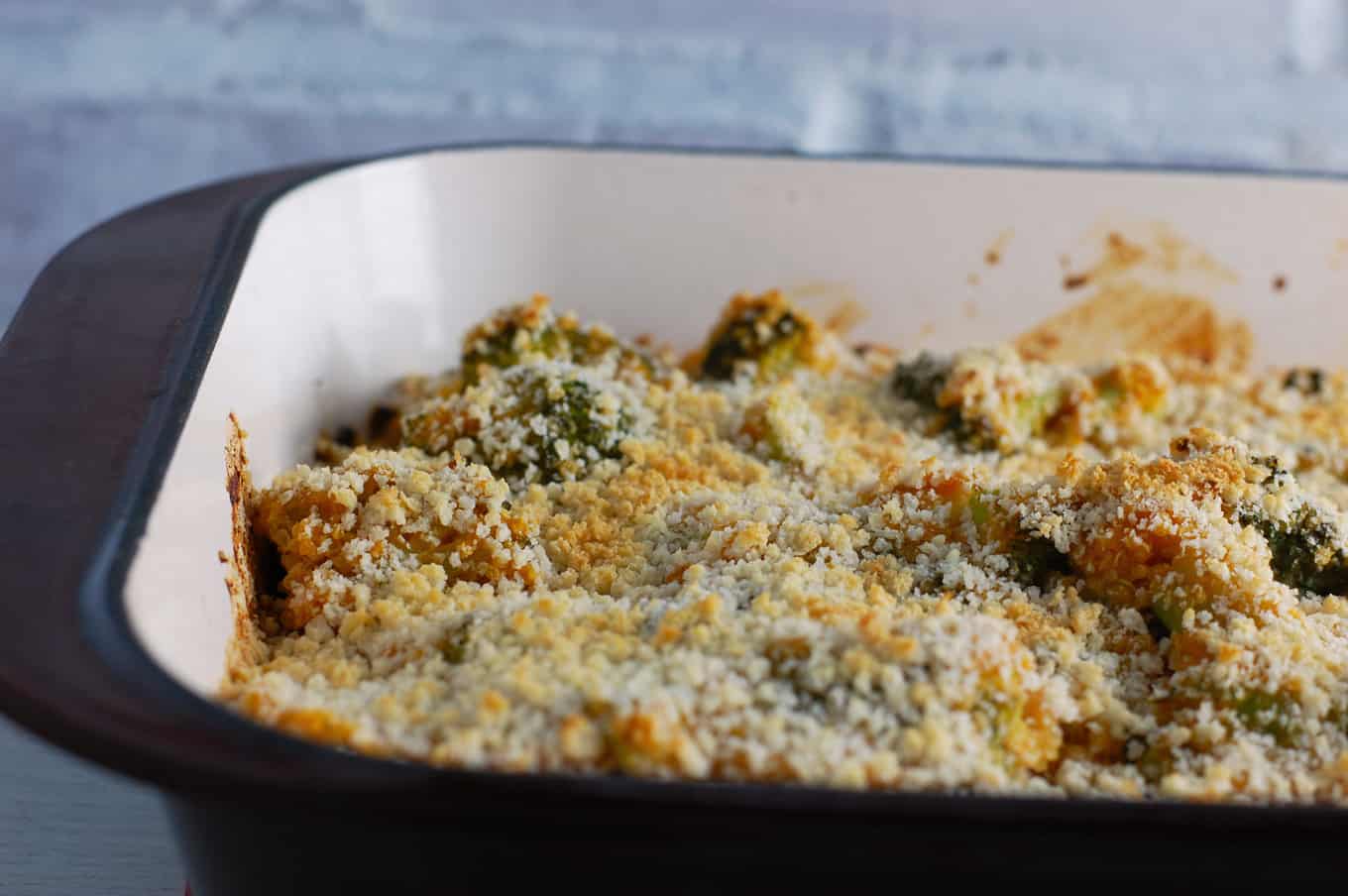 This vegan quinoa broccoli casserole comes together really easy once you make the vegan cheese sauce. Jen will usually make a big batch of it and then we have it throughout the week for various meals. I've also made this quinoa broccoli casserole and then portioned it out and froze it for days when I don't have a lunch prepared. Hope you love it!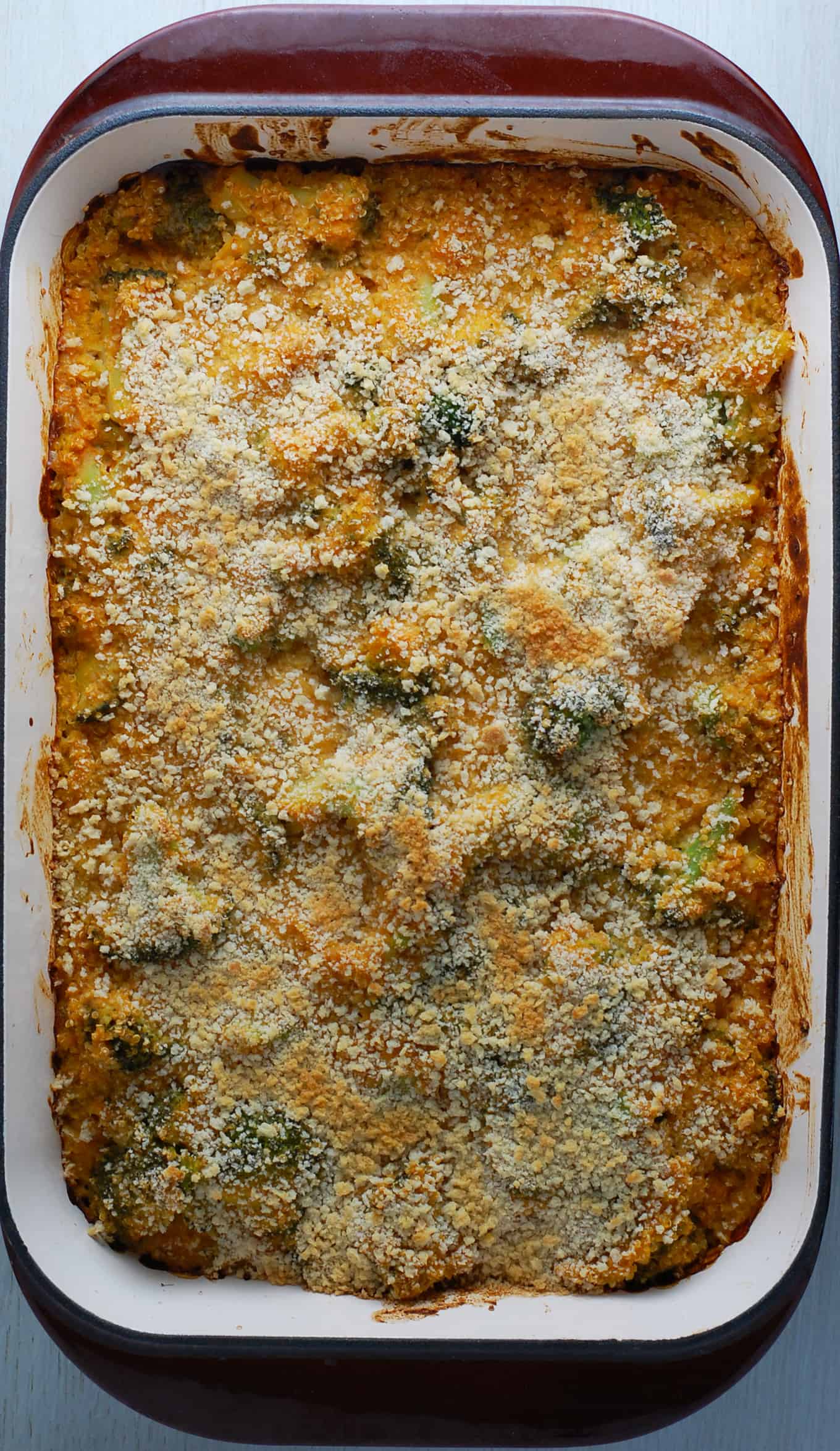 Print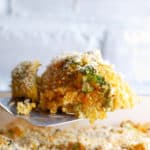 Vegan Quinoa Broccoli Casserole
Author:

Prep Time:

5 mins

Cook Time:

45 mins

Total Time:

50 minutes

Yield:

6

Category:

Quinoa

Method:

boil, bake
---
Ingredients
1 cup quinoa
2 cups vegetable stock or water
1 pound broccoli florets
1/2 cup vegan panko breadcrumbs or whole-wheat breadcrumbs
2 cups vegan cheese sauce, recipe to follow
---
Instructions
Preheat oven to 425°F.
In a medium-sized stockpot, bring salted water to a boil. Blanch the broccoli quickly (1 minute) and immediately shock in an ice bath.
In a saucepan, bring the vegetable stock or water to a boil.
Add the quinoa, stir, cover and reduce heat. Simmer for 15 minutes or until liquid is absorbed. Remove from heat and let stand covered for 5 minutes. Fluff with a fork.
Pour the cheese sauce in with the quinoa and mix. Scoop the quinoa mixture into a casserole dish. Put the broccoli on top and mix-in lightly.
Sprinkle the breadcrumbs over the top and bake in the oven for 20 minutes.
---
Print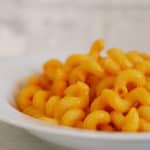 Vegan Cheese Sauce without Nuts or Oil
Author:

Prep Time:

5 mins

Cook Time:

30 mins

Total Time:

35 minutes

Yield:

4

Category:

Sauces

Method:

Boil, Blend
---
Ingredients
2 cups cooked potatoes
1 cup canned pumpkin
1 1/2 cups vegetable stock
1 1/2 Tablespoons white miso
1 teaspoon soy sauce
1/4 cup oats
1/2 teaspoon garlic powder
1 teaspoon onion powder
1/2 lemon juiced
kosher salt to taste
3 dashes Tabasco sauce
---
Instructions
Boil the potatoes, drain, and remove skins. Add to the blender.
Put all ingredients in a blender and blend for 1 minute or until completely smooth.
Taste and adjust seasoning. If too thin- add more potatoes or oats. If too thick- add more stock or water.
---