Vegan stir-fry veggies in peanut sauce. Fresh vegetables are stir-fried and then drizzled with a sauce made from coconut milk and vegan peanut sauce.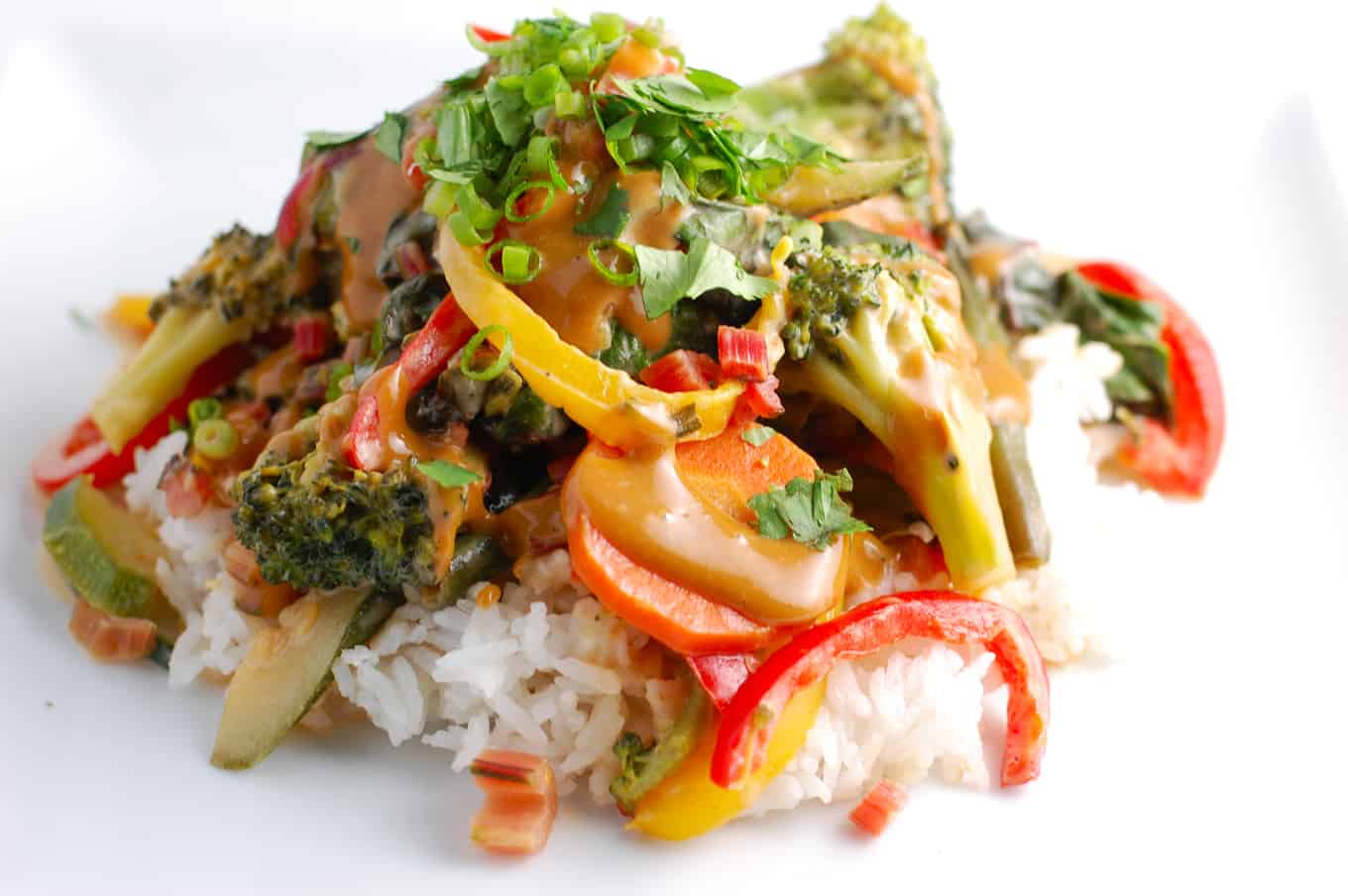 I'm obsessed with the vegan peanut sauce I made for the Cold Sesame Noodles with Peanut Sauce recipe. I worked really hard on that sauce and tested a ton of versions to get to the finalized recipe. So, to continue on with my obsession I thought what else could I do with this sauce?
I tried spooning it over some cooked veggies and it was good, but the sauce was a little heavy and overpowering. Then I tried adding coconut milk to the peanut sauce and woohoo it was perfect! I have a new obsession- vegan stir-fry veggies in peanut sauce with coconut milk!
You can use whatever veggies you like to for this vegan stir-fry recipe. I used broccoli, carrots, bell peppers, swiss chard, and zucchini. Garnished with chopped scallions and cilantro served over jasmine rice.
Step #1- Make the vegan peanut sauce. The recipe is found here –> Vegan Peanut Sauce. Since you're making the sauce, you might as well boil up some noodles, mix some sauce in, save a cup for this recipe, and throw it in the fridge for lunch or dinner tomorrow. You won't be upset… I promise.
Step #2- Heat a cup of coconut milk in a pan and then add the cup of peanut sauce. Warm it up and take off the heat.
Step #3- Stir-fry your veggies in a touch of oil. You don't need garlic or ginger cooked with the veggies since they are already present in the peanut sauce.
Step #4- Plate your veggies and drizzle the coconut peanut sauce over them. If you're having rice with this dish then drizzle some sauce on the rice too… it's delicious. A little sriracha sauce wouldn't hurt either… just sayin'.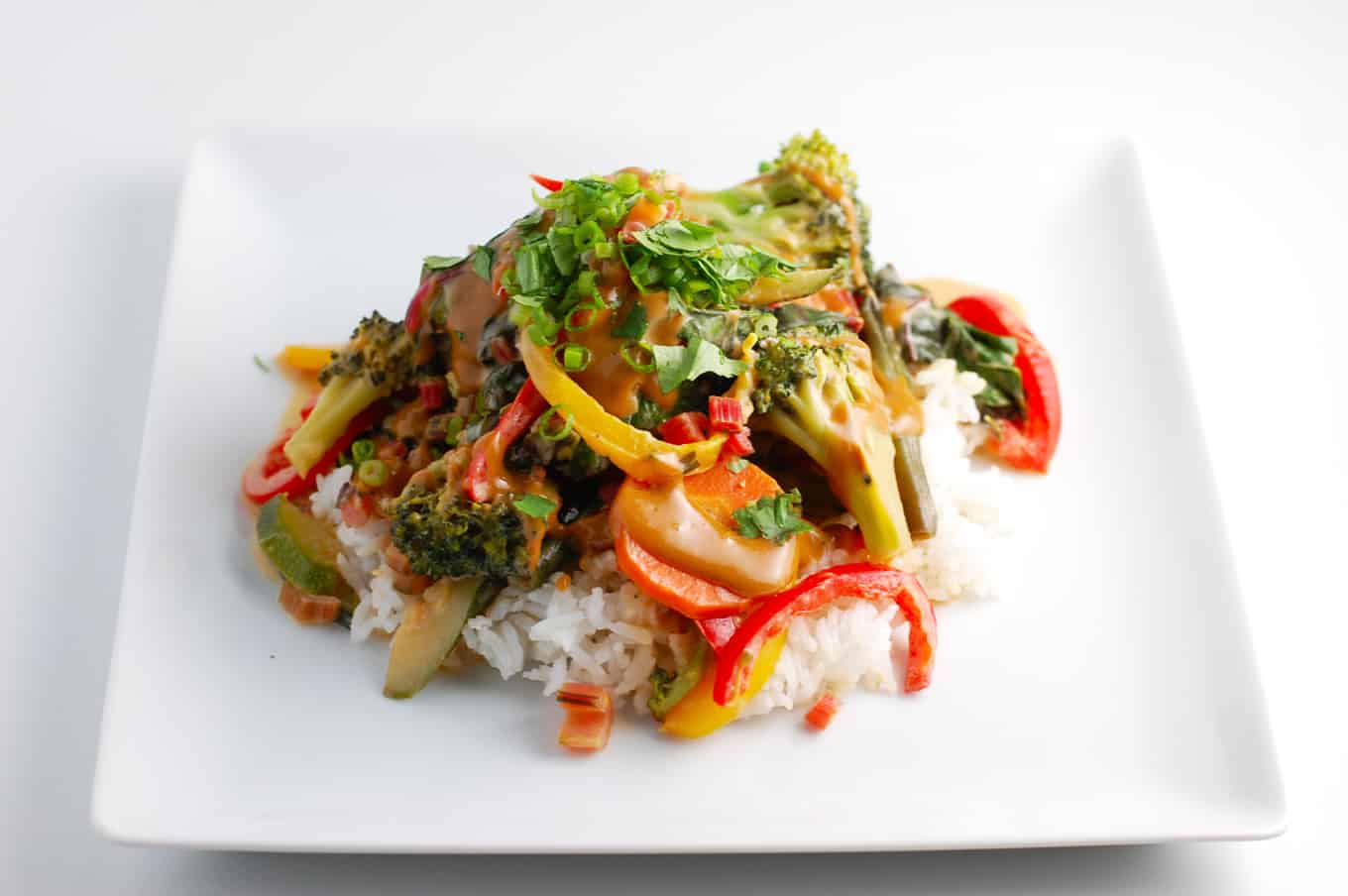 Print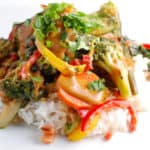 Vegan Stir-Fry Veggies in Peanut Sauce
Author:

Prep Time:

5 mins

Cook Time:

10 mins

Total Time:

15 minutes

Yield:

4

Category:

Stir-Fry's

Method:

Stir-Frying

Cuisine:

Asian
---
Ingredients
1 Tablespoon canola, peanut, or grapeseed oil
2 cups broccoli florets
1 red bell pepper, julienned
1 large zucchini, cut into half moons
2 carrots, cut into rounds or half moons
1 bunch of swiss chard, stems removed from leaves. Stems chopped, leaves left whole
1/2 cup fresh cilantro, chopped
1/2 cup scallions, chopped
1 cup coconut milk
1 cup vegan peanut sauce
---
Instructions
Heat the coconut milk in a small saucepan. Add the peanut sauce and warm. Take off the heat.
In a large skillet or wok, stir-fry the veggies.
Plate your veggies. Drizzle the sauce over and then garnish with chopped cilantro and scallions.
---
Notes
Serve over jasmine rice or rice noodles