Simple warm salad of beet greens and beets with currants, lemon zest, and mint. Make this beet green salad by itself or toss with pasta for a complete meal.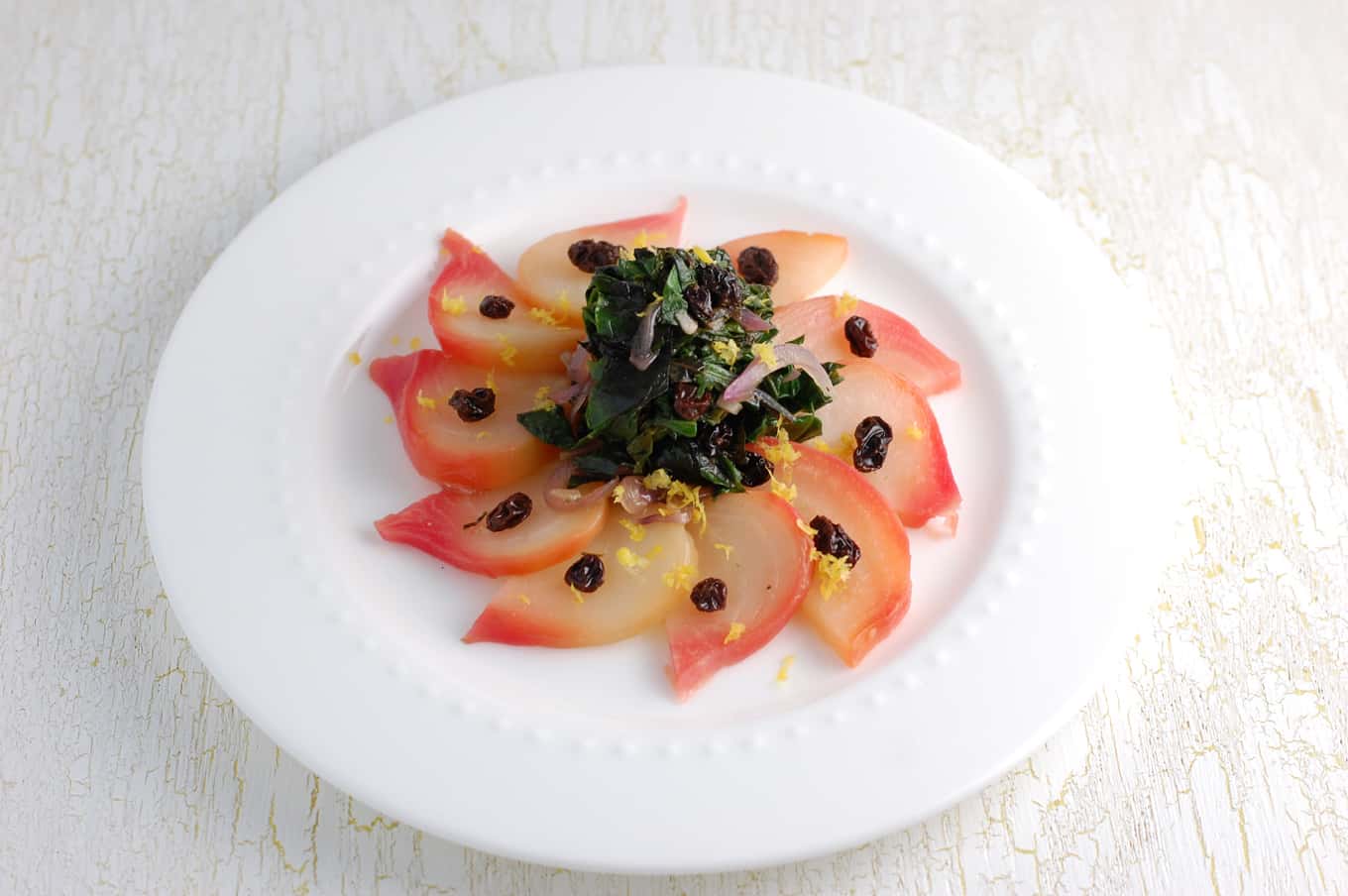 Here is a simple warm salad of beet greens with beets. Beets have that dirty, earthy, sweet flavor that I love and eat so often, But what do we do with those green beet tops? Unfortunately, most of the time they get tossed by people who hate the color green and also by those that don't know how good they really are and that's a damn shame!
Alright, so we have beets and beet greens. I'm thinking we might need to add a little more to spice this salad up. Barry White is not the spice we need tonight though. We need some acid (Not that kind Jimberly… the 60's are far gone). Sherry vinegar and lemon will add that. Some sweetness might be nice (r.i.p. Walter Payton). Currants and the beets themselves will bring that. And lastly, how about a little bitterness (not bitterness like when you don't get your way after speaking to the manager, Kimberly). The beet greens have that nice bitterness that mellows a bit after cooking but can still bring it.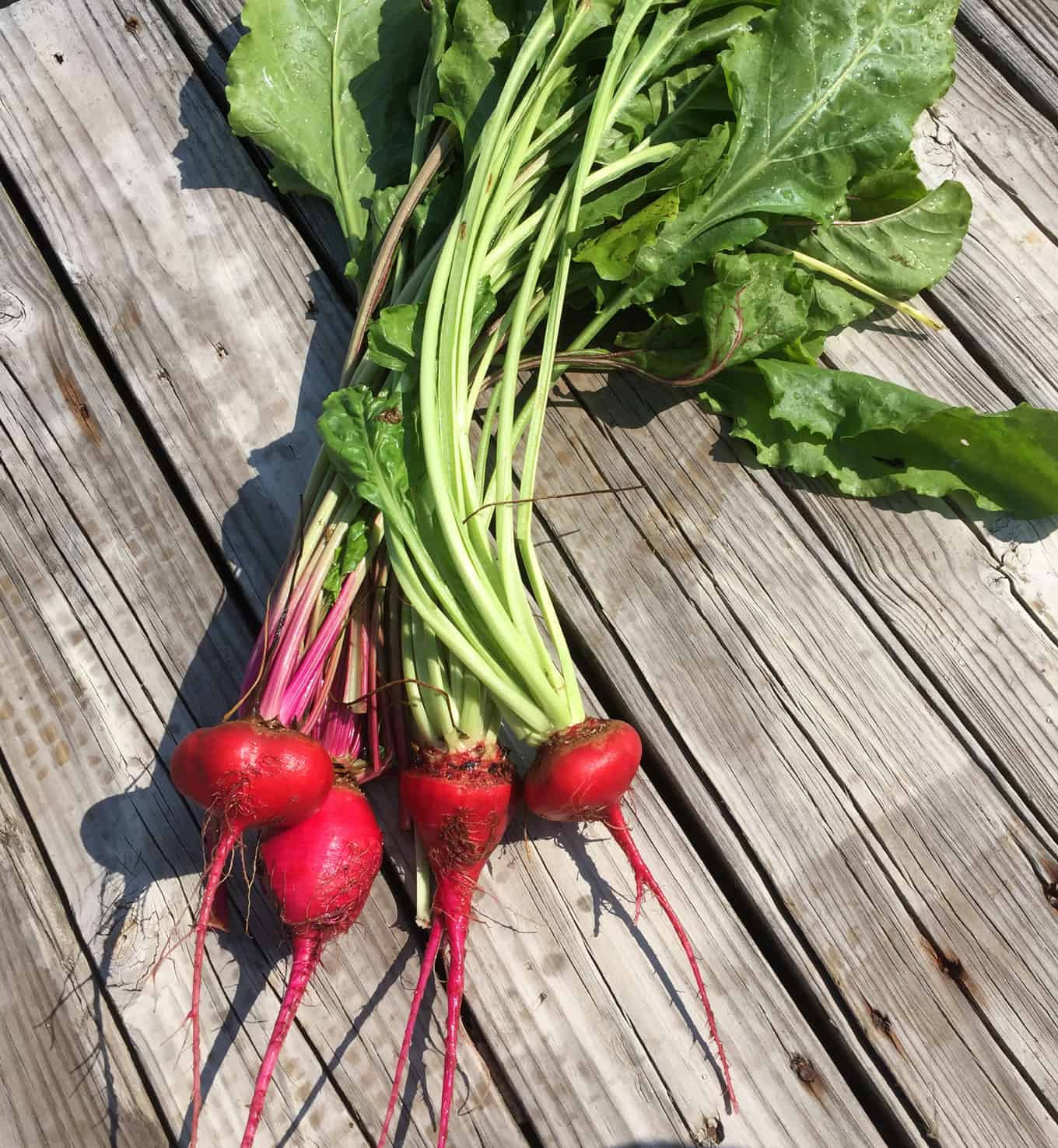 It's a really nice balance of flavors, textures, and colors. The legendary Alice Waters does a similar version of this recipe in her book- Chez Panisse Vegetables, but with just the beet greens and pasta. Her recipe inspired me to cook this version up. Hope you like it! If you don't, well maybe you should put on some Barry White and try Alice's version. She is a way better cook than I am anyway. Go eat your vegetables now and stop complaining. 😉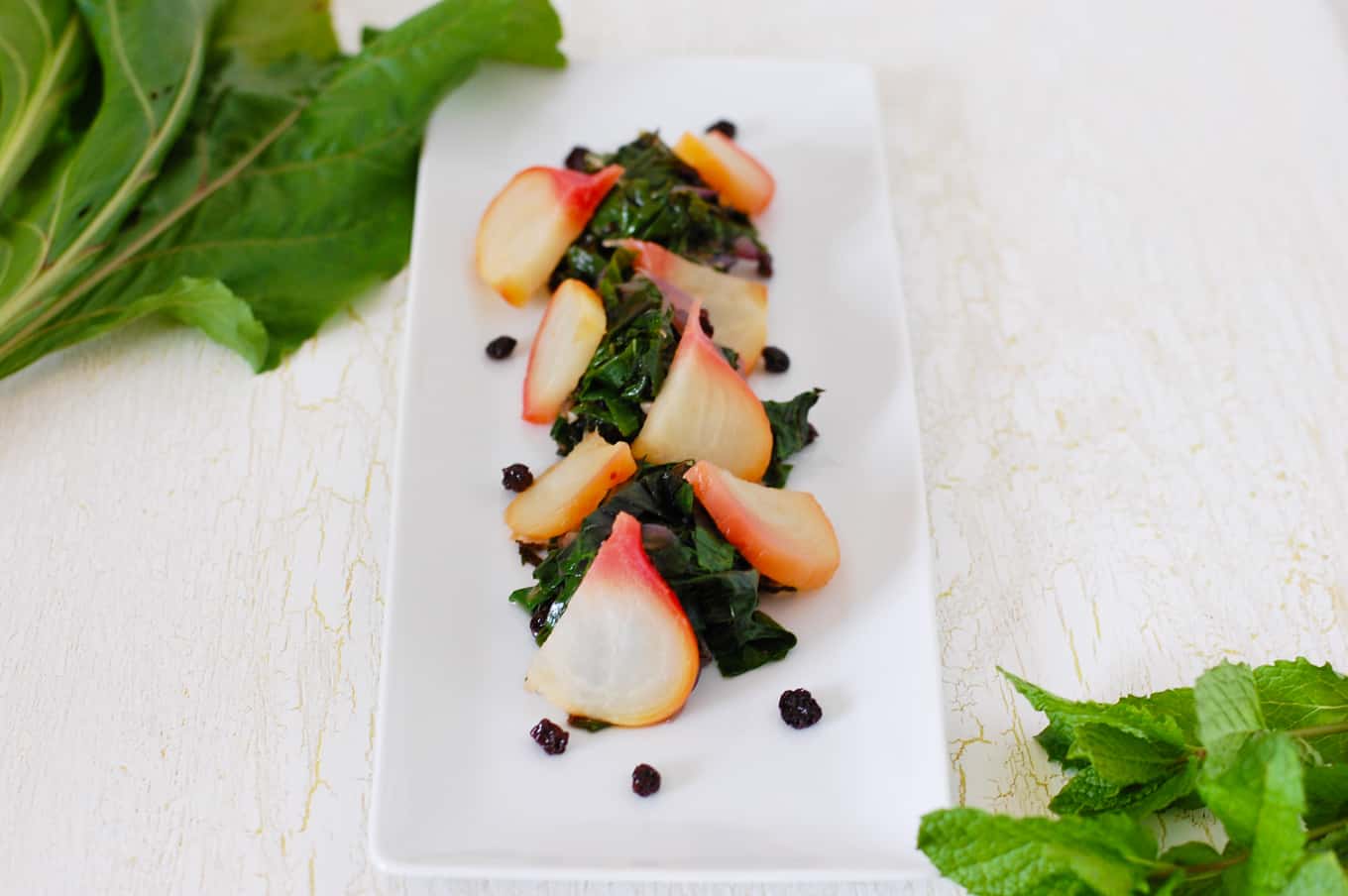 Print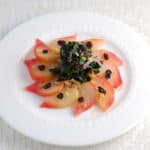 Warm Beet Greens and Beets Salad
Author:

Prep Time:

10 mins

Cook Time:

45-60 mins

Total Time:

-25321239.616667 minute

Yield:

4

Category:

Salads

Method:

Roasting, Saute
---
Description
Simple warm salad of beet greens and beets with currants, lemon zest, and mint. Make this beet green salad by itself or toss with pasta for a complete meal.
---
Ingredients
4 beets (any color will do) with the beet greens
1/3 cup of dried currants
1 medium-sized red onion, diced or sliced very fine
2 garlic cloves, minced
zest of 1 lemon
3 Tablespoons chopped fresh mint
salt and pepper to taste
1/4 cup extra-virgin olive oil
1/4 cup sherry vinegar
---
Instructions
Preheat oven to 400° F
Soak the currants in hot water to plump them up.
Cut the beet greens off and strip the stem from the beet greens. Fine chop the stems and reserve. Roughly chop the beet greens and wash in cold water.
Wash the beets in cold water and wrap them individually in aluminum foil. Wrap them wet so a little bit of the water is present in the foil package. This will help them steam a bit while roasting. Roast for 30-60 minutes or until a knife pierces easily through the center.
Saute the red onion and garlic in olive oil over medium heat for 3 minutes. Add the beet green stems, beet greens, and drained currants. Cover and cook for 8-10 minutes. Turn off the heat.
Add in lemon zest, mint, salt, and pepper to taste.
When beets are done, let cool and peel off the skin. Slice or dice the beets however you like and put into a bowl with the sherry vinegar. Let sit for 15 minutes. The vinegar will brighten the beet flavor.
Toss everything together in a bowl and serve warm or get fancy and style your dish like I did in the pics above. Enjoy!
---
Notes
This recipe was inspired by Alice Waters form her book- Chez Panisse Vegetables.