The best pizza dough recipe to make butternut squash and spinach pizza with butternut cream sauce. This pizza dough recipe can be used with any toppings.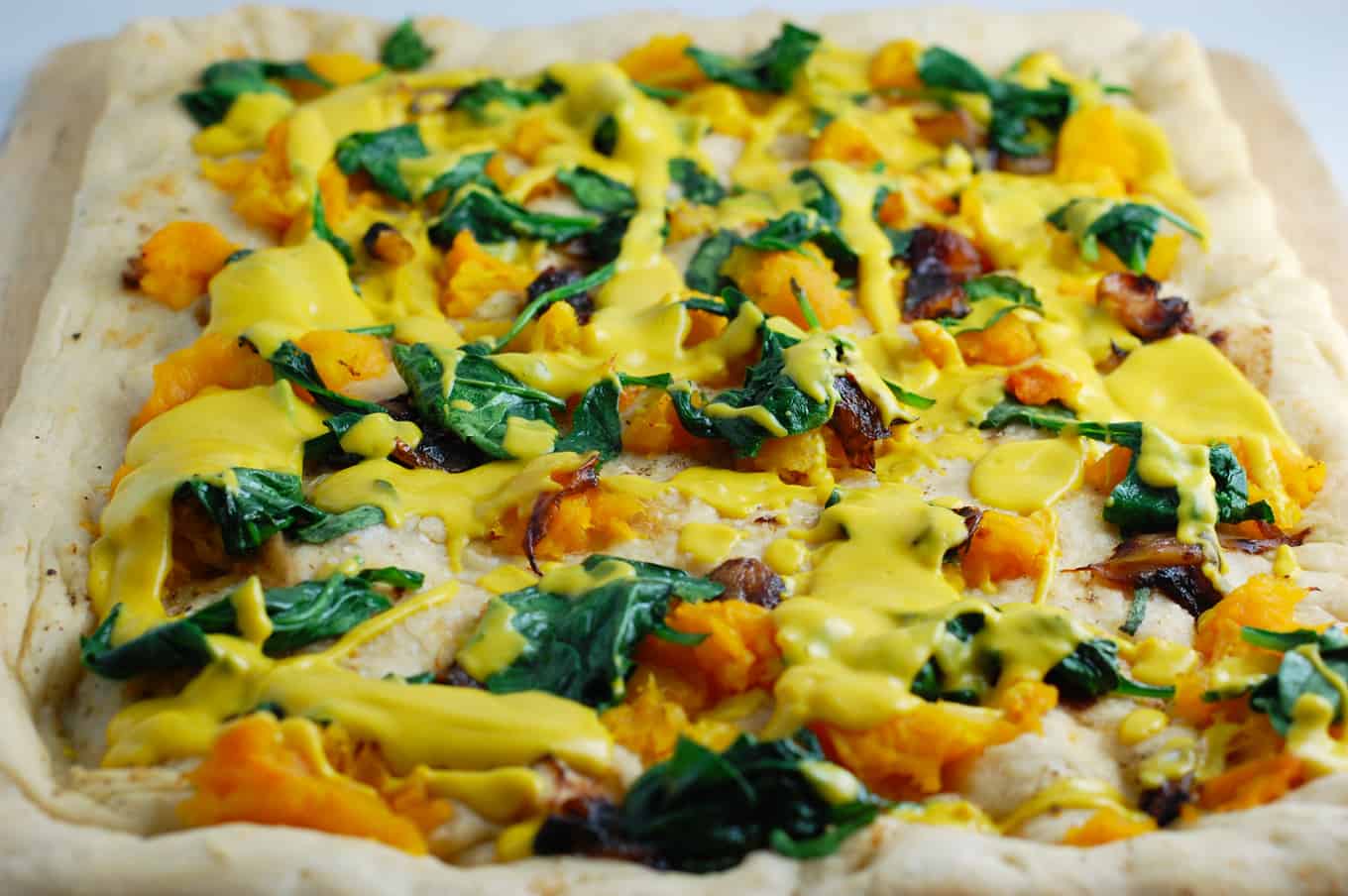 Part 2 of 3 in the butternut trilogy series.
Did you double all the ingredients (except the pasta) from the butternut pasta in the last recipe? Hopefully, you did and now you're halfway there to having this dinner done! You'll just need to make the best pizza dough from the recipe below. Here it is- part 2 in the butternut trilogy series… Pizza time! Butternut squash, spinach, cipollini onions, and roasted garlic on a home-made pizza crust from fresh pizza dough. Then when it comes out of the oven, drizzle over hot butternut cream sauce… Oh Yeah!! This is so damn good.
This is a pretty easy pizza to assemble once all your prep is done. First, brush the dough with olive oil and sprinkle over salt, fresh cracked pepper, and red pepper flakes. If you have any extra roasted garlic leftover it would go great with this. Rub the roasted garlic all over the dough.
Next, add your butternut chunks, roasted cipollini onions, and sauteed spinach. Bake in a 450°F oven for about 10 minutes or until done. Drizzle over hot butternut cream sauce, slice up the pizza, and chow down!
Print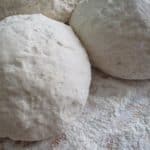 The Best Pizza Dough
Author:

Prep Time:

1 hour 20 mins

Cook Time:

10-15 mins

Total Time:

-25321170.683333 minute

Yield:

approx 25 oz. of dough. enough for 2 small pizzas

Category:

Pizza

Method:

Mixing, Baking
---
Description
Make this pizza with leftovers from the butternut pasta in recipe 1 of the butternut trilogy series.
---
Ingredients
1 cup warm water (105°F – 110°F)
1 packet of active dry yeast
1 teaspoon sugar
1 Tablespoon extra virgin olive oil
2 teaspoons Kosher salt
2 1/2 to 3 cups 00 flour or all-purpose flour
---
Instructions
In a large bowl, dissolve the yeast and sugar in the warm water for five minutes.
Add the oil, salt, and then gradually add in the flour while stirring with a spoon.
Knead the dough in the bowl for a few minutes, adding additional flour if the dough is too sticky.
When the dough is shiny and smooth, rub olive oil over the dough and on the inside of the bowl. Cover with a clean cloth or plastic wrap and let the dough rise in a warm area for 1 hour.
After the dough has risen, punch it down and knead for a few minutes more. If making two smaller pizzas, divide the dough in half and form two dough balls. Cover the dough once more for 15 minutes.
Lightly flour a work surface. Start rolling and stretching out the dough to your desired shape.
Slide the dough onto a sheet pan or pizza pan. Add your toppings and bake at 450°F until done (10-15 mins.).
---
Notes
This recipe can also be made in a stand mixer. Use a dough hook and mix on low speed for 5 minutes.
The quantity of flour needed can vary quite a bit depending on a number of environmental factors. You want the dough just past sticky.
Cornmeal can be added to the sheet pan or pizza pan first. To prevent the dough from sticking.