Coconut cream and strawberries with balsamic glaze. Fresh strawberries are sliced and served with coconut milk whipped cream, balsamic glaze, ground pistachios, and coconut flakes.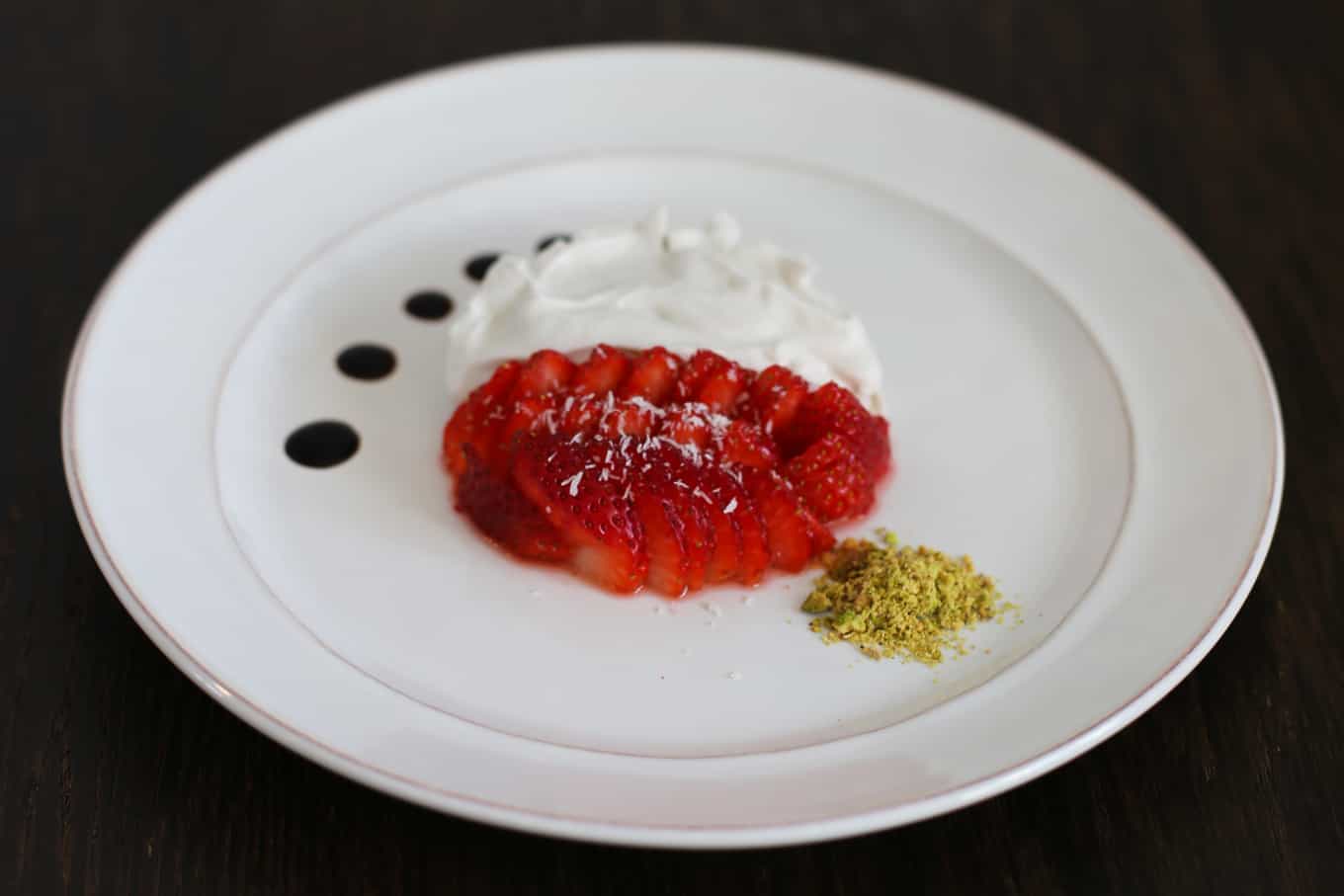 Have you ever awoke from a dead sleep in the middle of the night with an idea for food? I feel like I can't be alone on this. Wednesday night, or actually early Thursday morning, I woke up from a dead sleep thinking about food. This happens to me more than I'd like to admit… I know, I'm troubled. Anyway, I woke up thinking about strawberries… I said strawberries. Why strawberries? I have no idea. My best guess is because Jen bought a quart at the store that day and I saw them in the fridge… I don't know.
Don't get me wrong, I like strawberries and all. They are delicious, especially when in season, but I only eat them on occasion and it is usually in the summer when they show up at the farmers market. I like fruit, but I really only eat it whole and hardly ever in a dessert… I'm just not a dessert kinda guy.
Back to the story… I wake up thinking about strawberries. Now, I didn't wake up thinking about the final dish… No, that would be too easy, wouldn't it?! I woke up with a laser focus on one freakin' ingredient… one ingredient that I never work with… FML. And of course, I can't go back to sleep because I'm like freakin' Strawberry Shortcake with my only thoughts about damn strawberries. I guess I'm just going to have to give in and go through the process with Lord Creativity instead of sleeping.
This is what became of all that- Fresh strawberries and coconut cream with balsamic glaze, ground pistachios, and coconut flakes. I know it may not be world-changing, but I never make desserts and this actually came out really delicious. Here are the components of the strawberries and coconut cream dish.
Fresh strawberries- Slice the strawberries and arrange on the plate. I also took a few strawberries and tossed them in a mini blender with a touch of sugar to blend them up. Pour a small amount of the strawberry coulis over the strawberries. Top with coconut flakes.
Coconut cream- Put a can of coconut milk in the refrigerator overnight. Don't use light coconut milk- it won't work out well for this recipe. Scoop out the coconut cream into a mixing bowl, leaving the coconut water behind, add some sugar and vanilla and beat to medium peaks. place a big dollop of the whipped cream next to the strawberries.
Balsamic glaze- If you want to reduce down balsamic vinegar to make a glaze then, by all means, go for it. I used balsamic glaze out of a bottle and I don't mind it at all. Squeeze out a few drops on the plate, but don't overdo it.
Ground pistachios- You can chop up or smash up pistachios… it doesn't really matter as long as you get them fine enough. I tossed them in a spice grinder for a second and I had a nice mixture of pistachio chunks and pistachio dust. Make a pile on the plate.
That's it for the strawberries and coconut cream… not too difficult, huh? You can use a ring mold for fancy plating like I did if you choose. These flavors work incredibly well together and the pistachios seem to give it that extra push to the next level for some reason. Okay, back to sleep for the next creation…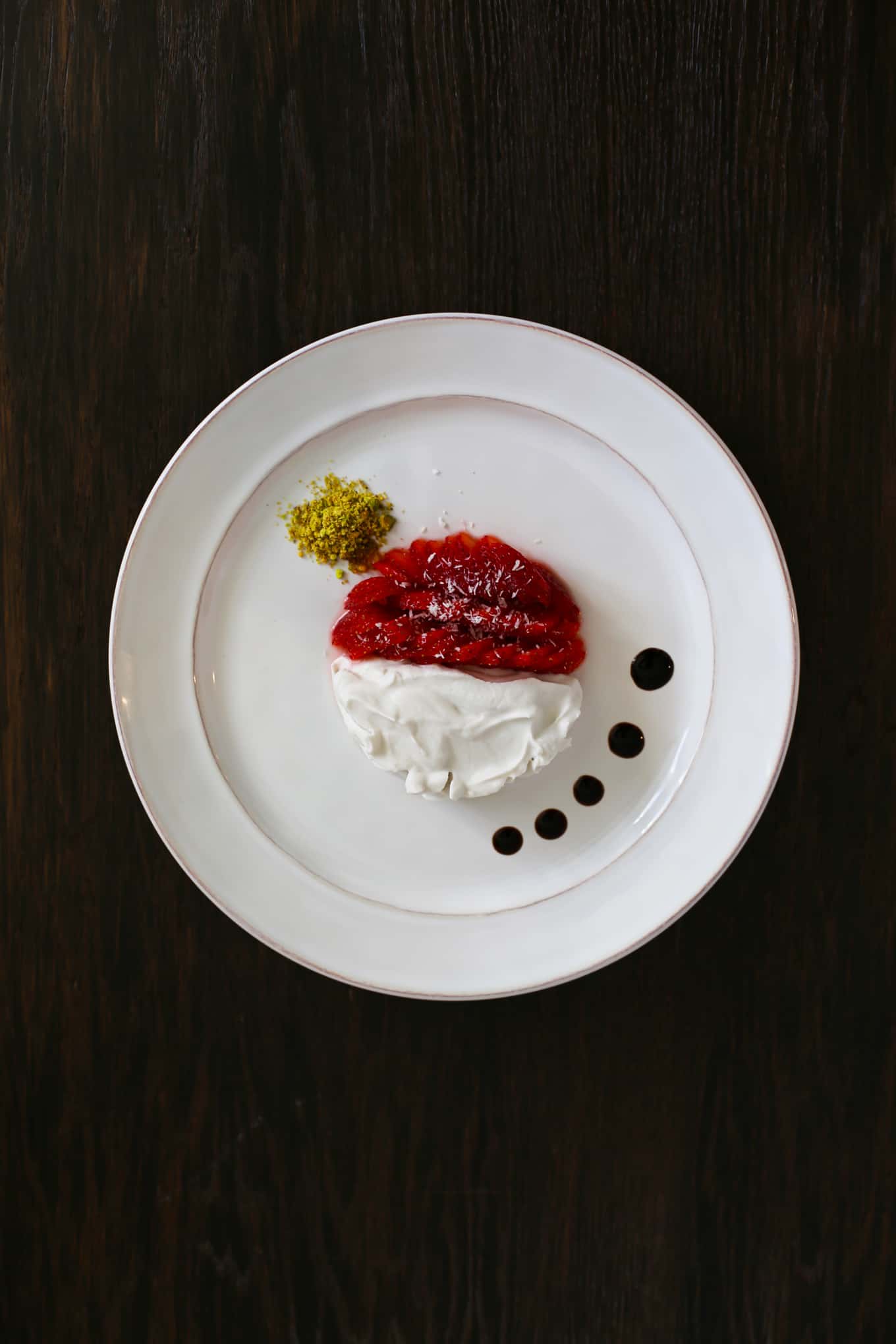 Print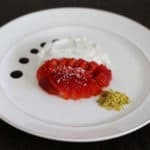 Coconut Cream and Strawberries with Balsamic Glaze
Author:

Prep Time:

1 day

Total Time:

1 day

Yield:

2

Category:

Desserts
---
Ingredients
Strawberries:
9 fresh strawberries, sliced
1 teaspoon sugar
1 teaspoon coconut flakes
Coconut cream:
1 can coconut milk, chilled in the refrigerator overnight.
2 Tablespoons sugar
1 teaspoon vanilla extract
Garnish:
12 pistachios
1 Tablespoon balsamic glaze
---
Instructions
Chop or grind the pistachios, Set aside.
Remove the coconut milk from the refrigerator and open, being careful not to shake the can. Scoop out the coconut cream from the top of the can into your mixing bowl, leaving the coconut water in the can for some other use.
In an electric mixer or using a hand mixer, beat the coconut cream with the sugar and vanilla to medium peaks.
Slice the strawberries and (optional) place 3 of them in a small bullet mixer with a teaspoon of sugar. Blend and pour over the sliced strawberries on the plate. Sprinkle over the coconut flakes.
Arrange your plate with all the components as shown in the photo above.
---