This recipe is for an easy 5 ingredient baba ghanoush. Simple to make with roasted eggplant, tahini, lemon, garlic, and olive oil. Serve with pita and veg.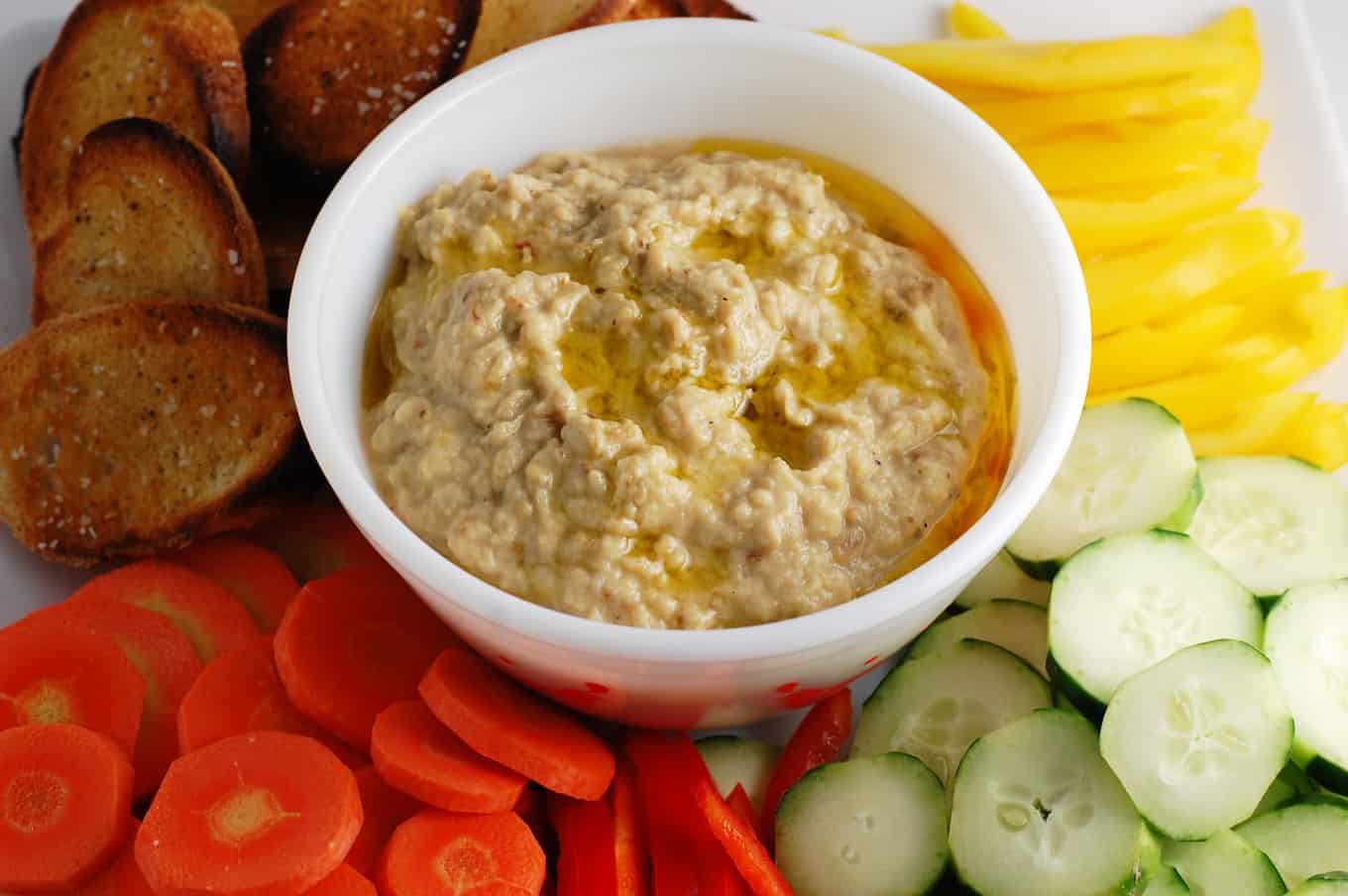 This recipe is for an easy 5 ingredient baba ghanoush (Eggplant Dip). I made this last night and I actually had it for breakfast this morning on toast because I really can't get enough of it.
Back in the day, I tried my hand at leading a normal life with a Monday through Friday day job as a Chef at a corporate cafeteria for a large corporation. At first, I loved it mainly because I was able to see my wife and friends again, but after awhile I ended up hating it. The people were nice and all, but there was no room for creativity and it took its toll on me. I ended up leaving after about a year.
The one bright spot though was that  I ended up making friends with a guy who worked in the office building named Kuwait. Strangely enough, Kuwait was not actually from Kuwait but rather from Saudi Arabia, I never quite understood that one. Anyway, he would sneak down into the kitchen throughout the day and hang out. I think he found his job boring and lacking creativity as well. Being of Middle Eastern descent and coming from a family that loved food, he had a great knowledge and respect for traditional Middle Eastern food and I flooded him with questions and requests for recipes daily.
This recipe was one of the first things he showed me and I couldn't believe how simple it was. He gave me instructions in the morning on how to roast the eggplant and then came back a little later and showed me how he whipped the mashed eggplant with a whisk. Give it a try, I'm sure you'll love it. Wherever you are Kuwait… Thank you for your influence!
Print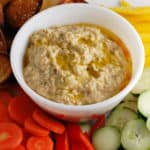 Easy 5 Ingredient Baba Ghanoush
Author:

Prep Time:

5 mins

Cook Time:

35 mins

Total Time:

40 minutes

Yield:

2 cups

Category:

Dips

Method:

Roasting

Cuisine:

Middle Eastern
---
Description
Quick and easy 5 ingredient Baba Ghanoush. Traditional dip best served with pita bread and raw veggies.
---
Ingredients
2 medium-sized eggplant
3 Tablespoons tahini
1/2 cup extra-virgin olive oil, plus 4 Tablespoons for roasting
1 garlic clove, minced
Juice of 2 Lemons
---
Instructions
Cut the eggplants in half lengthwise. Drizzle flesh sides with olive oil, salt, and pepper. Place flesh side down (skin side up) on a sheet pan and roast at 400°F for 30-40 minutes or until completely cooked through and tender. Let cool
Scoop out the eggplant into a bowl leaving the skins behind. Hand whip with a whisk until the eggplant has a smooth consistency.
Add the tahini, minced garlic, lemon juice, and olive oil. Whip to incorporate.
Season to taste with salt and pepper.
---
Notes
Be very careful with the amount of garlic you add. If it is a big clove then maybe use half and then taste. Raw garlic is very powerful and can overtake the dip if too much is added.
The recipe above should be used as a guideline. Always taste your finished product. Maybe you think it needs more tahini or more lemon.
Serve this dip with any of the following- fresh pita bread, pita chips, fresh tomato quarters, carrots, bell pepper, cucumber, whole scallions, broccoli, green beans, snap peas, and crostini.
Drizzle a little extra-virgin olive oil on top of the dip right before serving.