Tofu scramble with veggies and roasted potatoes- the vegan breakfast of champions. Sauteed onion, mushroom, broccoli, red pepper, spinach, and tomatoes mixed with crumbled extra firm tofu and roasted potatoes on the side.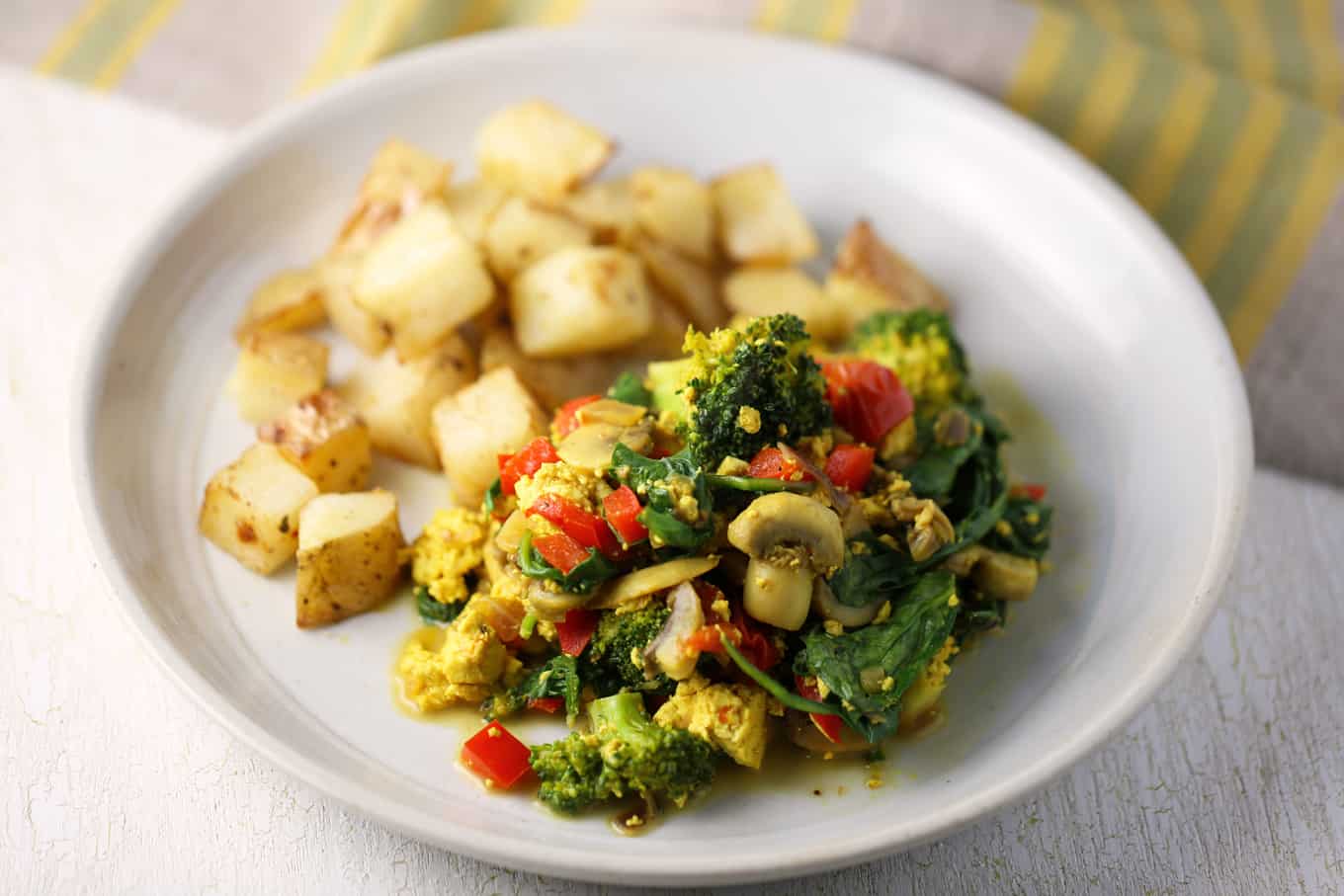 This is one of my favorite dishes to have for breakfast (or really anytime). It's super easy, healthy, and is also good heated up as leftovers. I wouldn't skimp on the veggies- pack as many vegetables as you can into this and it will taste great. Use vegetables that you would normally find in omelets- onion, mushroom, bell pepper, broccoli, spinach, tomato, etc.. The tofu will suck up the juices of the vegetables as they cook. I season only with salt, pepper, and turmeric (for color). You can skip the oil if you're eating oil free, just add a little water.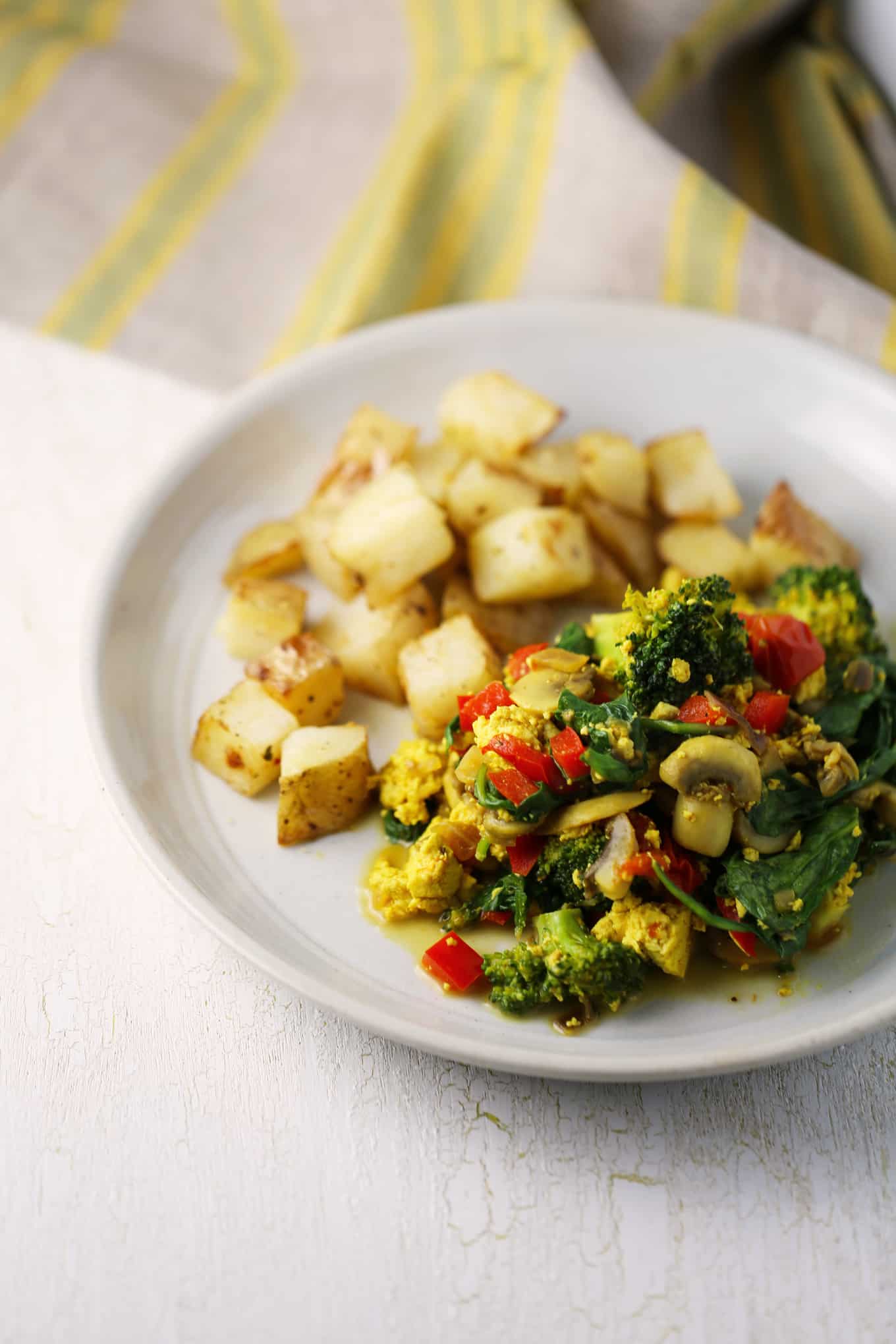 The potatoes are pretty simple too. Cut up the potatoes into fork size pieces and put into cold salted water. Bring to a boil and simmer until the potatoes are just cooked through. Drain and then toss into a bowl with olive oil, salt, pepper, and cajun seasoning. Spread on a sheet pan lined with parchment and bake in a 425°F oven for 20 minutes. Serve with hot sauce and ketchup.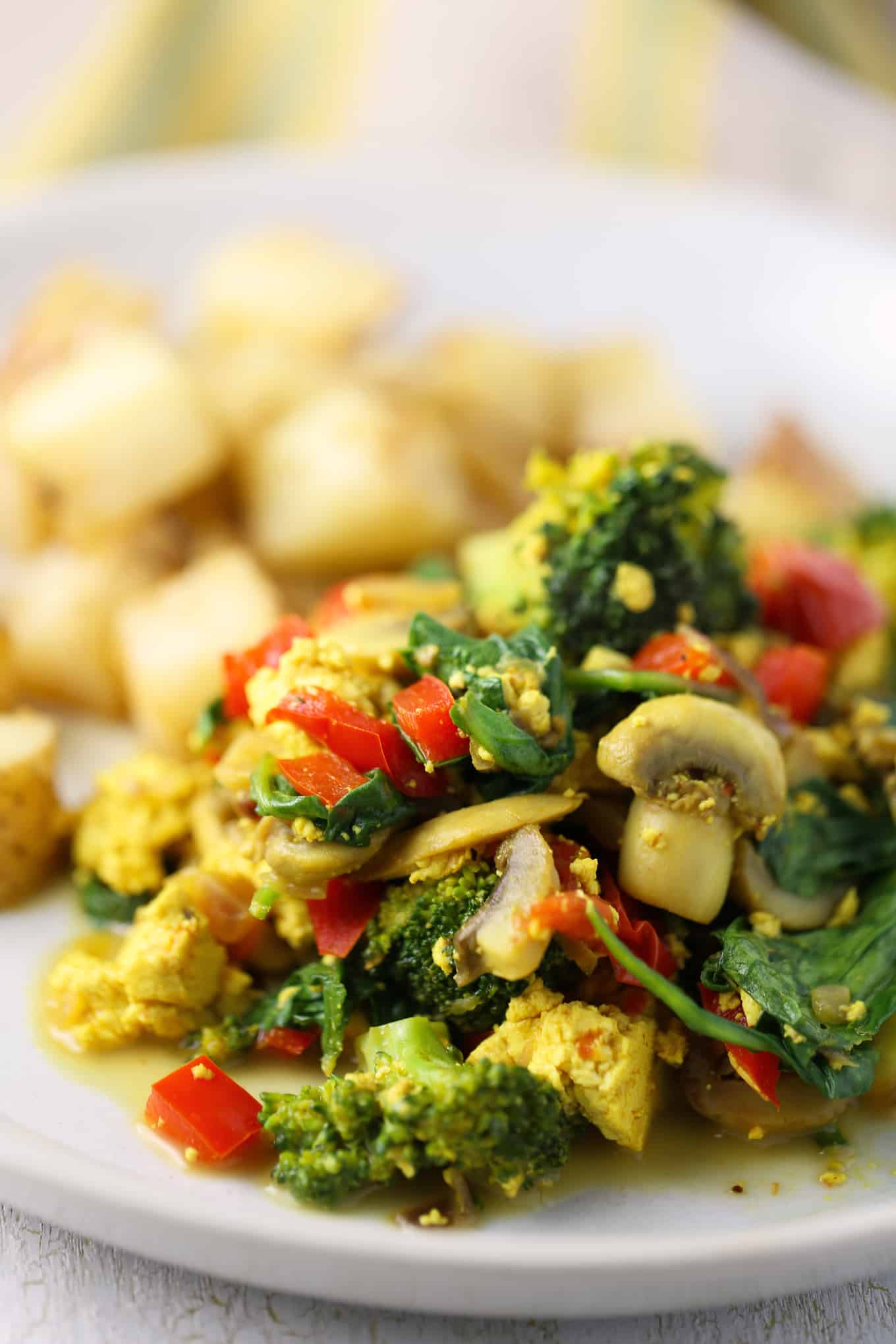 Print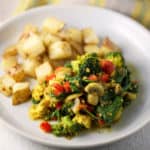 Tofu Scramble with Veggies and Roasted Potatoes- The Vegan Breakfast of Champions
Author:

Prep Time:

10 mins

Cook Time:

30 mins

Total Time:

40 minutes

Yield:

4

Category:

Breakfast

Method:

Saute, Boil, Roast
---
Ingredients
Tofu Scramble:
1 Tablespoon olive oil
14-ounce pack of extra firm tofu. drained
1 small red onion, diced
1 red bell pepper, diced
1 pound of mushrooms, sliced
5-ounce pack of baby spinach
1 head of broccoli, cut into florets
10 grape tomatoes, cut in half
2 teaspoons turmeric
Kosher salt and pepper to taste
Roasted Potatoes:
4-6 Yukon gold potatoes or whatever you have on hand
2 Tablespoons olive oil
2 teaspoons Cajun seasoning
Kosher salt and pepper to taste
---
Instructions
Preheat the oven to 425°F.
Cut the potatoes into fork size pieces. Place into a pot and cover with cold water. Add a couple pinches of salt and bring to a boil. Simmer until the potatoes are just done. Drain, then toss in a bowl with olive oil and the seasoning. Spread out the potatoes on a sheet tray lined with parchment paper. Bake for 20 minutes at 425°F.
Chop all your veggies and drain the tofu.
In a large skillet, add the olive oil over medium-high heat. Add the onions, pepper, and mushrooms. Season with salt and pepper and saute for 5 minutes.
Add the broccoli, tomatoes, and crumble in the tofu. add the turmeric and mix well. Cook for an additional 5 minutes. Add the spinach, mix well and turn off the heat. Check the seasoning and adjust. Serve with hot sauce and ketchup.
---