Grated daikon carrot salad with raisins. Fresh Daikon radish and carrots are grated and mixed with plump raisins, lemon juice, cilantro, and olive oil.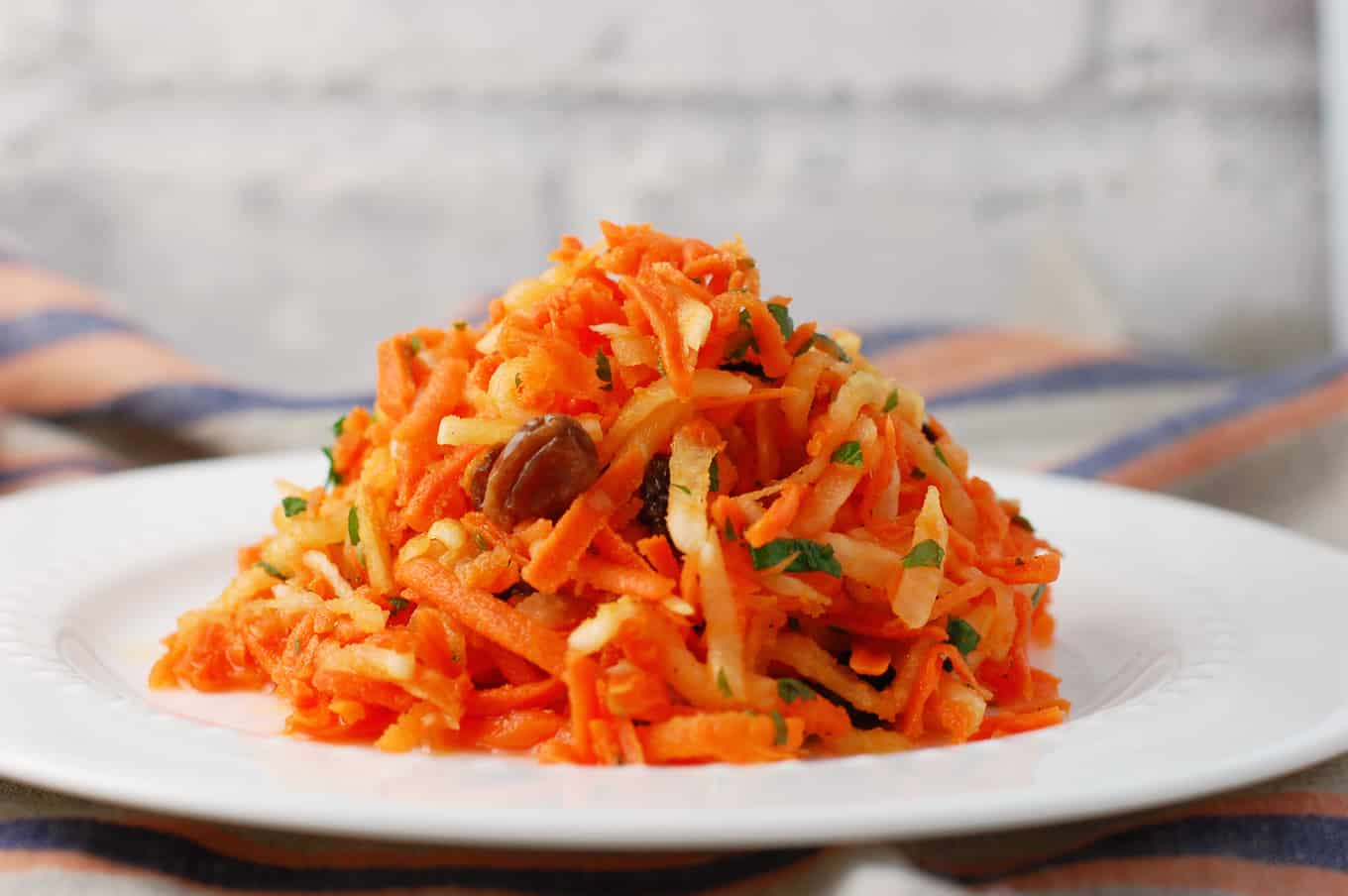 Have you tried daikon radish? It's very popular in Southeast Asian countries, especially Japan. It is a winter radish with a mild flavor and is quite versatile. Daikon has many health benefits including the following from Organicfacts.net
Improves digestion– It is known to improve digestion as it has similar enzymes found in our digestive tract.
Prevents cancer– Daikon possesses certain antioxidant phenolic compounds that have been shown to reduce various types of cancer, particularly of the stomach.
Boosts immune system– Daikon has a high concentration of vitamin C which stimulates the production of white blood cells and helps speed up the healing and repair of cells and tissues in the body
Those are just a few of the benefits according to Organicfacts.net. I love daikon not only for its health benefits but for its fresh crisp taste when grated raw. Mixed with freshly grated carrots, sweet plump raisins, and brightened up with fresh cilantro and citrus, it's a great winter side salad to go along with your lunch or dinner. I usually serve it alongside a hearty dish of creamy broccoli and cheese soup or sometimes Pasta e Fagioli soup.
The prep for this grated daikon carrot salad is really quite simple as well, which I love. Simply peel and grate the daikon and the carrots into a bowl, I use a box grater, but you could also shave each with a vegetable peeler for a bit of a different texture. Plump up the raisins in a separate bowl by soaking them in boiling water for 5-10 minutes. Add the fresh chopped cilantro, lemon juice, olive oil, salt, and pepper to the daikon and carrots. Add the drained raisins and mix. Check and adjust the seasoning. Easy as that and you can even make it ahead of time and let it sit in the refrigerator until your main dish is ready. I think you'll love this daikon carrot salad, especially during these cold winter months when a nice fresh crisp salad awakens your taste buds.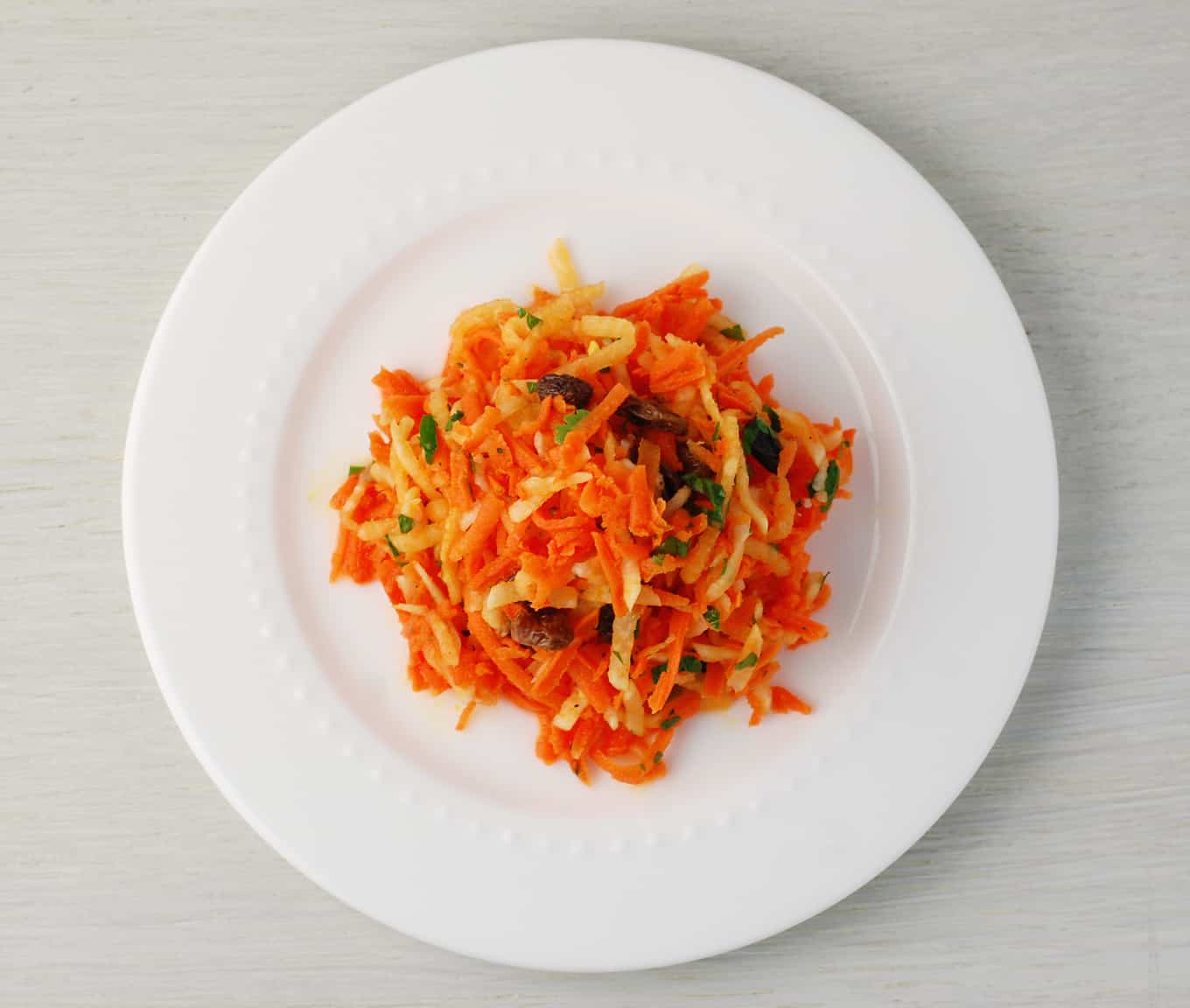 Print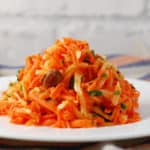 Grated Daikon Carrot Salad with Raisins
Author:

Prep Time:

10 minutes

Total Time:

10 minutes

Yield:

4 as a side

Category:

Salads

Method:

Grating
---
Ingredients
1 daikon radish (approximately 8 ounces)
2 carrots (approximately 6 ounces)
1/2 cup raisins
1 Tablespoon chopped cilantro
Juice of 1/2 a lemon
2 Tablespoons olive oil
Kosher salt and pepper to taste
---
Instructions
In a small bowl, pour boiling water over the raisins and let sit for at least 5 minutes. Drain.
Peel and grate the daikon into a mixing bowl.
Peel and grate the carrots into the same mixing bowl.
Add the raisins, lemon juice, olive oil, salt, and pepper to the mixing bowl. Mix well and taste to adjust seasoning. Serve at room temperature or cold.
---