Creamy vegan broccoli cheese soup. Made with broccoli, onions, carrots, celery, soy milk, and cashew sauce. Sprinkle vegan cheese for an extra cheesy soup.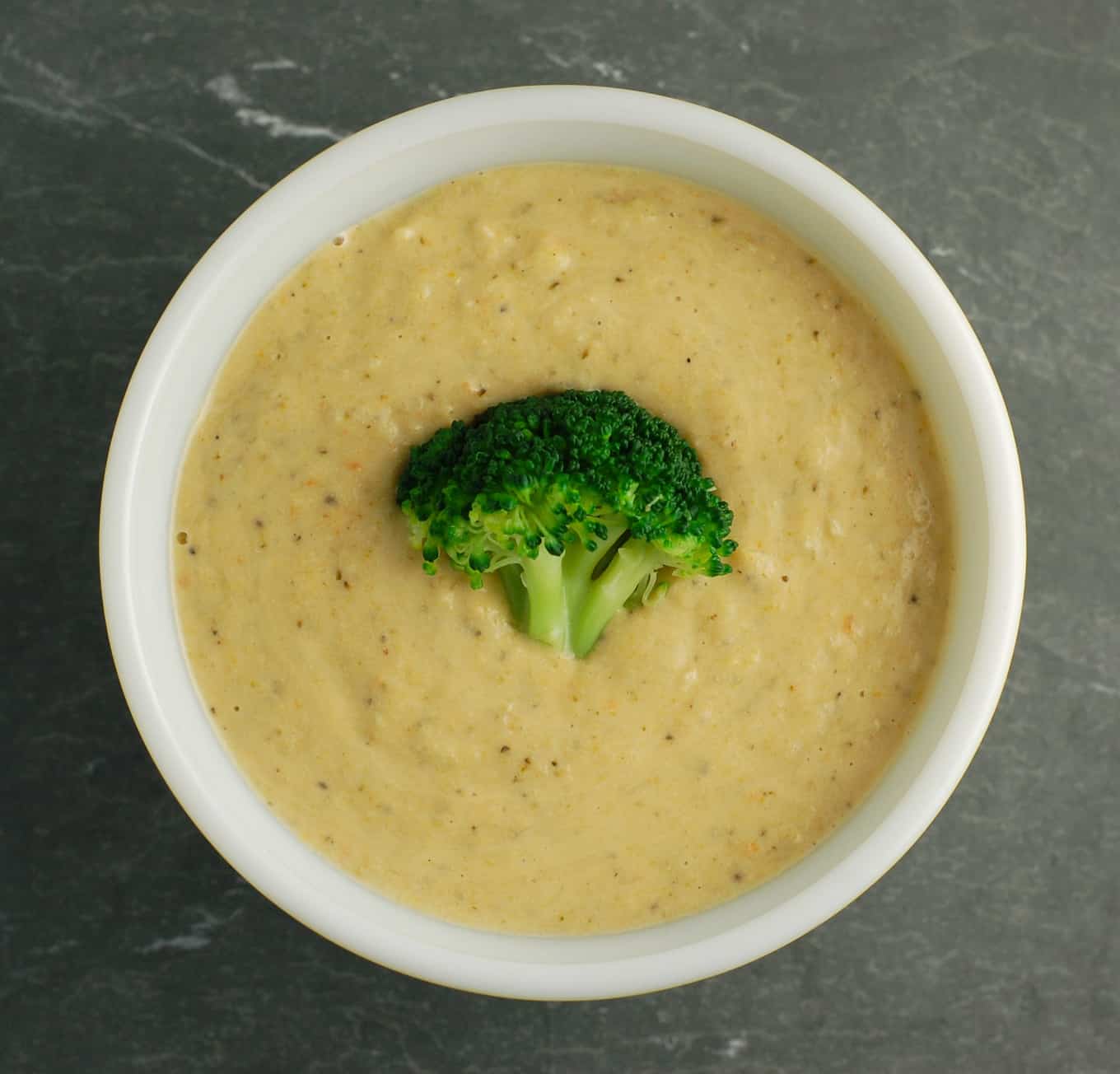 Broccoli and cheese soup was definitely one of the soups I missed most since going vegan. Cheese flavor just goes really well with broccoli for some reason. I don't know who makes these things up, but when it works, I don't ask questions.
This vegan creamy broccoli cheese soup is fairly straightforward as far as veganizing it. The soy milk replaces cow milk and the cashew based cheesy cream sauce replaces dairy cream and cheese. The miso, nutritional yeast, and soy bring the umami that cow's milk cheese has. The veg is pretty straightforward too with fresh broccoli added to mirepoix veg with a little garlic as well. I serve this as a main meal with a side salad or with some nice crusty bread. You could also make some homemade croutons and float those on the finished soup too if you like.
One word of advice- Don't puree the vegan broccoli cheese soup too smooth. If you have an immersion blender, use that to blend the soup up once you add the cashew cheese sauce. The texture is as important as the taste for this recipe. You're creating a soup here not a sauce. Enjoy!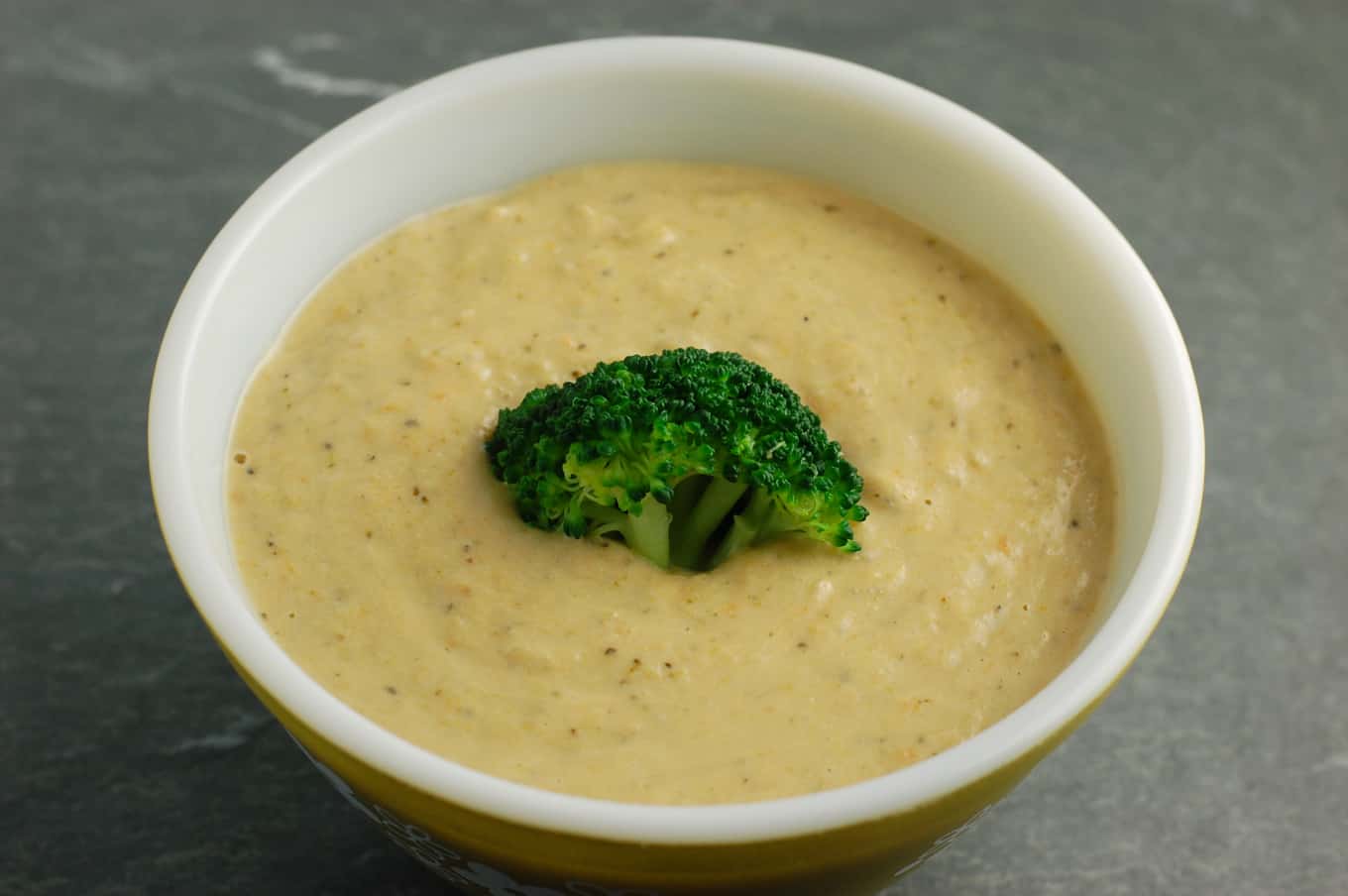 Print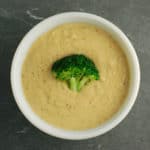 Creamy Vegan Broccoli Cheese Soup
Author:

Prep Time:

5 mins

Cook Time:

25 mins

Total Time:

30 minutes

Yield:

6

Category:

Soups

Method:

Saute, Simmer, Blend
---
Ingredients
Soup Base:
1 Tablespoon olive oil
1 cup chopped onions
1 cup chopped carrots
1 cup chopped celery
2 garlic cloves, minced
4 cups broccoli florets, chopped (about 2 heads)
3 cups unsweetened soy milk
kosher salt and pepper to taste
few dashes of Tabasco sauce
juice of 1 lemon
Cashew Cheese Sauce:
1 cup raw cashews, soaked for  1-3 hours
2 cups soy milk
4 Tablespoons white miso
4 Tablespoons nutritional yeast
1 Tablespoon soy sauce
---
Instructions
In a large stockpot, heat the olive oil over medium-high heat. Add the onion, celery, and carrots. Cook for 5 minutes. Add the garlic and cook for 1 minute.
Add the broccoli, soy milk, salt, and pepper to the pot. Bring to a simmer and cook at a low simmer for 15 minutes or until the vegetables are tender.
In a high-speed blender, add the soaked cashews, soy milk, miso, nutritional yeast, and soy sauce. Blend on high speed for a few minutes until completely smooth.
If you have an immersion blender- add the cashew sauce to the soup and blend lightly with an immersion blender to achieve a slightly chunky soup. If not using an immersion blender- add half the soup to the cashew sauce in your high-speed blender and puree very lightly on low speed. Transfer to a bowl and blend the second half of the soup the same way.
Combine all soup together. Add lemon juice, Tabasco sauce, salt, and pepper to taste. Serve hot.
---