Vegan green bean casserole. Green beans tossed with sauteed mushrooms, onions, and vegan mushroom gravy. Topped with french fried onions and baked in the oven until crispy. Perfect side dish for a vegan Thanksgiving.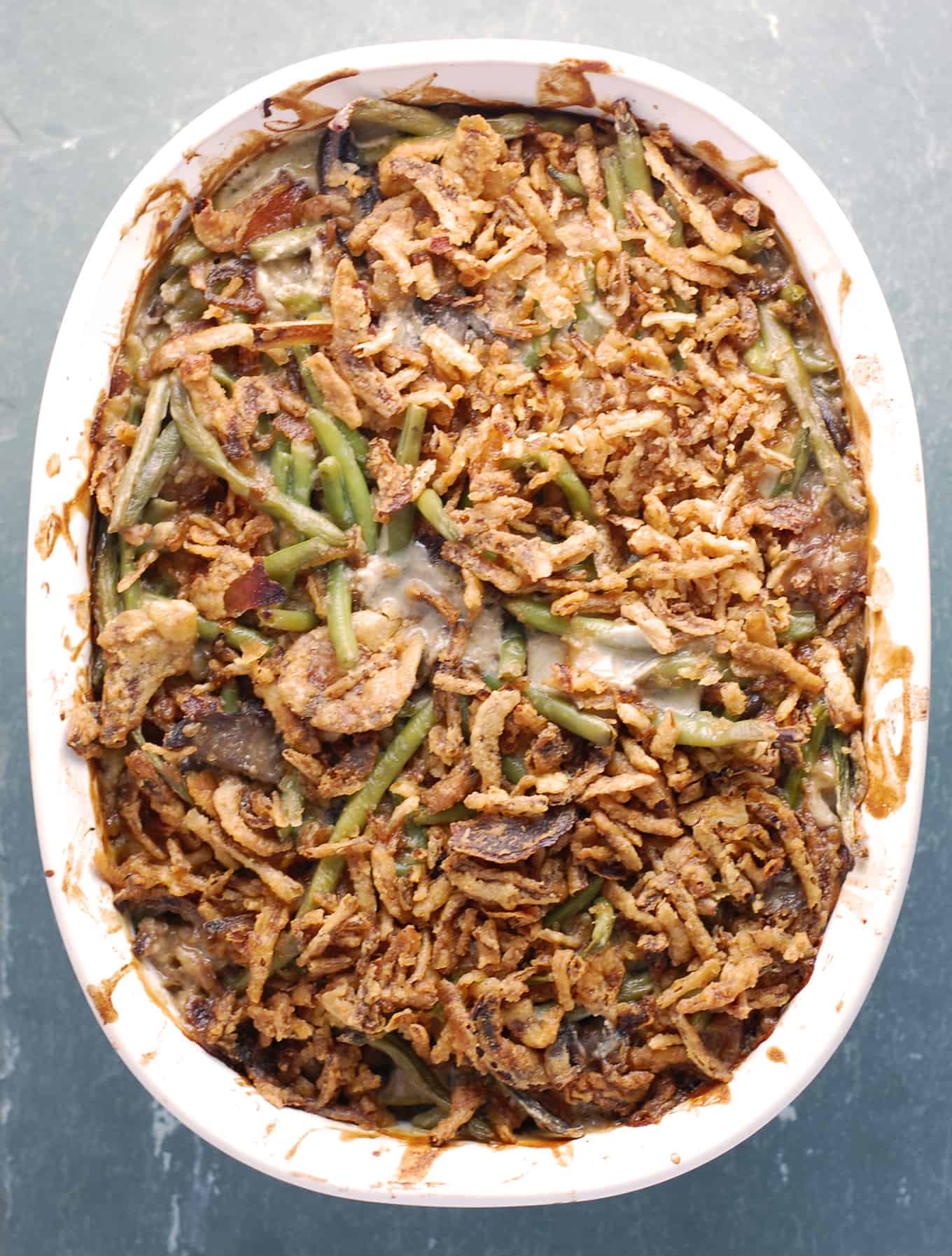 I'm going to be completely honest right now… I never liked the traditional green bean casserole most of us grew up with at the Thanksgiving table. It was always mushy and looked terrible, I thought it resembled what I imagined prison food to look like… Gross. I know I'm probably alone on this and I'll take the abuse. Jen loved this stuff and so did my kids, but seriously, with all the other dishes like stuffing, mashed potatoes, carrots, and cranberry sauce why would I choose the green and brown mush with gross canned mushroom soup in it?!
I'm happy to now say that I've improved that mushy green bean casserole from your childhood and all it took was me becoming vegan and Jen demanding a vegan green bean casserole version for Thanksgiving… the pressure was on.
Problem #1- The original version used canned green beans. (I'll be throwing up over here for a little while… don't mind me.)
Solution #1- Well this is an easy one… Use fresh or even frozen green beans. Trader Joe's has a bag of good frozen green beans for $1.99… out the damn door… done.
Problem #2- The original version uses mushroom soup in a can. (I'm still throwing up)
Solution #2- Not as easy as plopping some soup out of a can, but this —> Vegan Mushroom Gravy with an extra 1/2 cup of raw cashews blended in is perfect and really not difficult at all.
Problem #3- The original uses French fried onions in a container from the grocery store??? I consider myself a professionally trained chef here, can I really use fried onion pieces from a plastic container?
Solution #3- You're damn right I can use those packaged fried onions! I mean c'mon now… I'm making a casserole here. I'm not trying to make a dish worthy of the chef's table. And I might also add… those packaged fried onions are freakin' delicious!
I win… gross old original green bean casserole loses. Vegan green bean casserole will forever reign on your Thanksgiving table. And please, for the love of all beings with teeth and taste buds, don't use canned green beans!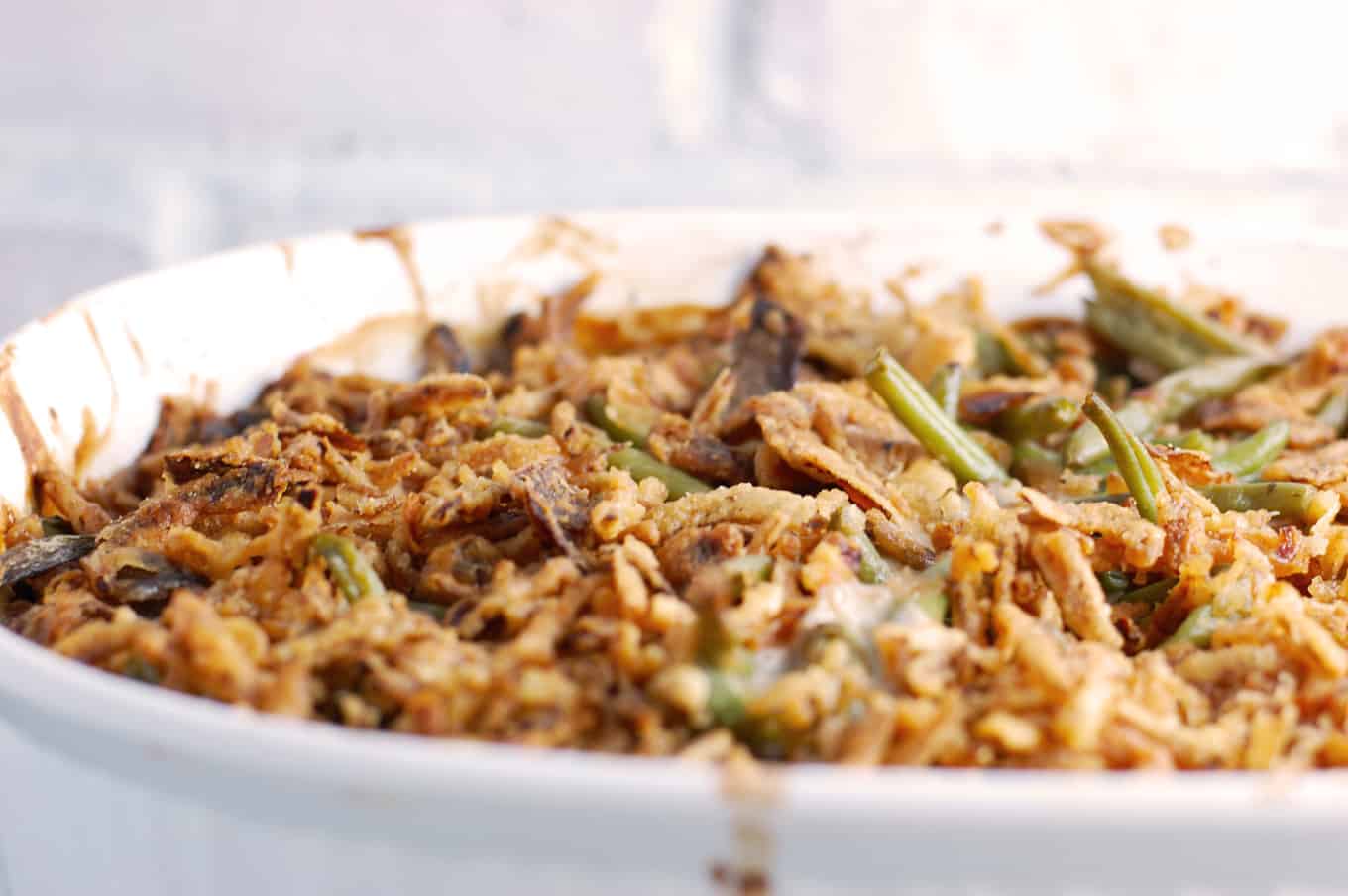 Print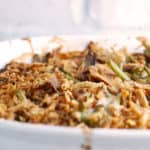 Vegan Green Bean Casserole
Author:

Prep Time:

5 mins

Cook Time:

30 mins

Total Time:

35 minutes

Yield:

6

Category:

Sides

Method:

saute, bake

Cuisine:

Thanksgiving
---
Ingredients
24 ounces of frozen or fresh green beans
2 cups mushrooms, sliced
1 medium-sized onion, chopped
1 Tablespoon olive oil
2 cups vegan mushroom gravy
2 cups packaged french fried onions
---
Instructions
Preheat oven to 375°F.
Blanch your green beans in boiling water for 2-3 minutes and then shock in an ice bath.
In a large skillet, saute the onions and mushrooms in olive oil until soft. Approximately 5 minutes.
Add the vegan mushroom gravy to the pan and heat through. Turn off the heat.
Place the green beans in a casserole dish and pour over the gravy mixture. Add in half of the french fried onions and mix together.
Top with the rest of the french fried onions and bake for 20 minutes.