Loaded hash browns the vegan way. A simple recipe using frozen potato hash browns and topped with all the fixings and vegan butternut cream sauce.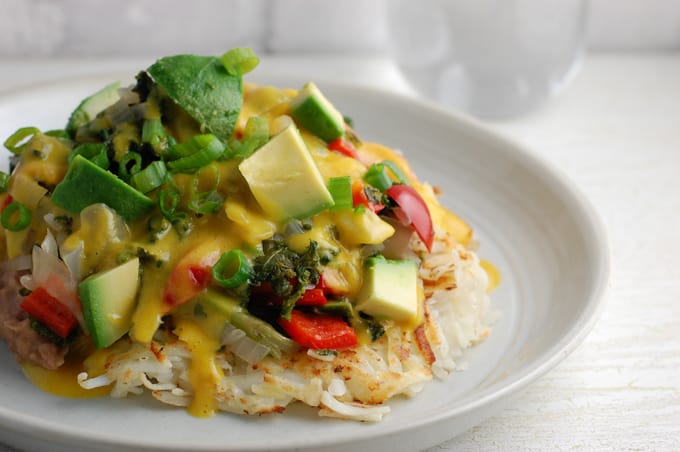 The potato has become a mainstay in our diet since going vegan.  While most people will agree that it's a favorite, the potato has gotten a bad rap during these days of low carb dieting.  This is compounded by the fact that most are drenched in oil or slathered in unhealthy condiments of the dairy variety, turning one of nature's most perfect foods into a vehicle for artery clogging and calorie-laden add-ons.
Let's be real, I like a good heap of french fries as much as anybody, but that is potato junk food.  Delicious as they are, it isn't fair to classify the potato as unhealthy because of french fries or a cheesy, bacon stuffed baked potato.  Enough already.
Strip that all away and the potato is a nutrient-packed, low-calorie food that our bodies are meant to enjoy.  If you don't believe me, take a moment to ponder over the science here- humans are meant to consume starches by design.  During the very first part of the digestive process, when the food first enters our mouths and we begin to mechanically break it down with our teeth, it is met with an enzyme right there in our saliva who's sole purpose is to begin to chemically break down starch!  This enzyme is called amylase.  Do you know what the little organelles are called that store the plants starch, or energy??  Amyloplasts!  So, our amylase enzymes in saliva, are there to begin breaking down those amyloplasts so that we can utilize the energy within them. 
In addition to being a perfect source of energy for our bodies, potatoes come packed with fiber, potassium, magnesium, antioxidants, vitamin B6, iron, some calcium, and tons of vitamin C. 
One of the ways our family likes to enjoy potatoes without pushing them over the line to "junk food", is in the form of loaded hash browns.  I'm not talking about the greasy versions found at that place with the golden arches, but amazing, homemade, healthy, loaded with goodness hash browns.
You can shred your own potatoes if you like, especially if you have a nice food processor that will help accomplish the job, or you can look for pre-shredded versions in the freezer section at the grocery store.  Just be careful to avoid any that are prepared with oil.  Trader Joe's sells great oil-free frozen hash browns that are perfect for loaded hash browns.  Saute them up on the stove top in a great non-stick pan that won't require oil, top them with anything from guacamole and salsa to a homemade plant-based cheezy sauce and everything healthy in between, and call it a meal!  I'm sharing a recipe for our latest version here, but feel free to play around with the toppings to tweak them to your liking.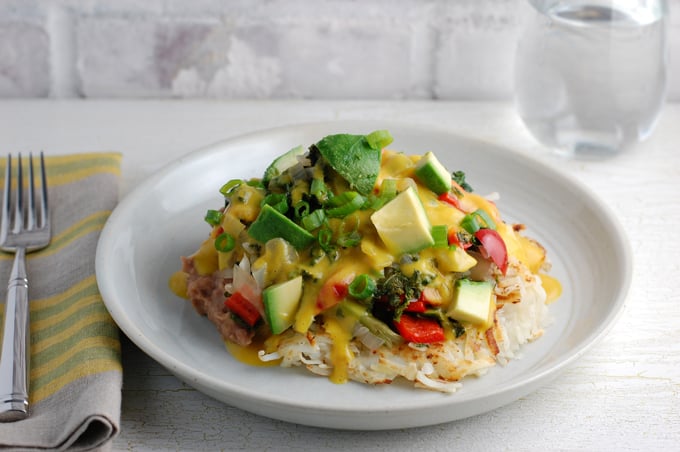 Print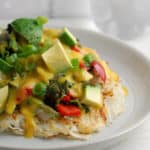 Loaded Hash Browns the Vegan Way
Author:

Prep Time:

7 mins

Cook Time:

15 mins

Total Time:

22 minutes

Yield:

4 as a main dish

Category:

Comfort Food

Method:

Saute
---
Ingredients
20 oz. frozen shredded hash browns
1 red bell pepper, julienned
4 cups chopped fresh kale leaves
1 small onion, chopped
8 oz. crimini mushrooms, sliced
1 can of vegan refried beans
2 cups vegan butternut cream sauce
1 avocado, chunked
3 scallions, sliced thinly
---
Instructions
Heat up the vegan butternut cream sauce in a saucepan over medium heat.
Heat the refried beans according to the can.
Cook the frozen hash browns according to the package.
In a large skillet, saute the onion, peppers, and mushrooms in a little water or stock over medium-high heat for 5 minutes or until the onions are soft. Add the kale leaves and cover. Cook for an additional 3-5 minutes. Season to taste with salt and pepper.
Place a big scoop of hash browns on a plate. Place a big scoop of the veggies on top of the hash browns and a small scoop of refried beans on the side. Pour butternut cream sauce over each portion.
Top with avocado and scallions, serve immediately.
---