Vegan gravy for Thanksgiving. Nut-free recipe using vegetable stock, onions, and dried mushrooms. Easy to make and can be made without mushrooms as well.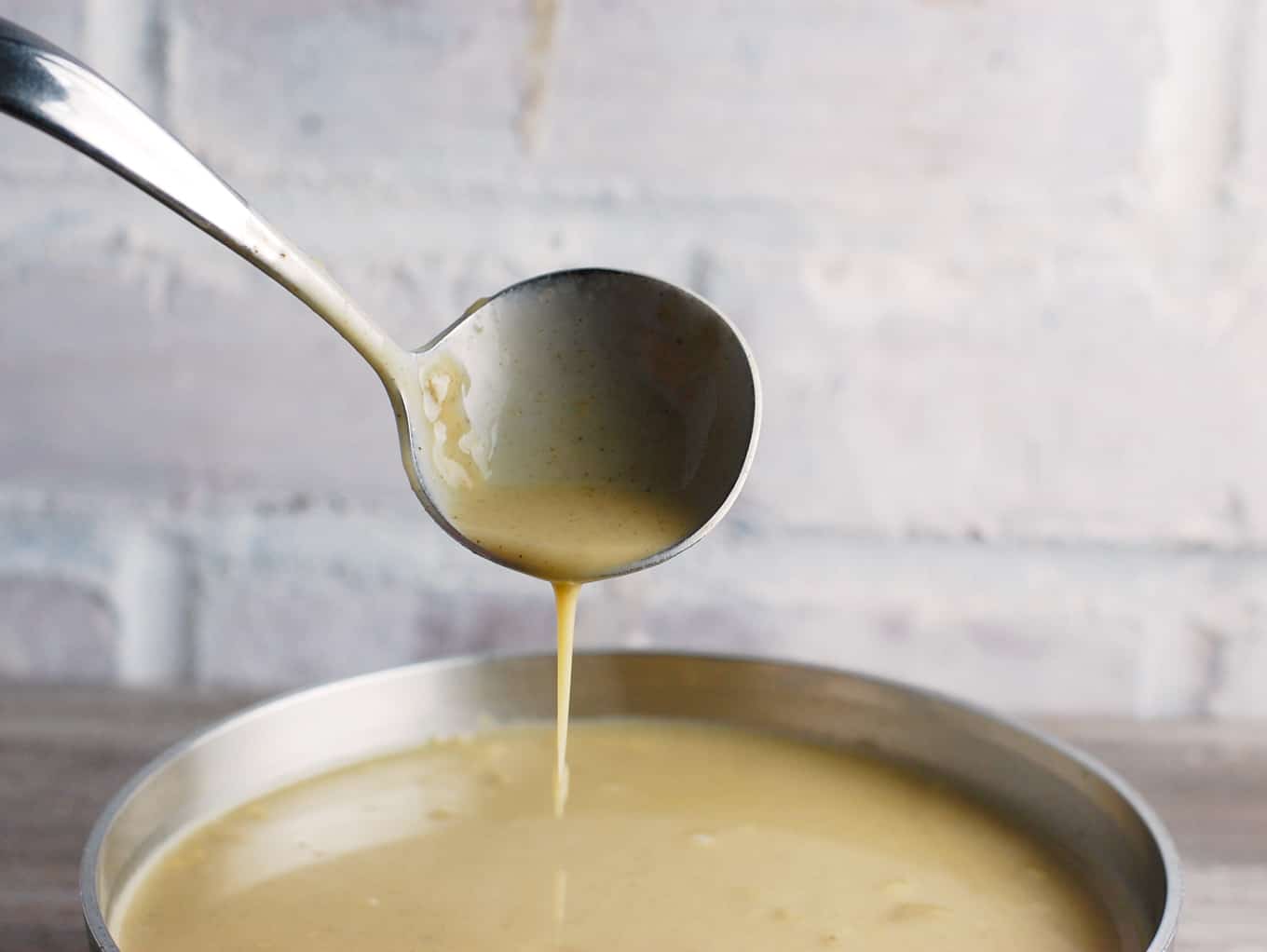 What would Thanksgiving dinner be without the gravy?! In my mind, the stuffing and the gravy need to be perfect. You could use my vegan mushroom gravy and it will be great, but for Thanksgiving, I prefer a more traditional style gravy. You might look at the ingredients in this vegan gravy and see items like miso and nutritional yeast and say to yourself… "that doesn't sound too traditional to me". Well, okay maybe it's not, BUT the taste and the technique are traditional. A traditional gravy in its simplest sense is the pan drippings and juices from the turkey thickened with a roux (equal parts flour and fat). As you may have noticed, we don't play with cooking birds around here. So, where do we get our flavors from? I'm glad you asked- it's pretty much black magic and if I told you I'd have to…
He he he… just kidding. A really nice vegetable stock is a good place to start. Double the veg in it and reduce it down until you get a really flavorful broth. Hmmm, I guess I should post my veg stock recipe on the blog huh? It's on my priority list now… don't forget Kevin. A shortcut would be to make a quick veg stock, don't add any salt, and then throw in a couple vegetable bullion cubes. If you can find the brand Rapunzel, get that one with the herbs, it actually has ingredients that you will recognize. Here is an Amazon link –> Rapunzel Vegan Bullion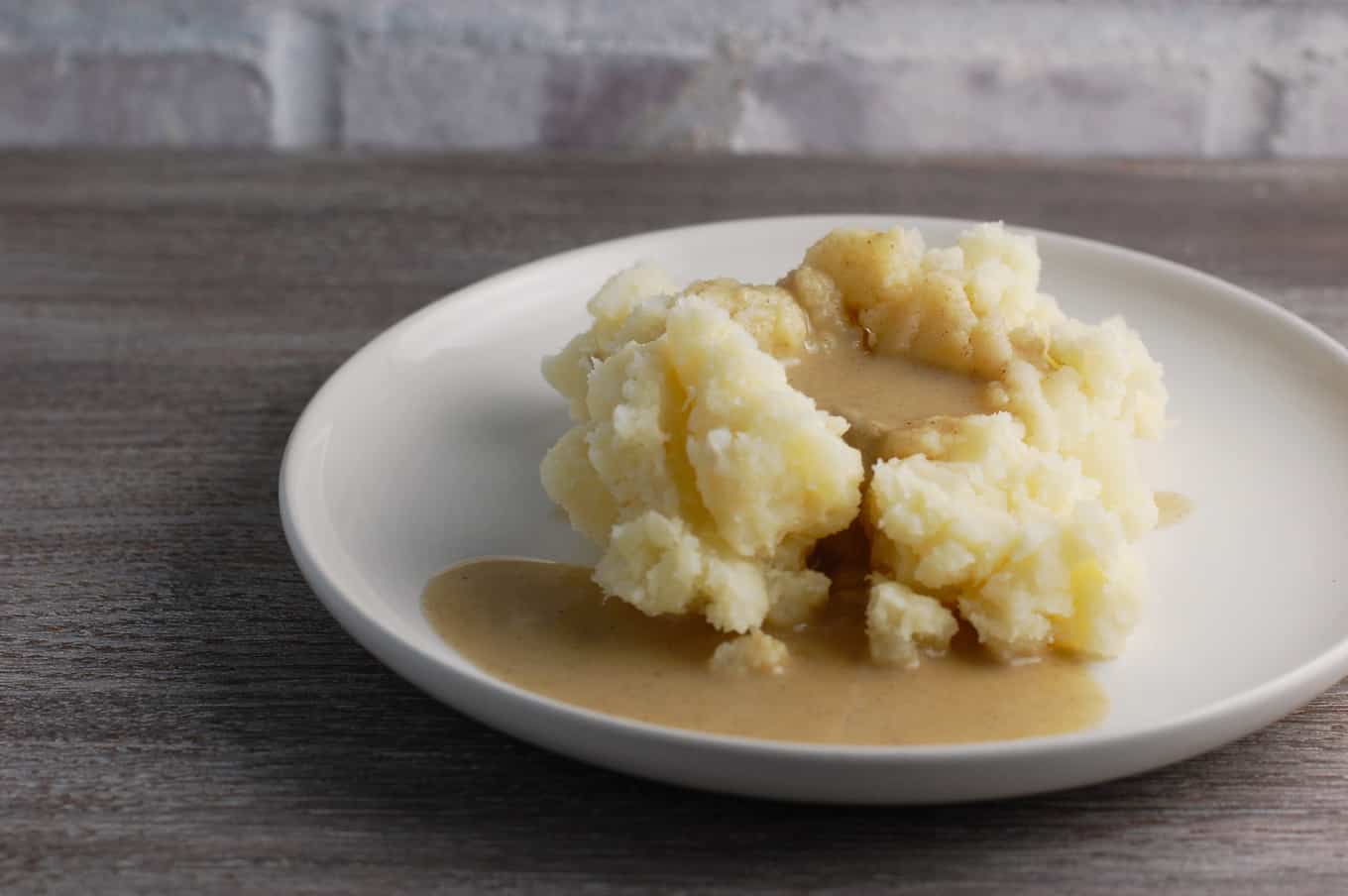 I also use dried mushrooms and miso for that umami flavor. You can leave out the dried mushroom or just use the water from rehydrating the mushrooms, but I like the flavor the actual mushrooms bring. Because I use the mushrooms in this recipe, I end up having to toss the vegan gravy in the blender at the end to puree up all the mushroom bits. The rest of the ingredients are pretty straightforward and give that traditional look and taste of Thanksgiving gravy. Hope you like it!
p.s. Right in the recipe below, there is a Pinterest pin button, click that and save it for when you're ready to make the vegan gravy on Thanksgiving.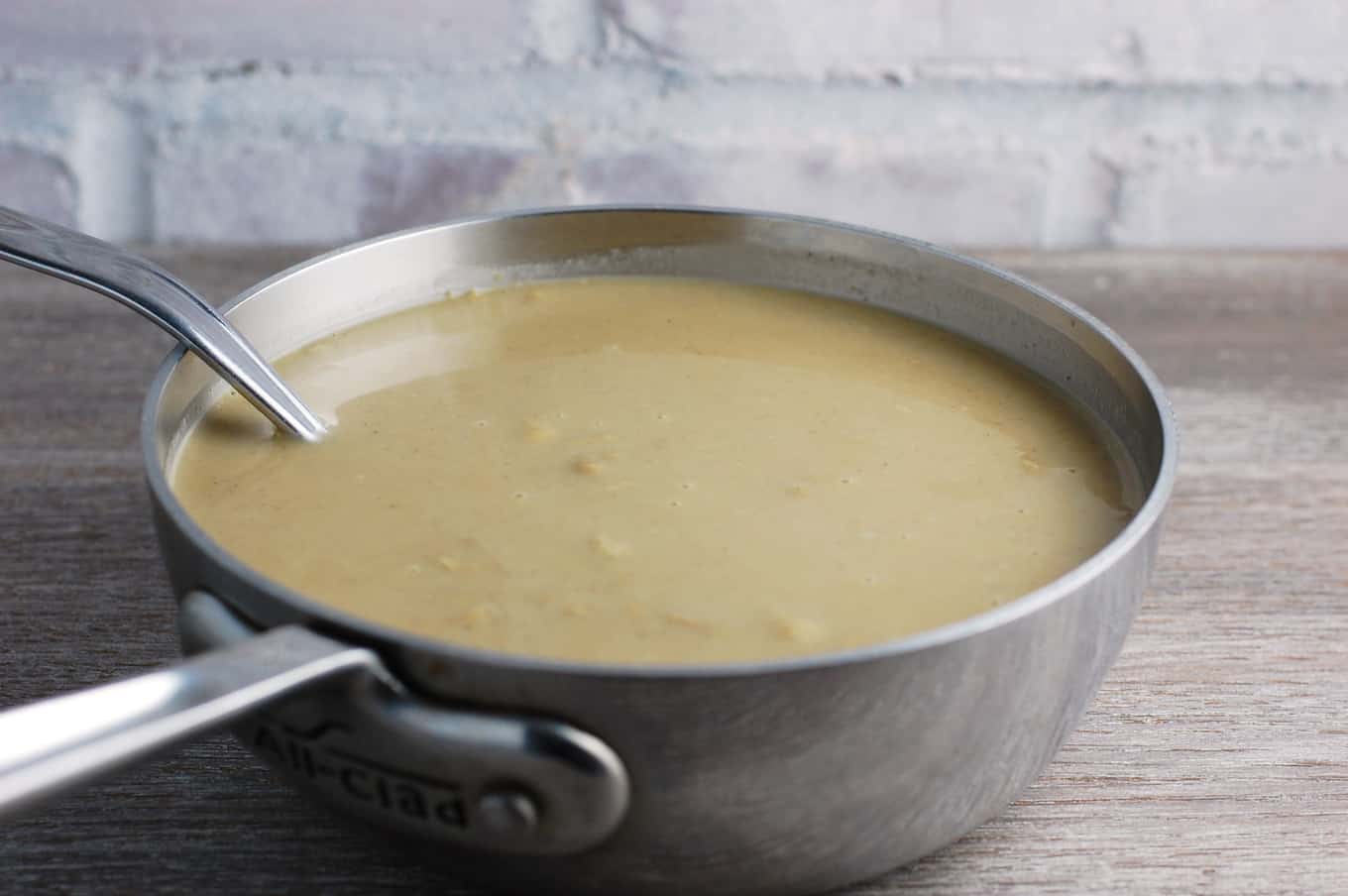 Print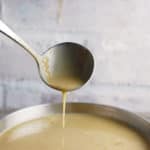 Vegan Gravy for Thanksgiving
Author:

Prep Time:

5 mins

Cook Time:

16 min

Total Time:

21 minutes

Yield:

8

Category:

Sauces

Method:

Saute, Simmer, Blend

Cuisine:

Thanksgiving
---
Ingredients
1/2 large onion, diced
1 garlic clove, minced
4 Tablespoons olive oil
4 Tablespoons all-purpose flour
3/4 cup white wine
1/2 cup dried mushrooms (optional)
3 cups vegetable stock
1/8 teaspoon ground sage
1/2 teaspoon dried thyme
1 Tablespoon white miso
2 tablespoons nutritional yeast
few dashes of Tabasco
1 teaspoon vegan Worcestershire sauce (optional)
fresh ground black pepper to taste
---
Instructions
Soak the dried mushrooms in boiling water for 20 mins.
Heat up the vegetable stock to a simmer.
In a saucepan over medium heat, saute the onion in the 4 Tbsp. of olive oil for 5 minutes. Add the garlic and cook for additional 2 minutes.
Add the flour and stir well. turn the heat to medium low and continue to cook and stir the roux until light brown in color.
Add the white wine and stir for 1 minute. Slowly add in the hot stock stirring or whisking the whole time to avoid lumps. Add the reconstituted mushrooms and the soaking liquid.
Add the rest of the ingredients and bring to a boil. Turn off the heat.
Pour into a blender or use a stick blender and blend until smooth.
Taste and adjust seasoning.
---