Recipe for fresh made, no-egg, vegan potato gnocchi that is easy to make and can be served with your favorite vegan sauce.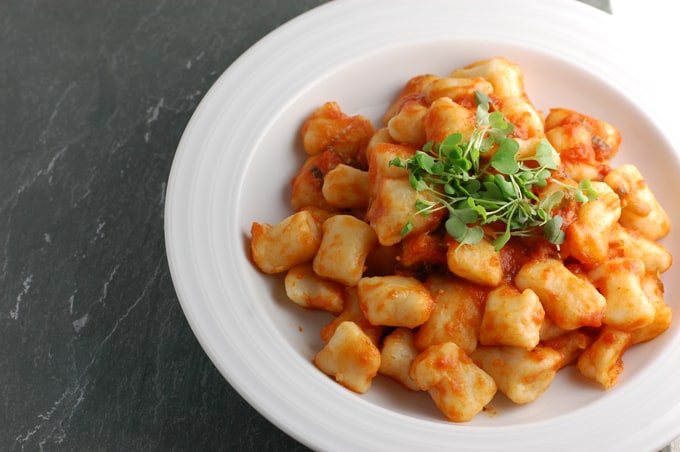 I learned how to make this potato gnocchi from the brilliant chef Marco Canora of Hearth and Terroir Restaurants. I was working as a cook at one of Tom Colicchio's restaurants and I was lucky enough to work a special truffle dinner they were putting on. It was myself and two other cooks, cooking alongside Chef Ty Kotz, Chef Tom Colicchio, and Chef Marco Canora. To this day I still can't believe how fortunate I was to be helping and learning from these three legendary chefs. They were very demanding, but they also took the time to stop and teach us a few techniques and explain the thought behind the ingredient pairings. It was a 6-course meal and white truffles were shaved over every plate. It was an amazing experience.
One of the dishes that really stood out to me was the gnocchi by Marco Canora. He walked us through each step in the process and I was so surprised that he didn't use egg in his gnocchi. This was definitely not a vegan dinner, just a happy coincidence. I had made gnocchi countless times before this and egg was always involved. He explained that even though in his cookbook, the recipe called for egg, he usually makes it without egg for a lighter and fluffier gnocchi. Could it be… a fresh made, no-egg, vegan potato gnocchi was possible?! Let me tell you, it sure was. I couldn't believe how light and potatoey the gnocchi was. He used just enough flour to keep the gnocchi together and mixed it ever so gently.
You can serve this gnocchi with your favorite vegan sauce or by all means, if you have white truffles on hand, shave away!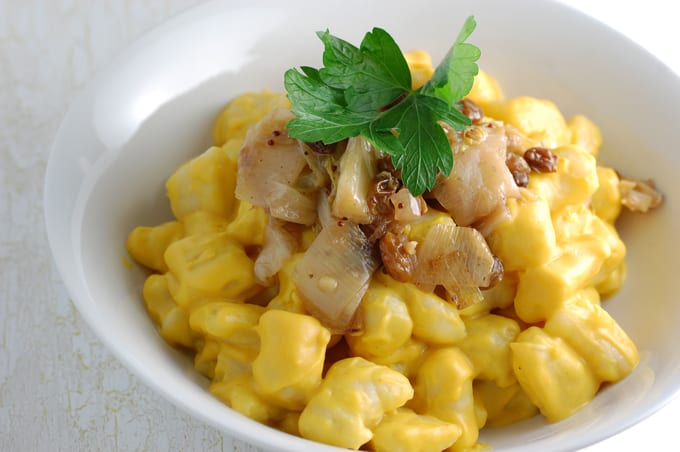 Print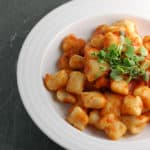 Fresh Made, No-Egg, Vegan Potato Gnocchi
Author:

Prep Time:

1 min

Cook Time:

1 hr 40 min

Total Time:

-25319112.066667 minute

Yield:

6

Category:

Pasta and Noodles

Method:

Baking, Boiling

Cuisine:

Italian
---
Ingredients
3 large russet potatoes, scrubbed
2 1/2-3 1/2 cups of all purpose flour
1 teaspoon ground white pepper
---
Instructions
Preheat oven to 350°F. Fork the potatoes a few times and place directly on the oven rack. Cook for 1 1/2 hours or until soft.
When the potatoes are done, take them out of the oven and immediately cut the potatoes in half lengthwise. Let cool.
Scoop the potato out of the skins and pass through a food mill or potato ricer onto a large clean surface. Sprinkle evenly with the white pepper.
Shake 2 cups of flour over the potatoes and using a pastry scraper or spatula, cut the flour into the potatoes. If the dough is too wet, add more flour. Form the dough into a large uniform log. Divide into 6 pieces.
Sprinkle a 1/2 cup of flour over your work surface and roll each piece of dough into a long cylinder approximately a 1/2 inch thick. Cut the dough into 1-inch long gnocchi pieces.
Fill a large stockpot with water and season with salt. Bring to a boil. When the water is boiling drop a 1/3 of the gnocchi into the water, one piece at a time. Cook for approximately 3 minutes and once they are floating. Scoop out the gnocchi with a slotted spoon onto a plate. Cook the remaining gnocchi in batches. Toss with your favorite vegan sauce.
---