Vegan Red Pepper Cream Sauce and Roasted Cauliflower with pasta. The sauce is made completely in a blender and tossed with roasted cauliflower.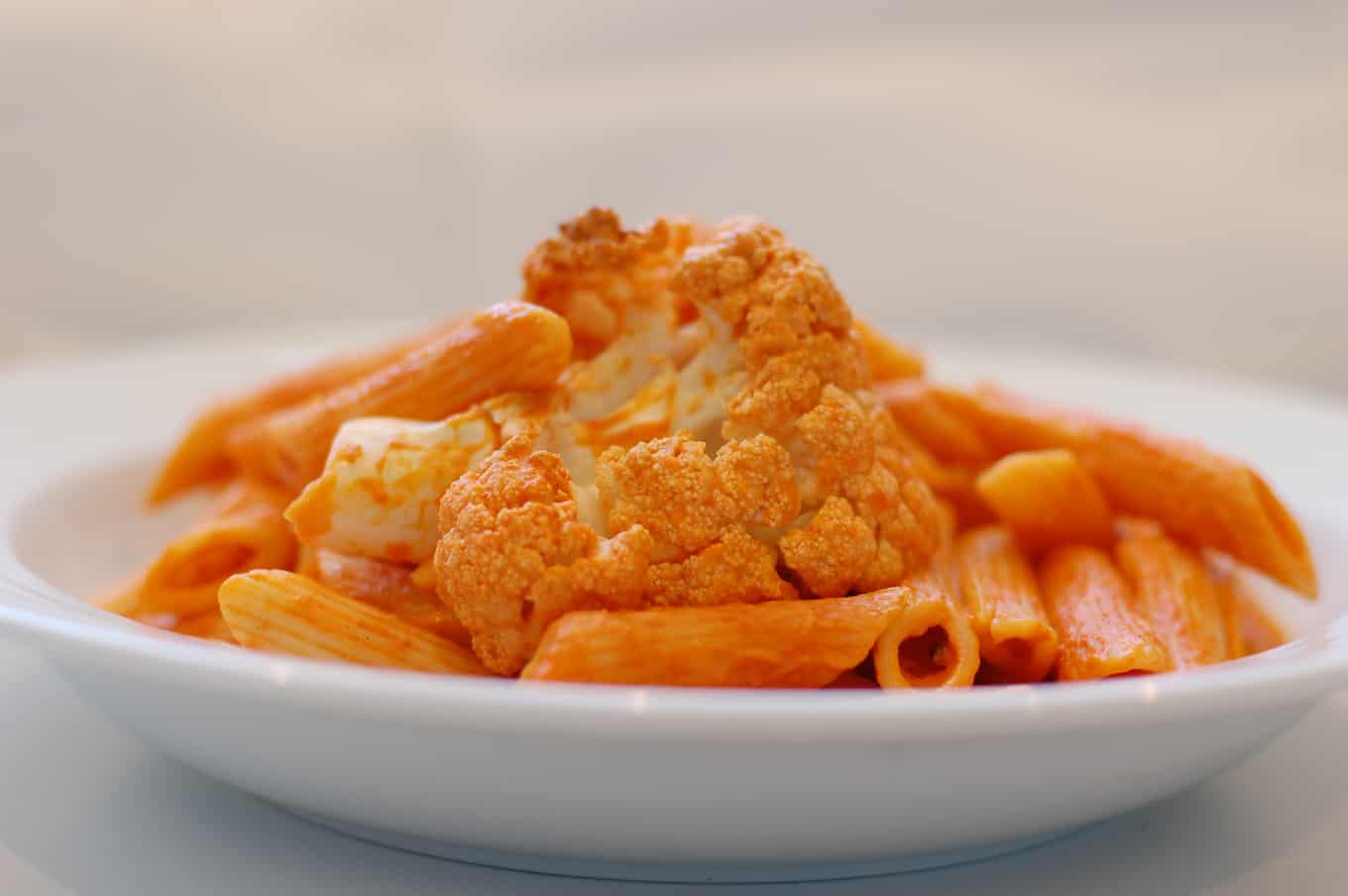 Creating sauces to be made in a blender is probably one of my favorite things to do. It's so easy and clean, I mean you are literally just dumping ingredients in the blender and then the blender does all the work. The finished result is a silky smooth sauce that can be used right away or made in advance when meal prepping. In my fridge right now there is this vegan red pepper cream sauce and at least 5 other sauces that I've made recently using a blender. I prefer to use a Vitamix 5200 Blender
 for all of my sauces. It's high speed, durable, and easy to clean.
Where I live in eastern Long Island, NY there are cauliflower fields all over the place and big, fresh, beautiful heads of cauliflower at all the farm stands. It's very difficult to stop at the farm stand right now and not buy at least one head of cauliflower… even just to eat it raw. I chose to roast the cauliflower for this recipe to add a bit more depth to the flavors. I think it pairs nicely with the roasted red peppers and the silky smooth vegan red pepper cream sauce. I would normally buy fresh red peppers and roast them for this sauce, but I wanted to keep this recipe very simple and see what the results would be. I used jarred roasted red peppers instead and I loved the flavor as much as fresh roasted peppers.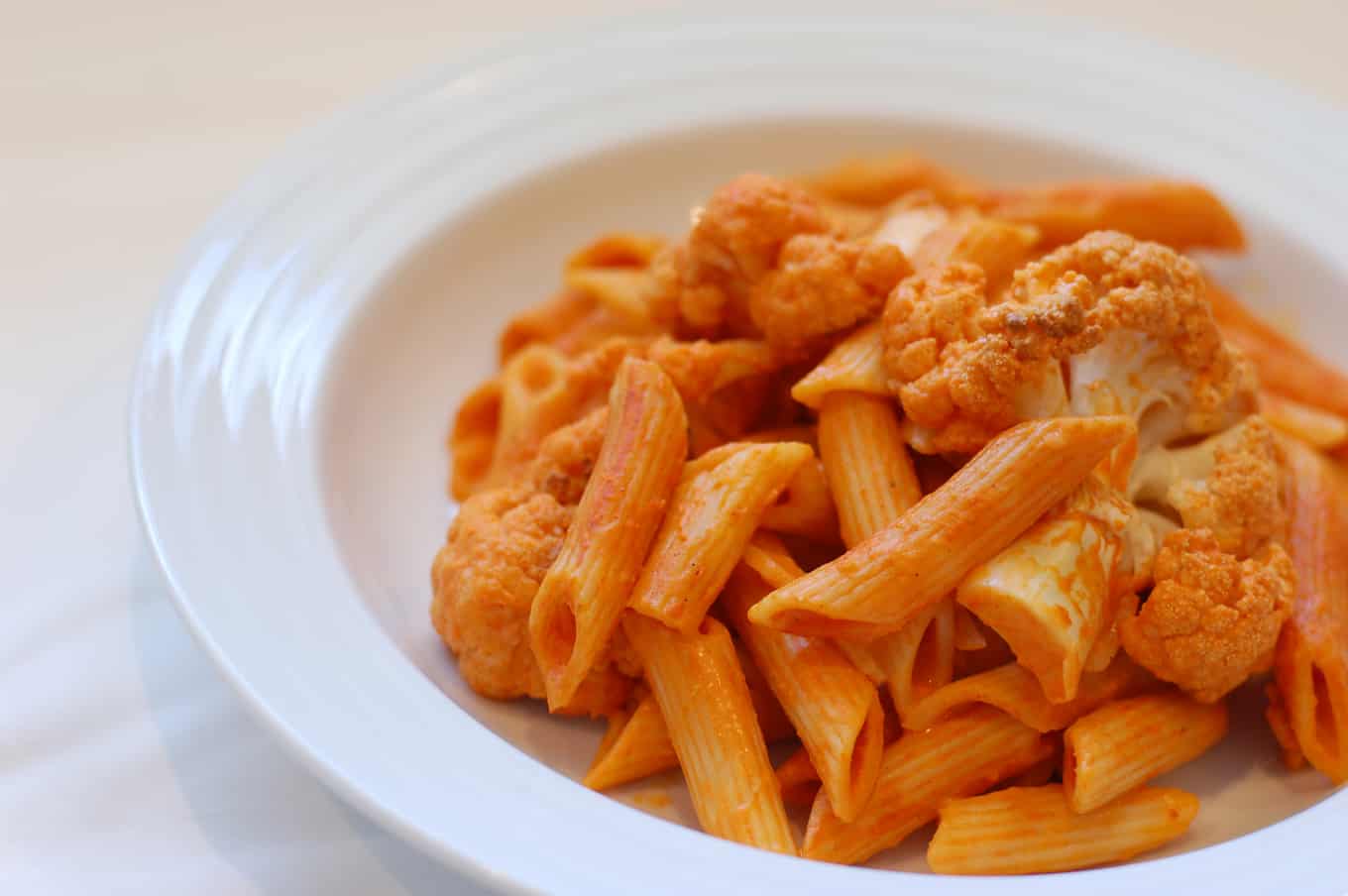 I toyed with the idea of using purple cauliflower in this or adding something green for color, but I actually like the reddish, slightly pink sauce coating the pasta completely and bits of white from the cauliflower peeking out. Served on a white plate or bowl with white linens. It's a nice contrast and definitely a contrast to some of the popular food photography right now with unrelated ingredients and colors all over the table and plate that it seems its main purpose is to confuse the eye… maybe it's just me. 😉 Give this dish a try and let me know what you think in the comment section!
Some links on this site are affiliate links which means that if you make a purchase at one of these links, I may receive a small commission at no additional cost to you. Additionally, I am a participant in the Amazon Services LLC Associates Program, an affiliate advertising program designed to provide a means for sites to earn fees by linking to Amazon.com and affiliated sites. The only links are to products and services I personally recommend and believe will benefit my readers. 
Print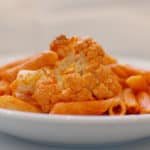 Vegan Red Pepper Cream Sauce and Roasted Cauliflower with Pasta
Author:

Prep Time:

5 mins

Cook Time:

45 mins

Total Time:

50 minutes

Yield:

4

Category:

Pasta and Noodles

Method:

Roasting, Blending

Cuisine:

Italian
---
Description
Vegan Red Pepper Cream Sauce and Roasted Cauliflower with pasta. The sauce is made completely in a blender and tossed with roasted cauliflower and pasta.
---
Ingredients
Sauce:
10 oz. jar roasted red peppers drained of liquid
3/4 cup canned crushed tomatoes
1/2 cup raw cashews
1 tsp. kosher salt
1/8 tsp. garlic powder
1/8 tsp. crushed red pepper flakes
2 Tbsp. nutritional yeast
1/2 cup water
juice of 1/2 a lemon
Cauliflower:
1 medium head of cauliflower, cut into florets
2 Tbsp. olive oil
salt and pepper to taste
Pasta:
---
Instructions
Preheat the oven to 400°F. Put a large stockpot of water with salt on the stove to cook the pasta.
Coat the cauliflower florets with olive oil, salt, and pepper. Roast for 35-45 minutes until done.
In a blender, combine all of the sauce ingredients and blend on high speed for 3-5 minutes until completely smooth. Transfer to a saucepan and heat over low heat. (Alternatively, you could heat the sauce in the blender by running on high speed for about 5 more minutes)
Cook the pasta according to the package, drain and put back into the large pot. pour the sauce over the pasta until completely coated. Add the roasted cauliflower in and toss lightly to combine. Serve immediately.
---