Miso vodka sauce with shiitake bacon for pasta. Vegan tomato basil sauce with cashew cream, red miso paste, vodka, and shiitake bacon tossed with pasta for a unique vegan umami meal.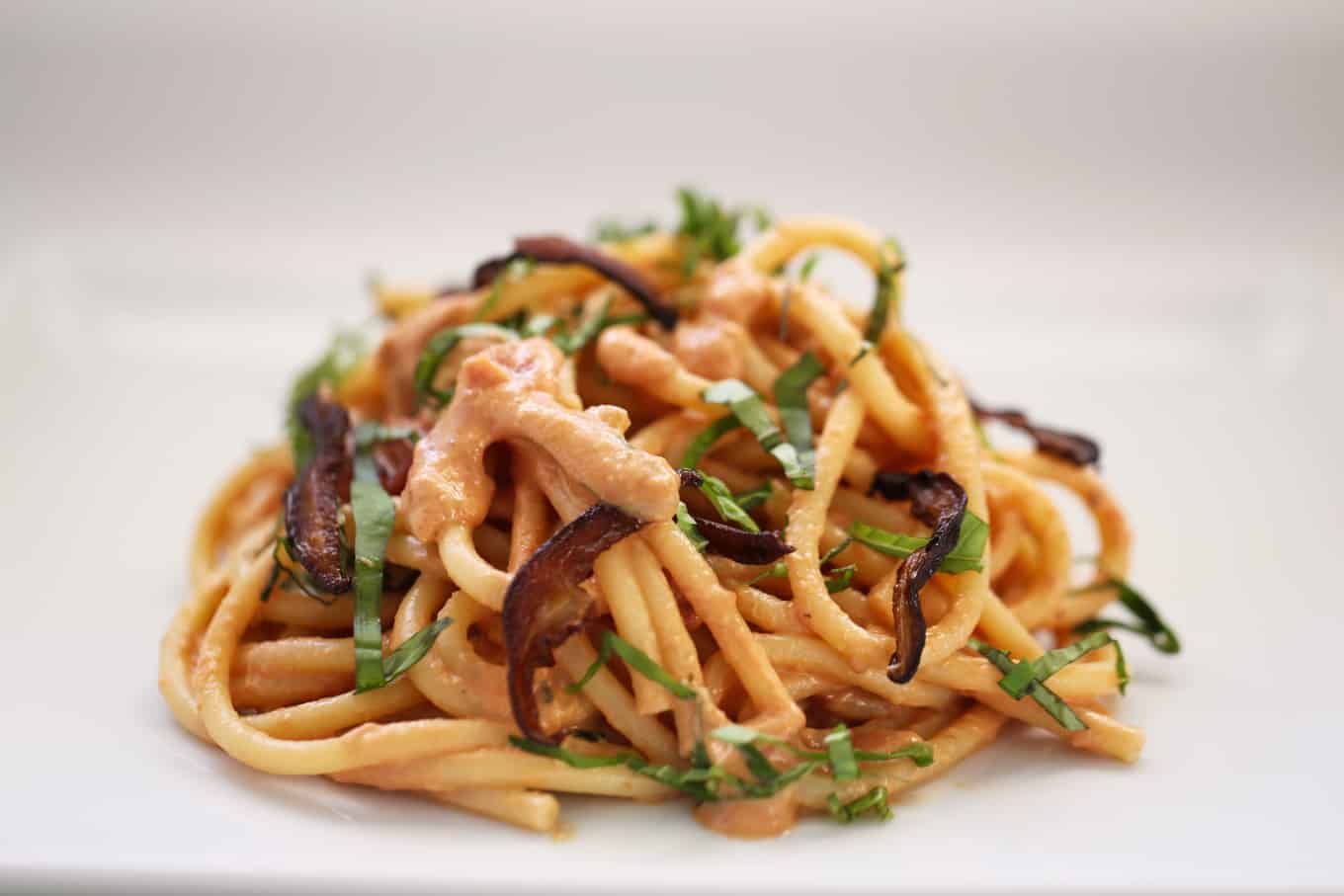 I've been playing around with umami flavors a lot lately and the pairing of miso and tomato came to mind as an idea to work off of. If you're unaware as to what umami is, let's cover it real quick with the help of good ol' Wikipedia. From Wikipedia–
Umami (/uˈmɑːmi/), or savory taste, is one of the five basic tastes (together with sweetness, sourness, bitterness, and saltiness). It has been described as brothy or meaty.


People taste umami through taste receptors that typically respond to glutamate. Glutamate is widely present in meat broths and fermented products, and commonly added to some foods in the form of monosodium glutamate (MSG). Since umami has its own receptors rather than arising out of a combination of the traditionally recognized taste receptors, scientists now consider umami to be a distinct taste.
A couple things in there might jump out at you like- meaty and MSG. We are obviously not using any meat here and we are also not adding MSG, but some of the properties that make MSG so tasty is also found naturally in products like nutritional yeast, mushrooms, tomatoes, fermented products, soy sauce, spinach, and others. Get this- Breast milk is our first encounter with high umami as we enter into this world (don't worry- no breast milk is used in any recipes here!).
After the help of Wikipedia, we now know what umami is and where it comes from. Let's talk about the miso vodka sauce now! I made the recipe for Tomato Basil Sauce and I wanted the umami from miso paste and the miso flavor to be present if you were looking for it, but not overpowering as you rolled it around your taste buds. Cashew cream replaces traditional heavy cream and nutritional yeast brings more umami and replaces the cheese flavor found in the traditional vodka sauce. The shiitake mushrooms are sliced thin and cooked in a large skillet, as not to overcrowd, with olive oil over medium heat until crispy like bacon. Right before taking off the heat, add in soy sauce and smoked paprika and cook until soy sauce has evaporated. The full recipe is below… go get your umami on!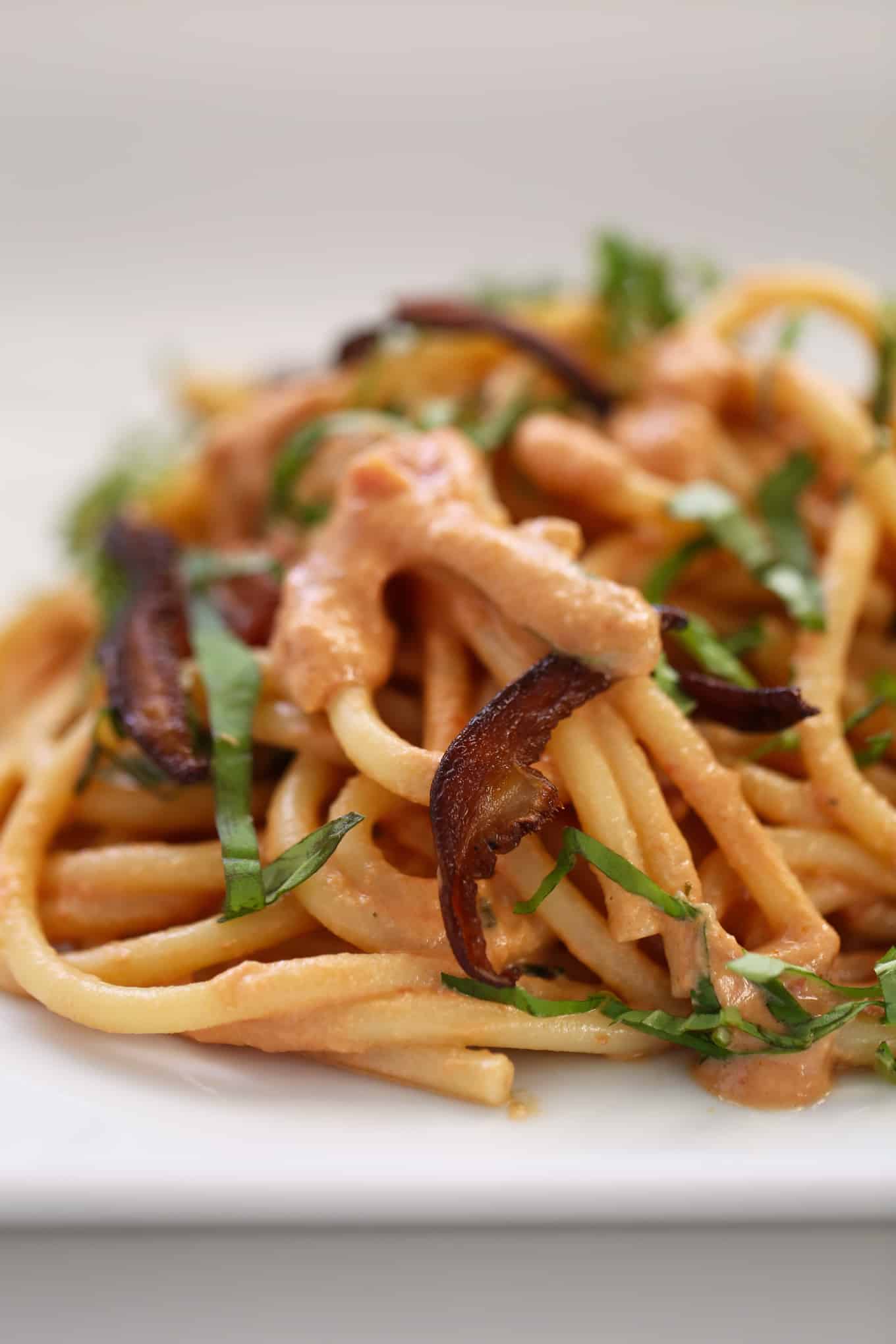 Print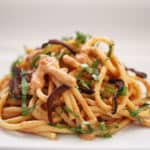 Miso Vodka Sauce with Shiitake Bacon for Pasta
Author:

Prep Time:

15 minutes

Cook Time:

70 minutes

Total Time:

1 hour 25 minutes

Yield:

6-8 as a main dish

Category:

Sauces
---
Ingredients
Tomato Basil Sauce:
1/4 cup olive oil
5 garlic cloves, peeled
1/2 large or 1 small yellow onion, diced
2- 28 ounce cans whole peeled tomatoes
1/2 cup vodka
2 teaspoons kosher salt
20 basil leaves
Cashew Cream:
3/4 cup raw cashews, soaked for 1 hour. Drained.
3/4 cup water
3 Tablespoons red miso paste
3 Tablespoons nutritional yeast
Shiitake Bacon:
8-10 shiitake mushrooms, cleaned and stems removed. Sliced thin.
2 Tablespoons olive oil
1/2 teaspoon smoked paprika
1 teaspoon soy sauce
---
Instructions
Tomato Basil Sauce:
Smash the garlic cloves a bit with the side of your knife or the bottom of a frying pan.
In a medium-sized soup pot, heat the olive oil over medium-low heat. Add the onion and garlic and cook for 3-5 minutes being careful not to burn the garlic or onions.
With your hands, break up and crush the tomatoes as you add them to the pot. Add the tomato juice left in the cans, scraping the sides with a rubber spatula.
Bring to a simmer and then reduce to low heat. Cook for 50 minutes, stirring every so often.
Add the vodka and cook for an additional 10 minutes to cook off the alcohol.
Turn off the heat, add that salt and tear up (or chiffonade) the basil leaves into the sauce.
Cashew Cream:
Drain the cashews and put in blender.
Add the water, miso paste, nutritional yeast, and 1-2 cups of the tomato basil sauce
Blend on high for 2-3 minutes or until completely smooth. Add cashew cream back to the tomato basil sauce pot and stir.
Shiitake Bacon:
Heat the olive oil over medium heat in a large skillet. Add the sliced mushrooms and stir.
Cook for 3-6 minutes or until crispy like bacon, being careful not to burn the mushrooms.
When the mushrooms are done add the smoked paprika and soy sauce. Cook until the soy sauce has evaporated. Turn off the heat and place mushrooms on a paper towel to soak up any excess oil.
Finishing:
Cook your favorite pasta according to the package. (There is enough sauce for at least 2 pounds of pasta)
Drain and toss with the miso vodka sauce.
Plate the pasta and top each serving with a few shiitake bacon slices. Serve immediately.