Vegan cashew cheese sauce. Cashew based cheese sauce made in a blender with butternut squash, miso, vegetable stock, and nutritional yeast.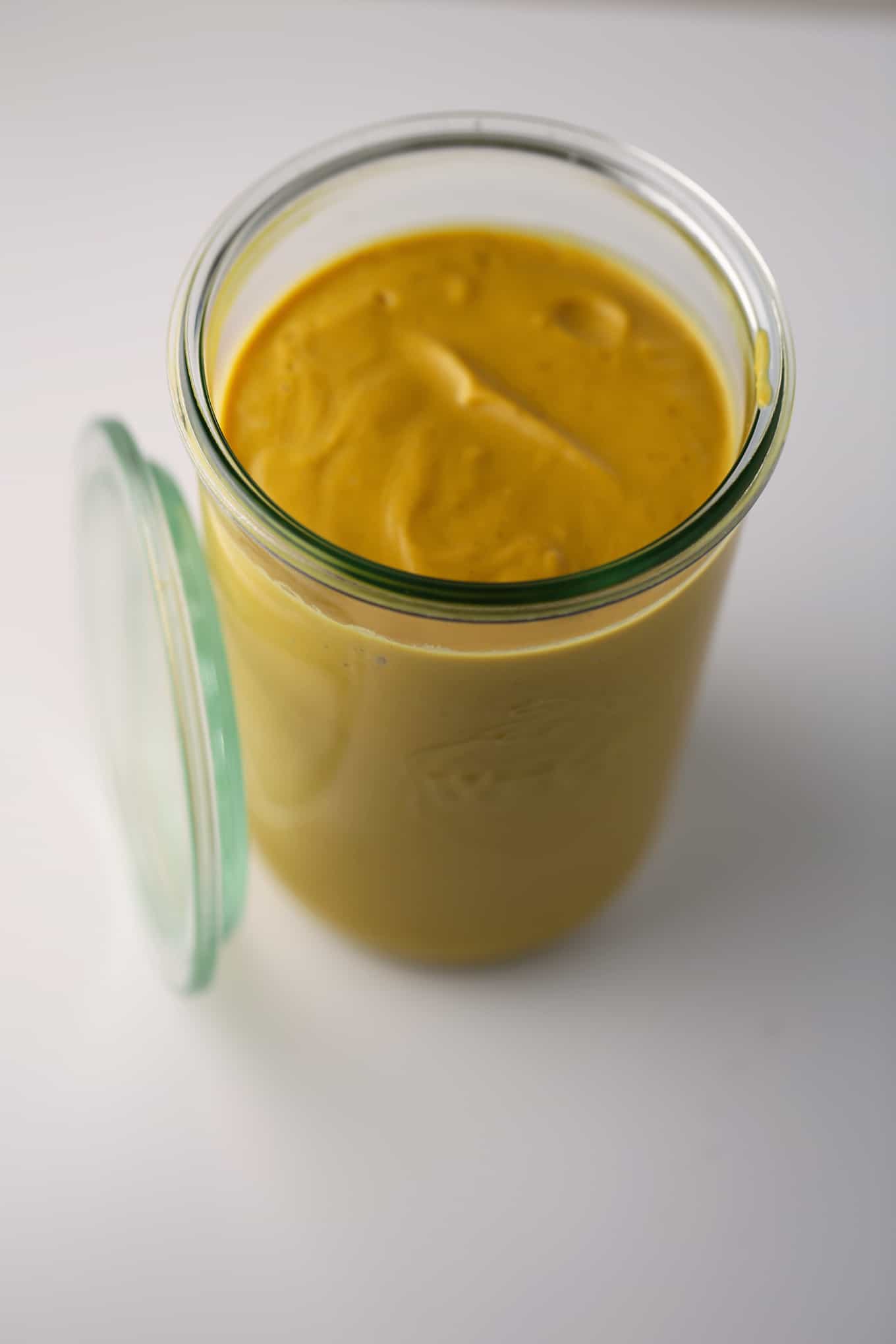 You will dream about this vegan cashew cheese sauce for days after having one bite. I made this last night and as I was taking photos of it in the other room, Jen sneakily opened up a bag of tortilla chips and was dipping them in the vegan cashew cheese sauce. Not exactly what I intended the sauce for, but she goes crazy for this cheesy sauce. It really is a versatile sauce that can be tossed with pasta, drizzled over a pizza, used in a burrito, poured over broccoli on top of a baked potato, or do like Jen and dip some tortilla chips in it. 
This vegan cashew cheese sauce is a slight variation from the butternut cream sauce I made for this pasta –> Butternut Squash, Spinach, Cipollini Onion, & Pasta with a Roasted Garlic Butternut Cream Sauce. This version replaces the whole roasted head of garlic with garlic powder and chops up the butternut squash for faster preparation. You could also substitute roasting the butternut squash with frozen microwaved squash and still get a good result.
Just like the post yesterday –> Easy 5 Ingredient Tomato Basil Sauce, this vegan cashew cheese sauce can be your staple go-to sauce when a recipe calls for a vegan cheese sauce or a vegan alfredo sauce. Let me know in the comments how you like it!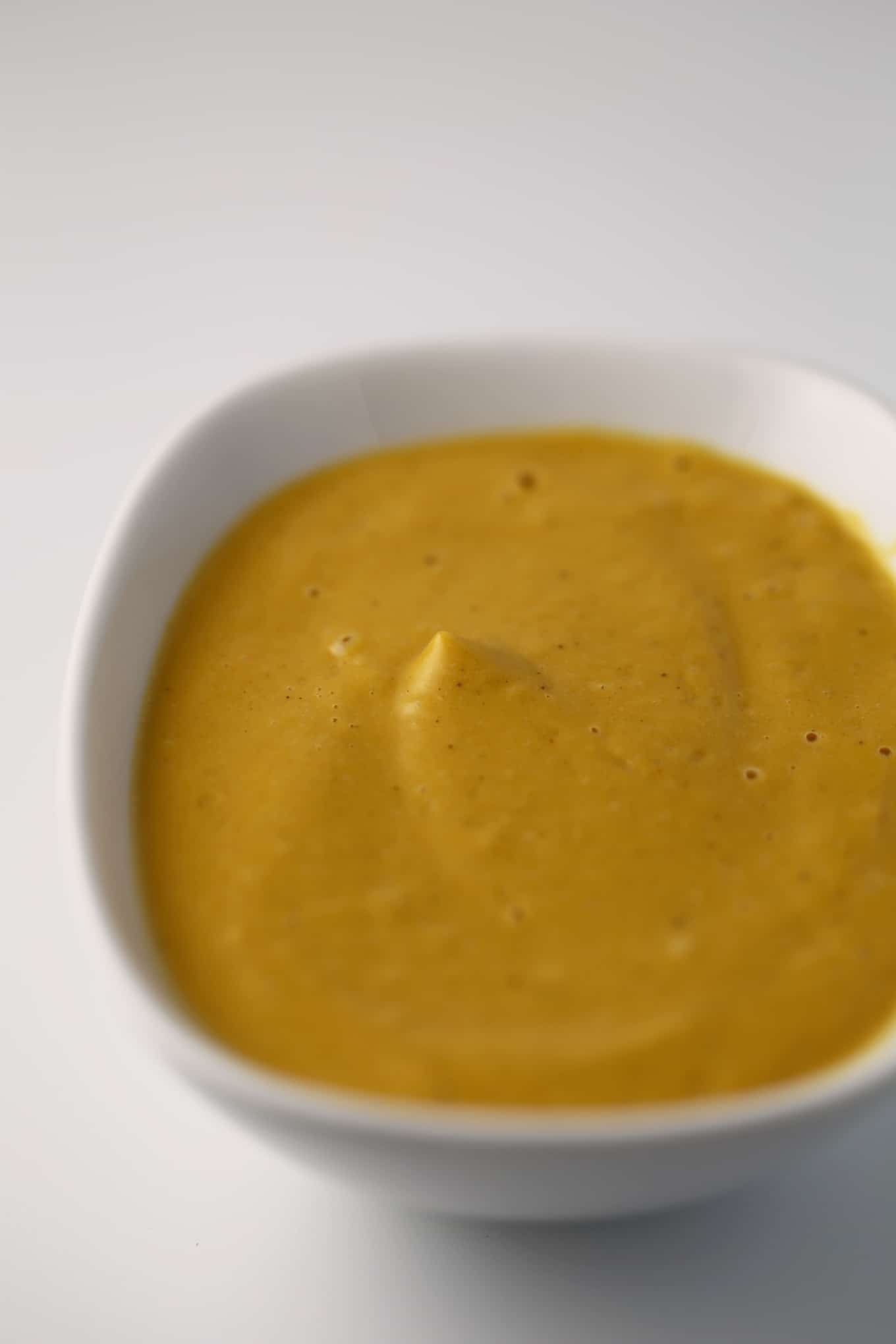 Print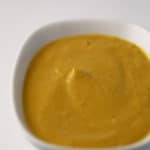 Vegan Cashew Cheese Sauce
Author:

Prep Time:

5 minutes

Cook Time:

25 minutes

Total Time:

30 minutes

Yield:

6

Category:

Sauces

Method:

Roasting, Blending
---
Ingredients
1 Tablespoon olive oil
2 cups butternut squash, peeled and chopped (approx. a 1/2 of a large butternut squash)
1/3 cup raw cashews, soaked in water for an hour or two
2 cups vegetable stock
3 Tbsp. white miso
4 Tbsp. nutritional yeast
1/2 teaspoon garlic powder
1 tsp. Frank's red hot sauce
juice of 1 lemon
1 tsp. kosher salt
---
Instructions
Preheat the oven to 425°F.
Peel and chop the butternut squash into roughly 1″ cubes. Toss in olive oil, salt, and pepper. Roast in the oven on a sheet pan lined with parchment paper for 25 minutes or until cooked through.
While squash is roasting- In a high-speed blender add remaining ingredients and blend on high for 1-3 minutes or until completely smooth.
Add the squash to the blender and blend on high for 30 seconds. Use immediately or store in an airtight container in the refrigerator for up to a week.
---
Notes
Substitute a whole head of roasted garlic for the garlic powder for a deeper garlic flavor.
Substitute any kind of winter squash you have on hand for the butternut squash.
Doubling the recipe will just fit in a Vitamix 5200 blender. with enough room to still blend.