Vegan kombu dashi simmered rice. Sushi rice is mixed with kombu dashi, soy sauce, sake, mirin, and sesame oil and then simmered. As the rice cooks the sugars in the mirin wine caramelize on the bottom leaving a beautiful caramelized crust.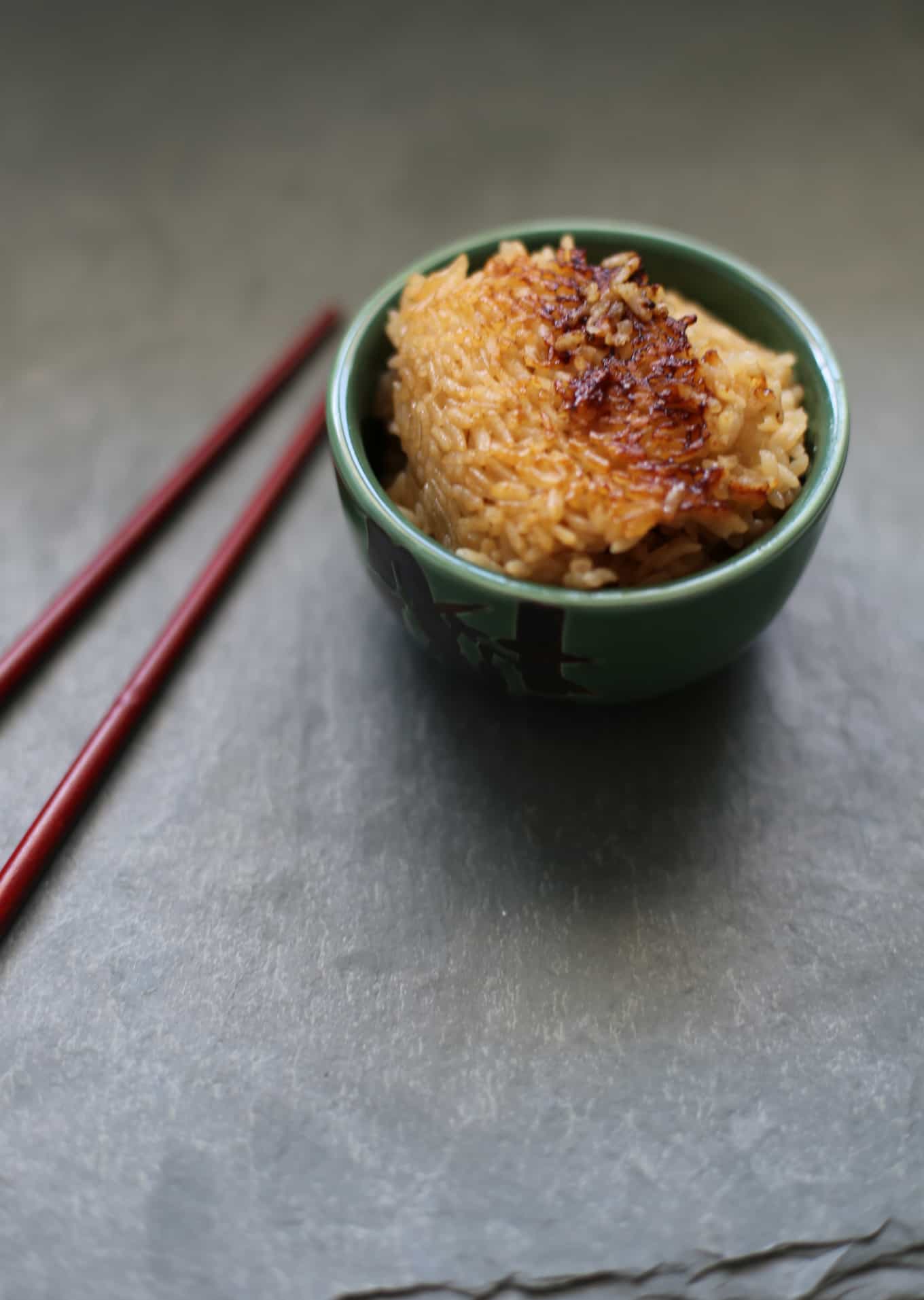 I struggle sometimes with what recipes are best for this blog and what the readers (you!) want. This is my personal creative outlet to experiment and work through the ideas I have in my head. The recipes that end up on the blog go through a development process in my thoughts and in the kitchen, sometimes it takes one try (usually never), others it'll take a week, and sometimes like in the case of my peanut sauce, it'll take months. I always want to tweak things or try something different. It's agonizing at times, but most of the time I absolutely love the process.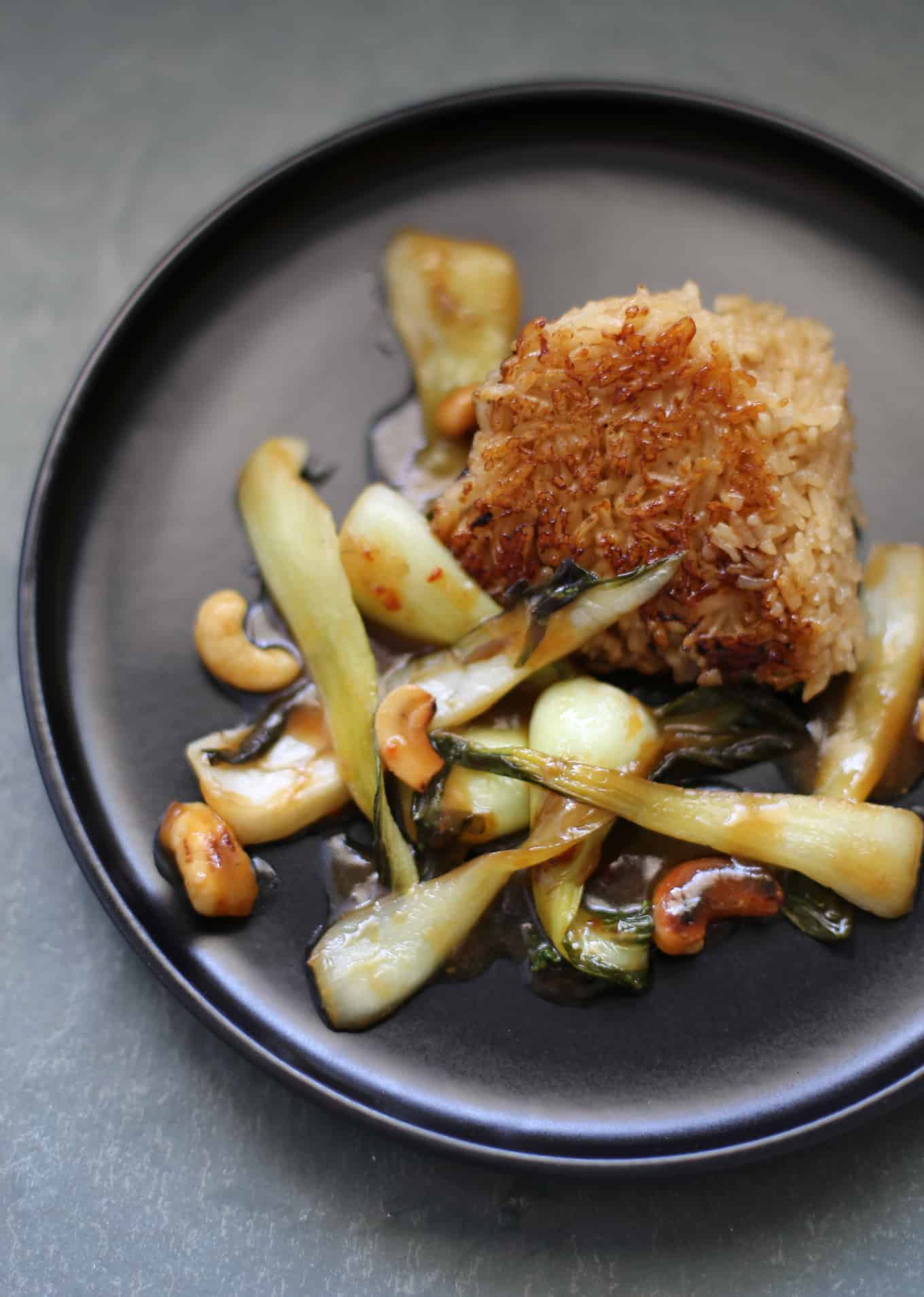 So, even though this is my personal creative outlet, I also want to serve you and give you recipes that you want. I really mean that. I want to help you with putting a nice vegan meal on the table, whether it's just for yourself or for your whole family. This recipe for vegan kombu dashi simmered rice is definitely NOT an example of a recipe that you want, BUT (<– that's a big but) I also really want to introduce you to some new flavors and new dishes. Especially when the dish is really quite easy, they sometimes just sound difficult because they are unfamiliar.
Okay, now that I've justified this recipe for vegan kombu dashi simmered rice, and for all the strange sounding dishes still to come, what exactly is this? This style of rice dish is called takikomi gohan, which is a Japanese mixed rice, and it is actually very popular in Japan. In fact, some rice cookers will have a takikomi gohan setting built right into it. There are no hard and fast rules for this dish as far as I'm concerned. This recipe is just for the base vegan kombu dashi simmered rice. You can eat it as is, as a side to another dish, or add a chopped seasonal vegetable to be simmered in with the rice.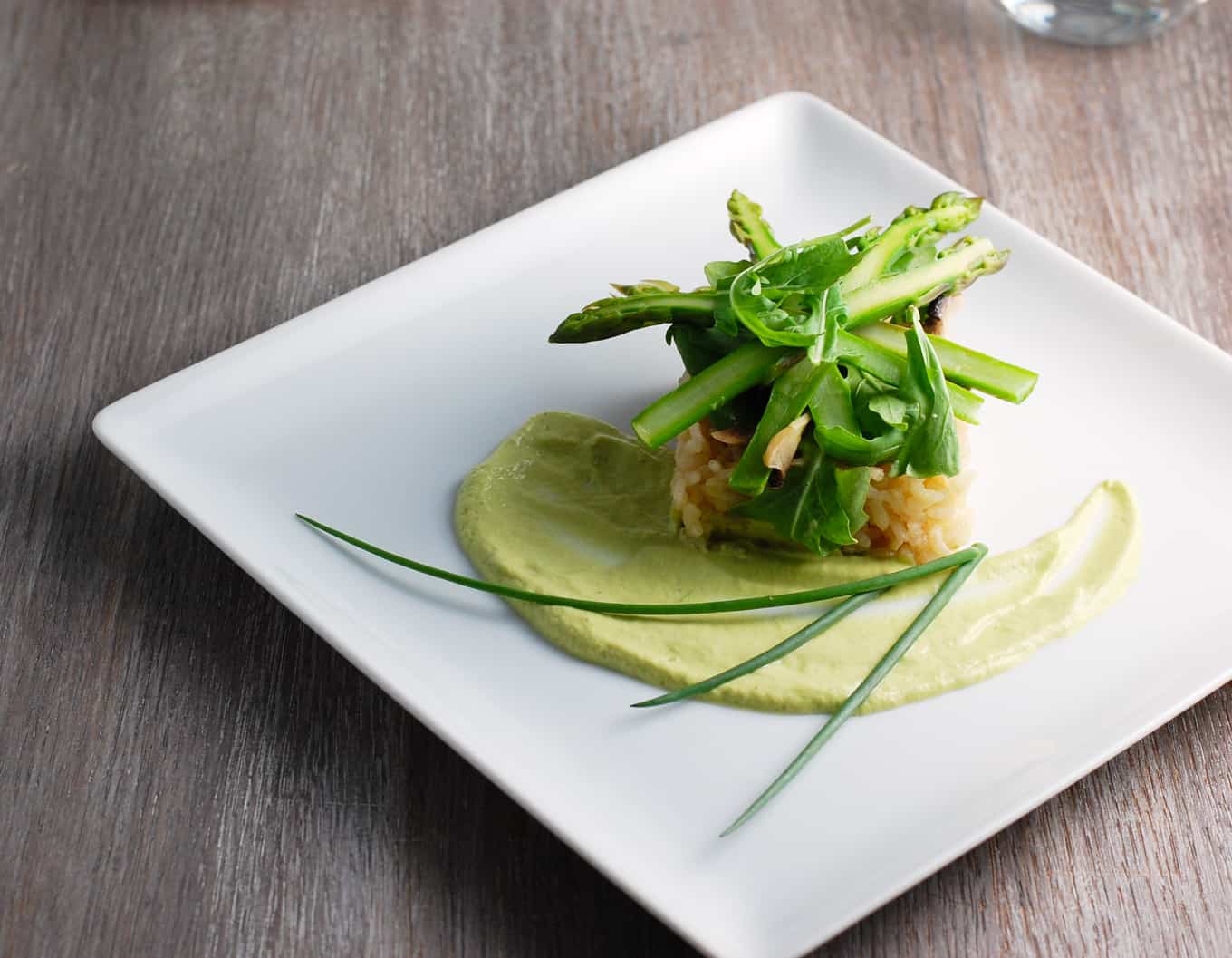 Traditionally, the kombu dashi would be made beforehand and then mixed into the rice before cooking, but I found that putting the piece of kombu in with the water and the rest of the ingredients gives the same result and skips a step to save time. For those that don't know- Kombu is a type of Japanese seaweed that is usually dried. Kombu dashi is simply dried kombu seaweed steeped in water to create a subtle, but delicious multi-purpose stock. Give this kombu dashi simmered rice a try- the crust that forms on the bottom from the caramelized sugars of mirin wine is amazing.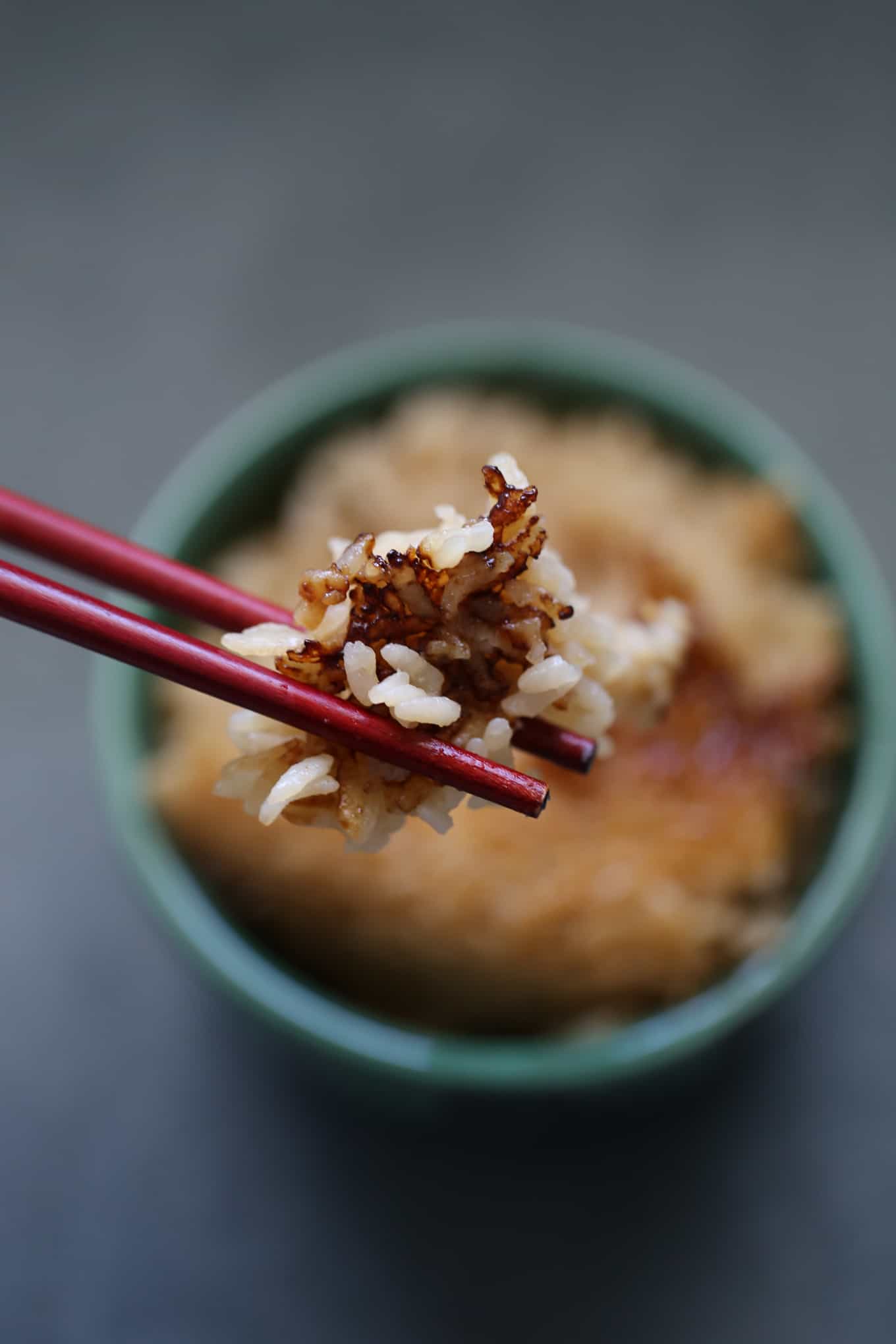 Print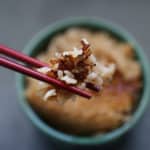 Vegan Kombu Dashi Simmered Rice- Takikomi Gohan
Author:

Prep Time:

3 minutes

Cook Time:

17 minutes

Total Time:

20 minutes

Yield:

4

Category:

Rice Dishes

Method:

Simmer

Cuisine:

Japanese
---
Ingredients
2 cups sushi rice (short-grain rice)
2 1/2 cups water
1-2 pieces of dried kombu (Japanese kelp)
1 Tablespoon mirin
1 Tablespoon sake
2 Tablespoons soy sauce
1 teaspoon sesame oil
---
Instructions
Rinse the rice in water and drain.
In a rice cooker or pot add the rice, water (up to the 2 cup line if using a rice cooker), mirin, sake, soy sauce, and sesame oil. Stir to combine. Add the kombu on top and if using a rice cooker select the white rice function.
If not using a rice cooker, bring the liquid to a boil. Cover and reduce heat to low. Cook for 15-20 minutes or until the rice has absorbed all the liquid. Serve immediately.