Vegan brown bread baked in a can. Rye, wheat, and corn flour blended with raisins, almond milk, molasses, baking soda, and salt then poured into a greased coffee can and baked in a water bath.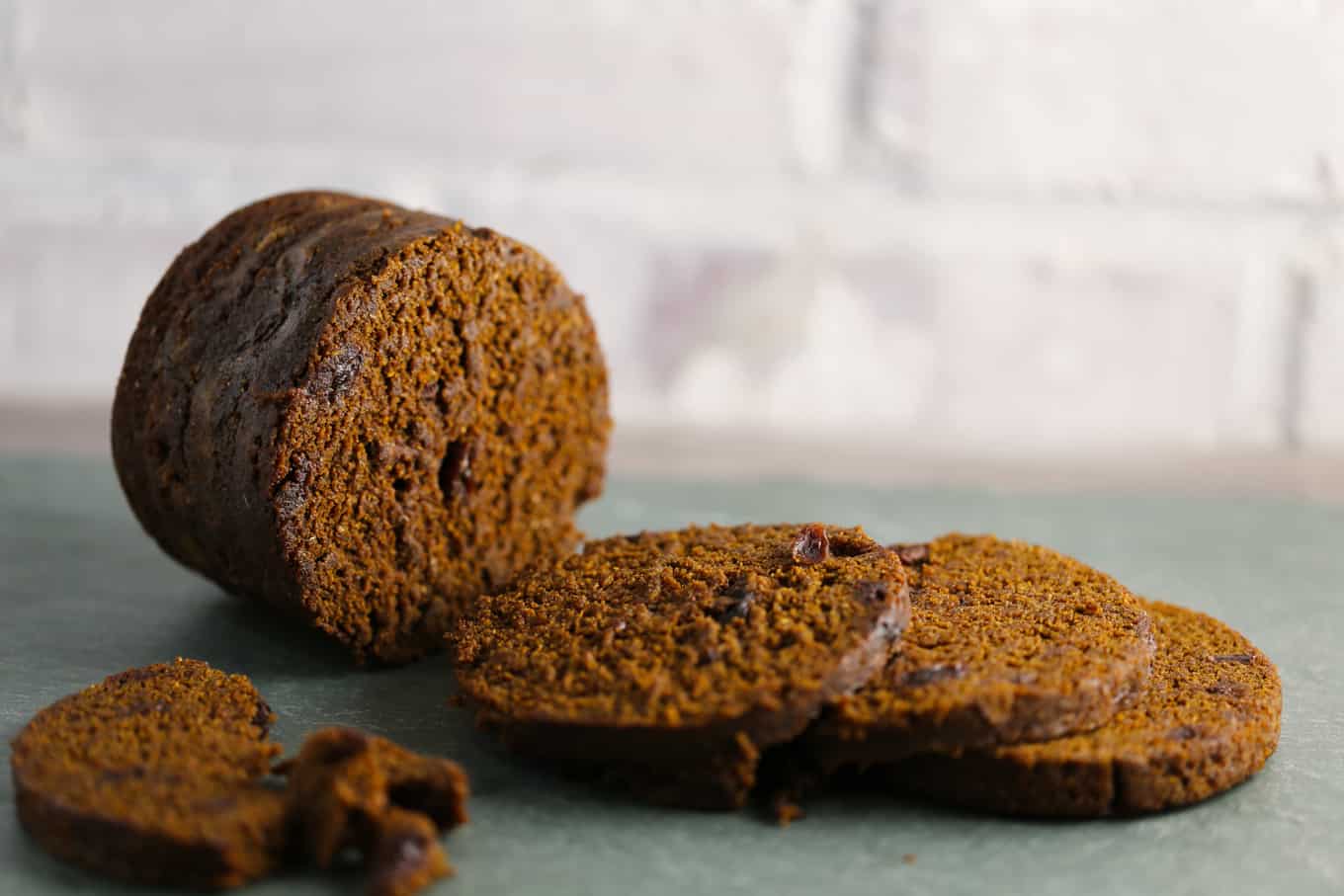 This vegan brown bread satisfies my soul. I don't know if it's because I'm from New England and the air up there makes us want to swim in molasses or what, but it just tastes and feels right. If you don't like molasses then I suggest you move on to a different recipe. This vegan brown bread is not going to change your mind. It is rich in molasses flavor and the ingredients are simple and straightforward.
Traditional brown bread only uses milk and butter as non-vegan items so it was pretty easy to make it a vegan brown bread. I swapped out the milk for almond milk and I used soy butter to grease the inside of the can. Speaking of the can… I baked this vegan brown bread inside of a coffee can.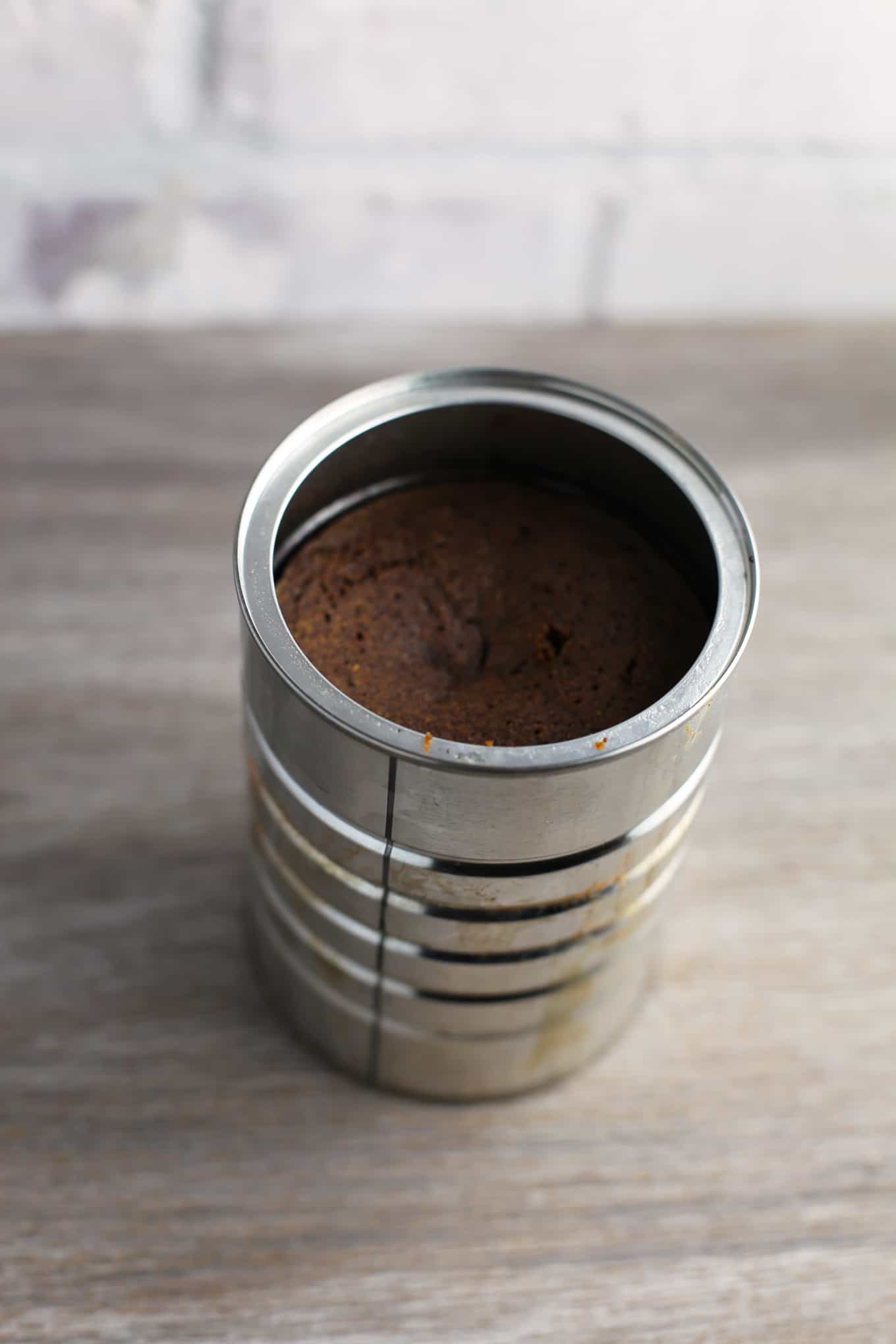 Once you mix all the ingredients together it is more like a batter than a dough so you pour it into a greased coffee can and cover it with foil. You then set that can into a pot and fill the pot with boiling water until the water is halfway up the side of the can. Or do like I did and put the can into the pot and fill with cold water halfway up the side of the can. Then take the can out, boil the water in the pot, then put your can back into the boiling water. Lastly, place in the oven to bake.
The recipe calls for a 1/2 cup each of wheat flour, rye flour, and cornmeal. If you can find brown bread flour then you can use that, but it's basically the same exact thing. Tip- Eat this vegan brown bread with baked beans and your soul will thank you. Vegan baked bean recipe coming soon shhhh…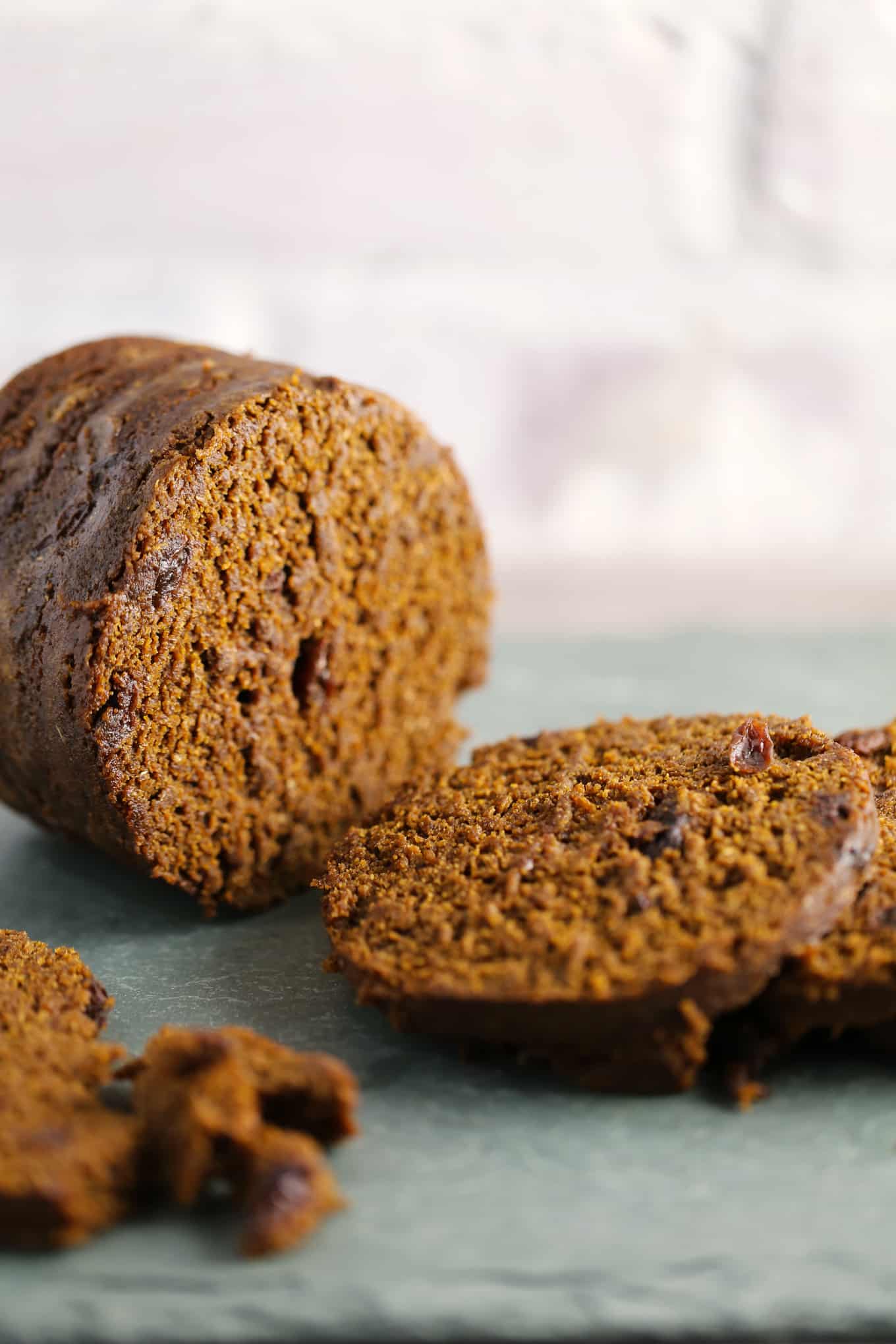 Print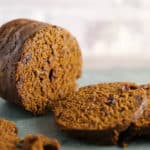 Vegan Brown Bread Baked in a Can
Author:

Prep Time:

5 minutes

Cook Time:

2 hours

Total Time:

2 hours 5 minutes

Yield:

1 loaf

Category:

Breads

Method:

Baking, Steaming

Cuisine:

New England
---
Ingredients
1/2 cup rye flour
1/2 cup wheat flour
1/2 cup cornmeal
1 teaspoon baking soda
3/4 teaspoon kosher salt
1 cup unsweetened almond milk (any non-dairy milk will work)
1/3 cup molasses
1/2 cup raisins
1 Tablespoon soy butter or another alternative
---
Instructions
Preheat oven to 325°F.
Combine the flours, baking soda, and kosher salt in a bowl and mix to combine.
Pour in the almond milk, raisins, and molasses. Stir to combine.
Rub the inside of the coffee can with soy butter. Pour the batter into the can. Cover the top with aluminum foil and tie a piece of twine around the foil to create an airtight seal.
Place the can into a deep pot and fill the pot with boiling water halfway up the side of the can.
Place the pot in the oven and bake for 2 hours. Occasionally check the water level in the pot and add more water if needed.
After 2 hours of cooking take out of the oven and stick a small knife or skewer down the center of the bread. If the bread is done the knife will be clean. If not, bake for a little more time.
Remove the foil and let cool for about an hour before removing from can.
---
Notes
Serve with baked beans for a traditional New England meal