Butternut cream sauce with pasta, spinach, cipollini onions, and butternut squash recipe. This is a great comfort dish for when autumn rolls in.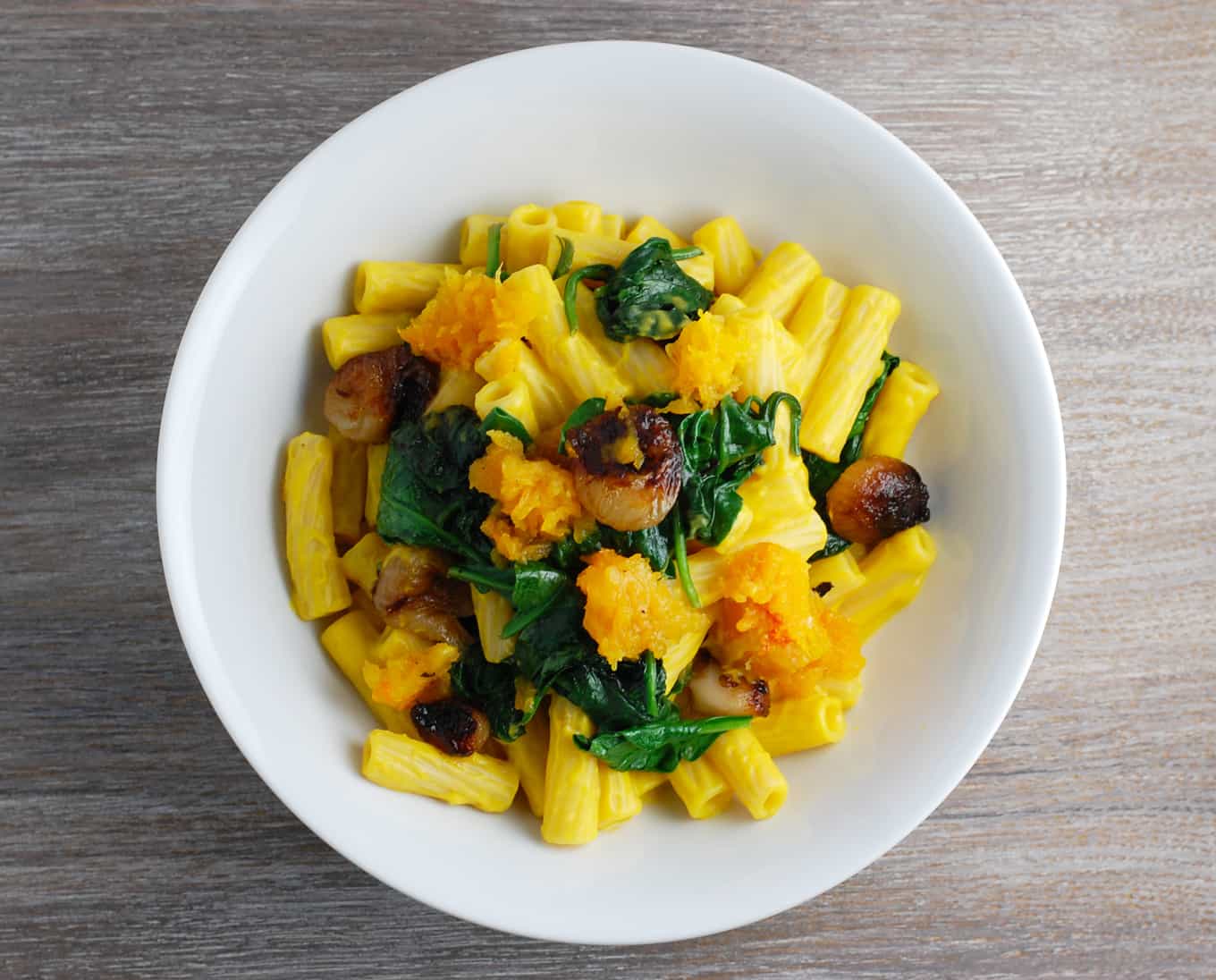 Dish 1 of 3 in the butternut squash trilogy series.
Now available for a limited time on DVD, the 3 disc trilogy of butternut squash, spinach, and the cipollini onion with a butternut cream sauce! Lol, just kidding. Whenever I hear the word trilogy it makes me think of movies for some reason. Maybe it's just me. Also, I'm not sure why I used a DVD reference, especially since I don't even own a DVD player anymore. I'm rolling with it anyway.
Some foods pair extremely well together and when Autumn rolls around- squash, spinach, and some sort of a caramelized onion is all I want. Toss it together with a beautiful butternut cream sauce and life is good. This is where the trilogy comes in- three ingredients that complement one another in three different dishes.
I first became aware of this trilogy concept in Tom Colicchio's book- "Think Like a Chef". I consider myself extremely fortunate that I had the opportunity to work in one of Tom's restaurants. The amount of serious thought, respect, and intention about the ingredients of each dish and how they will work with each other throughout the menu was eye-opening, to say the least. Chef's like him and the great chefs he has running his restaurants don't make their names by accident. They are the best of the best because they take their profession serious without any excuses. I learned so much in my time there and I'm sure the influence can be seen throughout my recipes.
For this trilogy recipe, I found nice cipollini onions, baby spinach, and some beautiful butternut squash at the farm stand. I was originally going there for kabocha squash, but the butternut was calling my name. I had to listen and follow the instructions of the great and wise butternut. The butternut cream sauce seemed like the perfect match and it absolutely was. I hope you like this dish. I will post the other two dishes of the trilogy in the coming days.
Print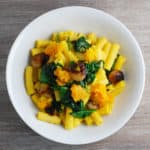 Butternut Squash, Spinach, Cipollini Onion, & Pasta with a Roasted Garlic Butternut Cream Sauce
Author:

Prep Time:

15 mins

Cook Time:

45 mins

Total Time:

1 hour

Yield:

4

Category:

Pasta and Noodles

Method:

Roasting, Boiling
---
Ingredients
For the Butternut Cream Sauce:
1 head of garlic, roasted
2 cups butternut squash, roasted (approx. a 1/2 of a large butternut squash)
1/3 cup raw cashews, soaked in water for an hour or two
2 cups vegetable stock
3 Tbsp. white miso
4 Tbsp. nutritional yeast
1 tsp. Frank's red hot sauce
juice of 1 lemon
1 tsp. kosher salt
For the Pasta:
1/2 of a butternut squash (the remaining squash after making the sauce), roasted, broken into large chunks
15-20 cipollini onions, peeled, roasted whole
1 lb. baby spinach
1 lb. pasta
2 Tbsp. olive oil
---
Instructions
Preheat the oven to 375° F
Cut the butternut squash in half and scoop out the seeds and soft inner flesh. Discard. Rub the inside of the squash with 1 Tbsp. olive oil, salt, and pepper. Roast in the oven, cut side down, for 30-45 mins. or until squash is tender and cooked through. Remove the skin and discard.
Peel the onions by dropping them in boiling water for a minute and then shock in ice water. Peel the loose skins and dry. Toss the onions with 1 Tbsp. olive oil, salt, and pepper. Roast in the oven for 20-30 mins or until onions are cooked through and browned.
Cut the garlic head in half. Drizzle with olive oil and wrap in aluminum foil. Roast in the oven for 20-30 mins or until soft and browned.
Make the sauce- Squeeze the roasted garlic out of the skins. Put all the sauce ingredients in a blender and blend on high speed until completely smooth. 1-3 minutes.
Cook the pasta according to the package. Drain and put back into the pot. Add the sauce and spinach and stir to incorporate.
Scoop the pasta into bowls and top each serving with the roasted cipollini onions and chunks of the remaining butternut squash. Enjoy!
---
Notes
Double up everything but the pasta for ingredients to make the next 2 recipes of the trilogy. Recipes to follow in the next posts.